Chris Paul says he wanted the Clippers over the Lakers
CP3 says he actually preferred a trade to the Clippers, not the Lakers, because he felt the Clippers had better pieces than their Staples Center roommates.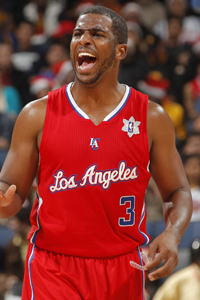 Just don't touch the top of his head.
(Getty Images)
A lot of people were irritated and upset with the Chris Paul trade that wasn't, to the Los Angeles Lakers.
One person who wasn't? Chris Paul.
In an interview with GQ, Paul said he actually wanted to be traded to the Clippers, not the Lakers.
"They had the better pieces," Paul said. "And winning with the Clippers would be legendary."
That's a really interesting statement. CP3 says the Clippers had better pieces -- at the time -- than the Lakers. Is that right?
Well, consider the nixed trade that brought Paul to the Lakers sent Pau Gasol and Lamar Odom out, so you're comparing Kobe Bryant, Andrew Bynum and Metta World Peace against Blake Griffin and Caron Butler, DeAndre Jordan. Plus, a stronger bench for the Clippers.
I think maybe the Clippers had better long-term pieces, but in terms of last season, the Lakers probably had a better team in place, especially if CP3 joined the mix.
But now look what's happened: The Lakers reversed course and targeted another point guard, Steve Nash, while adding Dwight Howard as well. The Clippers are solid, but it appears very clearly that the Lakers now have the better pieces.
In a way, the undone trade was beneficial for both the Clippers and Lakers. Both teams probably came out better than they otherwise would have.
One other fun Lakers-Clippers note from the profile: CP3 still isn't over Gasol touching the top of his head.
"We call that sonnin'," Paul said. "Like when I take Li'l Chris to the bathroom, I'll walk with my hand on his head. That's my son. You know what I mean? I understand that Gasol is that tall, but don't do to me what I do to my son."
The singer of the national anthem at the Nets game took a knee at the end

This was the Lonzo Ball people were expecting out of college

Antetokounmpo finished with 34 points, 8 rebounds, 8 assists, and 3 steals, but the Cavs won,...
John Wall is proud of his ability to block shots and thinks nobody at his position has been...

Giannis went at LeBron on a fast break, but LeBron won the matchup

Boucek most recently was head coach of the Seattle Storm in the WNBA