Cleveland Cavaliers meet with free agent Shawn Marion
Matrix interested in pursuing another ring alongside LeBron James in Cleveland for the minimum.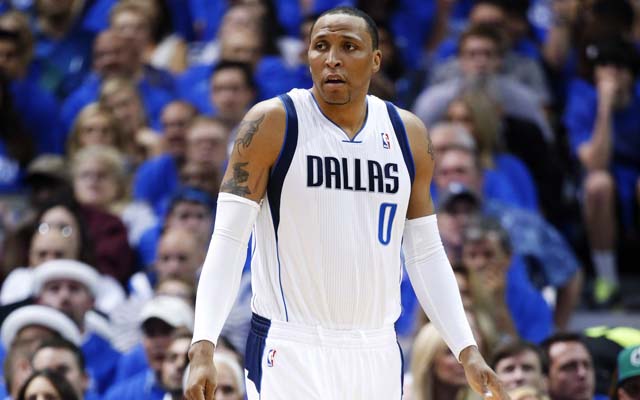 Offseason: Free Agency | Latest from Ken Berger | Rumors
On Monday, Dallas Mavericks free agent Shawn Marion was spotted in Cleveland hanging out with Cavaliers coach David Blatt and GM David Griffin. 
@MySportsLegion @matrix31 in Ohio City today meeting with coach Blatt and gm David griffin... You heard it first pic.twitter.com/wgB6DSJ6iN

— Joey Rosen (@RealJoeyRosen) August 4, 2014
ESPN follows up with details on that meeting:
Sources told ESPN.com that the Cavaliers are hosting Marion in Cleveland on Monday and are trying to complete a deal with the former Phoenix Sun and Dallas Maverick despite its inability to offer more than the league minimum.

Cavaliers general manager David Griffin has a strong relationship with Marion from their Phoenix days together and Cleveland, sources said, would love to bring Marion in to add depth, experience and versatility to a core that is expected to also feature Kevin Love if the Cavs complete their long-anticipated traded with Minnesota for the All-Star power forward later this month.

Marion is a natural target for the Indiana Pacers in the wake of the devastating injury suffered over the weekend by Paul George, but sources told ESPN.com that the Cavaliers -- thanks to the presence of James -- have the upper hand over Indiana or anyone else recruiting Marion at this juncture.
via Shawn Marion being sought by Cleveland Cavaliers - ESPN.
Dallas wanted Marion back but could only offer the minimum after signing Chandler Parsons and Jameer Nelson. And if you're going to play for the minimum, might as well play with the best player on the planet on whatvis considered by some to be the Eastern Conference favorite. 
Marion fits multiple needs for the Cavs. They need depth, with a roster cleared to makes space for James' max contract. They need veterans, on a team that currently features four of its top six players under 25 (pending the Kevin Love trade). And they need defense. 
The move is especially interesting when taken into consideration alongside the Love trade possibility. Marion would provide a defensive alternate for Love and a versatile weapon to replace James when he takes a rest. Lineups featuring James, Marion, and Love would be center-less, but also extremely versatile at both ends. If the Cavs went huge with all three on the floor with a shot-blocker, they might lack perimeter speed but also be able to devastate inside and out in other ways. 
Marion was long-ago linked to trade rumors with Cleveland during LeBron's first run there. He and James would make for an incredible combination of rebounding, defense, and versatility, though at 36, Marion's not able to provide the minute contributions he once was. 
The former Sun averaged 10.4 points, 6.5 rebounds and 1.2 steals last season for Dallas. 
Cousins suffered a torn Achilles tendon on Jan. 26, and will miss the rest of the season

Ingram has become one of the team's go-to players with Lonzo Ball sidelined with an injury

Giannis skipped EuroBasket last summer, and has missed four games this season with knee so...
Some of the best and worst from the league as we head into the home stretch of the season

Cuban acknowledged that tanking is 'brutal' and that he will no longer do that after this...

Cho has been the GM in Charlotte since 2011