Cleveland county exec: LeBron will bring $500 million per year
LeBron James "will generate $215 million from games alone," based on calculations from the Cuyahoga County Fiscal Office.
• 1 min read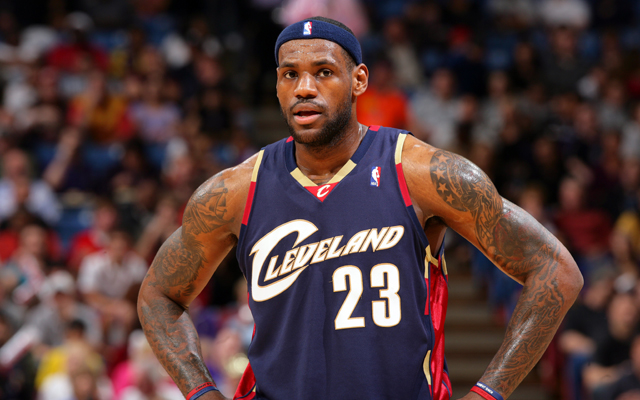 More Offseason Analysis: Coaching changes, news | Free Agency | Draft
LeBron James coming back to the Cleveland Cavaliers means a heck of a lot more money for the city, via the Akron Beacon Journal's Mark Niquette:
The return of the star forward to his hometown Cleveland Cavaliers will mean $500 million a year in additional ticket sales and spending, County Executive Ed FitzGerald said today. The 2016 Republican National Convention in the city will bring an additional one-time windfall of $200 million, he said.

…

Based on calculations by the Cuyahoga County Fiscal Office, James's return will generate $215 million from games alone. Average attendance increased from about 12,000 before James joined the team to about 20,500 during his final season, the county said. Although attendance has slipped, officials expect sold out games next season with James on the court.

…

Other spending increases will come at restaurants, convention business and hotels, FitzGerald said. Anticipated benefits include a $34 million increase in annual spending by fans at games to $170 million a year plus 500 additional jobs supported by the Cavaliers, the county said.
The Cavs were valued at $515 million by Forbes in January, and the Akron Beacon Journal quoted a venture capitalist saying that they're now a billion-dollar franchise. 
Given that James' contract with Cleveland is for two years and $42.1 million, there's a case to be made that he's the NBA's most underpaid player. One can only imagine how much he'd be paid without maximum-contract restrictions and a salary cap.
Kris Dunn somehow took a chunk of the Bulls court out with his teeth, but didn't lose any in...

The fallout from the Rockets-Clippers tussle continues; no Clippers were disciplined

DH12 is picked for free throws after a teammate gets ejected. He makes both, and lets Scott...
Bell was injured defending a Robin Lopez dunk and had to be taken off the floor in a wheel...

Trevor Ariza and Gerald Green are reportedly both suspended two games

We've got all the scores, highlights and news from Wednesday night