Clippers' Blake Griffin is done with the dunk contest, wants rest
Los Angeles Clippers' star Blake Griffin says he's done with competing in the All-Star weekend dunk contest and likes to rest during the break.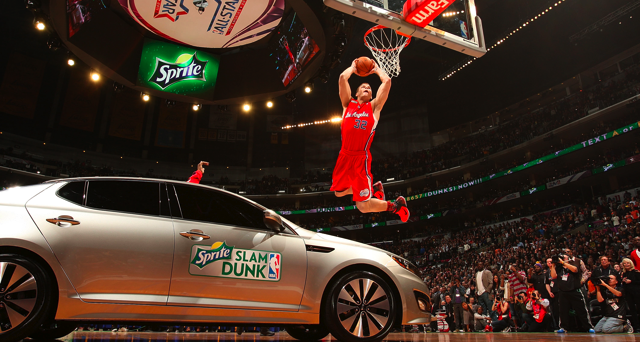 Los Angeles Clippers' star Blake Griffin has shown a lot of growth in his game this season. While Chris Paul was out with a shoulder injury in January, Griffin took the lead for the Clippers and helped them feast on a weak schedule. He's been flashing more of a jumper, a better post presence, better defensive effort, and is starting to wipe away all of the outdated criticism about his game. 
Another sign of growth in his career may be his stance on the All-Star festivities. Griffin sounds like he wants to scale back how much he does during the All-Star weekend each year and value the opportunity to rest as much as possible. That includes saying he'd never participate in the dunk contest again. From ESPN Los Angeles:
"I wouldn't say it was a mistake [in 2011] because it was a great experience, but it's something I would never do again," said Griffin, who won the dunk contest that year.

"For me, All-Star Weekend is about getting a chance to rest as much as anything. With the All-Star Game alone you still have obligations almost all day Friday and you have some kind of an event Friday night and Saturday's practice and appearances. Saturday night for me now has become the time where I hang out with my family and hang out with my friends and take it easy."
Griffin won the 2011 dunk contest when he had a very solid -- but not legendary -- performance. It was capped off by him jumping over the hood of a KIA to finish an alley-oop from Baron Davis poking out of the sun roof. It has been sort of underappreciated because he didn't jump over the roof of the car and there was quite a bit of product placement in the spectacle. 
Perhaps the backlash from his appearance in the dunk contest coupled with his new found value for rest makes him think it's completely unnecessary to do ever again. Plus, every night for Griffin is a dunk contest waiting to happen anyway. 
Cuban weighed in on the ongoing feud between the basketball dad and the POTUS

Embiid has taken his trash-talk game to the next level this season, but he's not scared

Last year Durant said returning to his old home was 'never going to be a regular game'
The All-Star forward injured his wrist during Sunday's loss to the Lakers

Steven Adams believes he's the problem with the Thunder struggles in the clutch

LaVar claims that Luke Walton has been 'soft' on Lonzo so far