Clippers-Celtics dealings over Doc reveal a coaching industry in chaos
The Clippers and Celtics discussing a "trade" involving coach Doc Rivers reveals a coaching industry in chaos.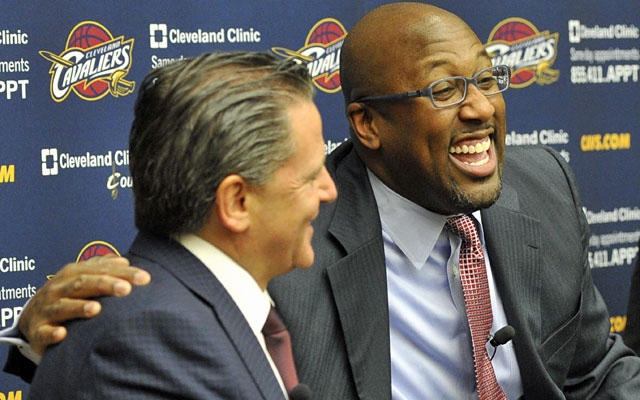 SAN ANTONIO -- As if the coaching carousel wasn't spinning out of control already, the NBA Finals were consumed on Saturday by news of a possible trade.
The possible trade of a coach.
Seriously, the tail is now wagging the dog. The government is spying on us, sales of George Orwell's "1984" are skyrocketing and basketball coaches are getting traded.
According to the New York Times, which will no longer publish in the totalitarian dystopia toward which we are headed, 25 of the 30 NBA teams have changed coaches at least once since 2010. The Charlotte Bobcats have had four coaches during that time. The Pistons have had three.
Doc Rivers is the second-longest tenured coach in the NBA at nine years with the Boston Celtics, after the Spurs' Gregg Popovich (17). The Heat's Erik Spoelstra is third with five years of service in Miami, though he's risen steadily through the ranks of the culture established by Pat Riley, who's been with the Heat since 1995.
(It's worth noting that Riley joined the Heat in '95 only after the Knicks agreed to receive a first-round pick and $1 million to drop their tampering case against Miami. Fast forward to 2013, and we've made a left turn at tampering and barreled right down the straightaway of essentially offering to trade players for coaches.)
The best line from Howard Beck's story in the Times about the irrational whims of the coaching business went something like this: In 2010, the Cavaliers replaced Mike Brown with Byron Scott. In 2013, they replaced Byron Scott with Mike Brown.
What, no other guys named Scott or Brown were available?
Now, during an epic series between teams that have established long-term winning cultures with consistency of leadership, we are distracted by the possibility that the second-longest tenured coach in the league, Rivers, could be "traded" to the Los Angeles Clippers. It was the Clippers, of course, who fired Vinny Del Negro, who led the team to its first ever Pacific Division title this past season.
In a weird way, Del Negro was probably the most deserving among the 12 coaches who lost their jobs this offseason. Lionel Hollins led the Grizzlies to a 56-win season and the Western Conference finals and was not asked to return next season. He'll wind up with the Clippers or the Nuggets. George Karl, the reigning coach of the year, may land with the Grizzlies.
"It used to be if you had a bad season, you were going to get fired no matter what your story was," Paul Westphal, the former coach of the Kings, SuperSonics and Suns, said on CBS Sports Radio's "Eye on Basketball" show Saturday. "Now it doesn't protect you. You can have a great season and you're gone."
And despite the constant parade of openings, there's no guarantee you'll get another chance. Brian Shaw, who's paid his dues and comported himself well as the lead assistant with the Pacers, was passed over by the Nets for Jason Kidd, who retired less than two weeks ago and has no coaching experience. Not a year, not a game, not a minute, not a practice.
For perspective, when the expansion Heat hired Ron Rothstein -- a current assistant under Spoelstra -- in 1988, he'd been an assistant with two NBA teams and had coached high school basketball for 19 years.
"It really is profoundly amazing to see all the change," Westphal said.
As the Celtics-Clippers fiasco shows, teams are no longer guarding against tampering; they're inviting it and actively participating. If the Clippers want to land Rivers with three years and $21 million left on his Boston contract, they'll have to pay dearly. Draft picks and cash will no longer do. Rivers will only go if Kevin Garnett goes; Garnett will only waive his no-trade clause if Rivers goes. The Celtics will only do the deal if Eric Bledsoe is involved in addition to DeAndre Jordan.
In the span of two hours, the talks were advancing, and then they were stalled, and now ... by the way, does anyone know the NBA Finals are going on? Not that what's happening here matters to the majority of the league, which is focused on the quick fix of yet another coaching change.
"Historically, the best way to build a team is to have solid leadership in place and grow a culture," Westphal said. "But there's a lot more impatience with all the money on the table now and people are more willing to make a change for a fast fix.
"Memphis had new ownership and a new philosophy," Westphal said. "Lionel Hollins is a great, great coach. Wherever he goes, he'll do better than Memphis does, I'll tell you that. But they'll have to walk down that road. Probably the same thing will happen in Denver. With their decision to change, I doubt that they'll do better than with the management and the coach they had in place."
It's fashionable and technically accurate to laud the Celtics for their long-term commitment to Rivers and team president Danny Ainge. But it's also worth remembering that Rivers was on the verge of being fired before Ainge assembled the Big Three of Garnett, Paul Pierce and Ray Allen in 2007. 
Allen left to join Miami's Big Three last summer. Players wanting to team up with players is nothing new, but players and coaches forming their own Big Threes-plus-one?
Rivers and KG could be bound for L.A. to team with Chris Paul and Blake Griffin. What's next? What if LeBron James wants to bring Spoelstra with him when he's a free agent in 2014?
It's not a good look. And if Rivers and the Clippers make it a trend, it won't be something that the coaching or basketball business should be proud of. 
Lakers rookie got his shot to fall, thanks in part to some of the worst defense you will ever...

The singer of the national anthem at the Nets game took a knee at the end

This was the Lonzo Ball people were expecting out of college
Antetokounmpo finished with 34 points, 8 rebounds, 8 assists, and 3 steals, but the Cavs won,...

John Wall is proud of his ability to block shots and thinks nobody at his position has been...

Giannis went at LeBron on a fast break, but LeBron won the matchup