Clippers considered boycotting Game 4 over Sterling allegations
The Los Angeles Clippers' players considered boycotting Sunday's game because of the Donald Sterling allegations.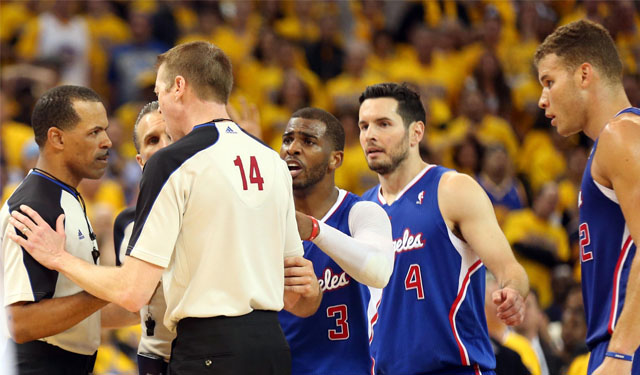 More on Sterling: League investigating | Barkley: Ban Sterling | Reactions
With allegations coming out that Los Angeles Clippers' owner Donald Sterling was recorded in a conversation in which he made several racist remarks, the league has been reacting to the alleged situation all day long. Players, pundits, and people around the league have spoken out about the potential of such things being said, especially by a team owner. As for the players who are paid by Sterling, they considered responding in another way.
The Clippers had a meeting with coach Doc Rivers and several players in which the idea of boycotting Game 4 against the Golden State Warriors Sunday in Oakland was discussed. The players aren't going to go through with it, but it was something considered before deciding playing the game and focusing on their goal of winning a championship was the way to go. From ESPN Los Angeles: 
Coach Doc Rivers led the 45-minute meeting and several players, including Chris Paul and Blake Griffin, spoke and voiced their anger after hearing the nearly 10-minute audio tape, which was released by TMZ on Friday night. The possibility of boycotting Game 4 of their first-round series against the Warriors was raised but quickly dismissed.

"I thought we needed to talk about it because everyone else is and so we needed to talk about it and all things came up," Rivers said. "We've heard all the stuff, the boycotts and all the stuff and all those things are things you could do but we choose to play and we're going to play tomorrow. ... It was brought up because I'm sure 20,000 people have suggested it but honestly I'm completely against that and they were, too.

"Why should we let someone's comments stop us from what we're trying to do? We're trying to do something here and we don't want that getting in the way of what we're trying to do."
When addressing the media, Rivers was visibly upset by the comments allegedly coming from his employer, and the comments just being made in general, when the team is focused on their playoff run. The Clippers employ players of different races and born outside of the United States, like many teams around the league. 
National Basketball Players Association president Chris Paul, the point guard of the Clippers, issued a statement about the situation from the union's perspective and even brought Sacramento mayor Kevin Johnson in to help the union in an investigation and with counsel regarding the situation. 
Game 4 begins at 3:30 p.m. ET on Sunday.
The reigning MVP reiterated that he wants to be in OKC, but didn't say when he will sign the...

It was a wild summer that featured trade demands, big signings and an end to the Melodrama...

James was clear that he would love to reunite with his former Heat teammate
The Cavaliers star is not taking the power in his voice and influence lightly.

Thomas is rehabbing from a hip injury that cut short his 2016-17 playoff run with the Celt...

James wondered whether he did something to drive Irving away