Clippers' Donald Sterling hints Del Negro let go to keep Chris Paul
Los Angeles Clippers' owner Donald Sterling would rather not say anything about whether or not he fired Vinny Del Negro to please Chris Paul.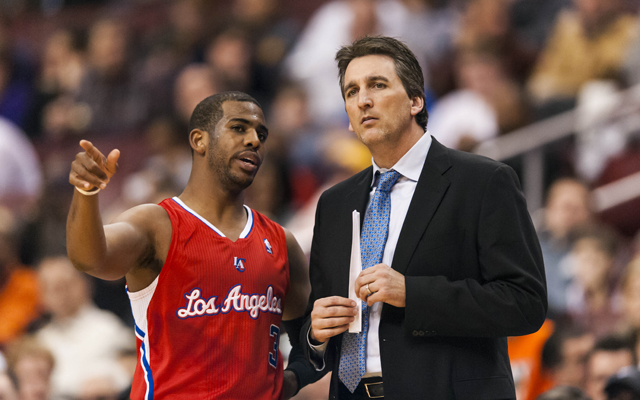 As CBSSports.com's Ken Berger noted Tuesday, the Los Angeles Clippers' parting with Vinny Del Negro happened because Chris Paul didn't believe his coach was the right leader on the sidelines to help bring them a championship. Despite two very successful regular seasons since Paul and Del Negro teamed up directing the team on the court and on the sidelines, the Clippers have flamed out earlier than a superstar would like when hoping to compete for an NBA title.
In a conversation with T.J. Simers of the Los Angeles Times, Clippers owner Donald Sterling all but confirmed Del Negro wasn't brought back in order for the team to have a better shot at hanging onto Paul during this summer's free agency period.
"The coach is a wonderful man, and I'm sad about the whole thing," Sterling said.

"Was this done," I asked, "just to hang on to Chris Paul?"

"I always want to be honest and not say anything that is not true," Sterling said. "So I'd rather not say anything.

"But you know, the coach did a really good job. I think he did. And I liked working with him. There are just factors that make life very complicated and very challenging."
Del Negro did a decent enough job coaching the Clippers over the past three seasons, but there is no denying the team would probably be better with a change in direction that is approved by the superstar they're trying to retain. Losing Paul to another team would be much worse than having Del Negro coach somewhere else and becoming successful at it. In a league driven by stars, this just makes a lot more sense.
It's not that Del Negro was bad this season. His reputation among basketball fans is not a fair perception of his coaching abilities. But his game management leaves a lot to be desired. His penchant for burning timeouts far too early with not having enough left at the end of games was an issue at times. His refusal to trust players like Eric Bledsoe and DeAndre Jordan in key moments over players like Lamar Odom and Chauncey Billups when they're well past their prime was also something that seemed to hurt the Clippers' chances.
Now, Paul has the chance to choose his own coach to help him in the second-biggest market with one of the league's best and most marketable young players if the point guard decides to stay with the Clippers. If he decides to bolt for the Atlanta Hawks, Houston Rockets, Dallas Mavericks or some other team with a lot of cap room or roster flexibility, I don't think anybody other than Sterling will truly regret not hanging onto their previous coach.
Porzingis is questionable for Carmelo Anthony's return to MSG on Saturday

The Spurs and Rockets will renew their in-state rivalry on Friday night

Anthony will play at Madison Square Garden on Saturday for the first time since being trad...
SportsLine's Mike McClure, a DFS pro with more than $1M in winnings, gives optimal lineup...

The Cavaliers won the much-anticipated matchup, 121-112

Two of the league's most interesting teams will meet on national TV on Friday night