Clippers expected to throw the bank at Blake Griffin and Chris Paul, and to keep reserves
The Clippers will offer max extensions to Blake Griffin and Chris Paul; Griffin will accept most likely, and Paul will not.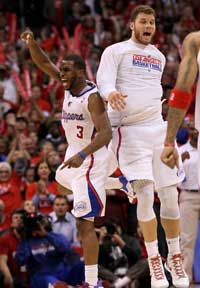 The Clippers will offer extensions to Paul and Griffin.
(Getty Images)
The Clippers know that the biggest challenge after putting together a star-laden team that produced the best season in franchise history is keeping them. They must re-sign Griffin and Paul. Griffin is easy. He's coming off his rookie contract, and players simply do not turn down the extra years and raises that come along with re-signing. It just almost never happens with stars. Paul's a bit trickier, and the reality is that the Clippers are limiited by the CBA in offering Paul enough to get him to re-sign vs. entering free agency and then re-signing... assuming he re-signs. 
Oh, and they have a handful of other guys to bring back. From the L.A. Times: 
The Clippers are expected to offer (Blake) Griffin a five-year extension that could be worth up to $95 million, with an opt-out clause after the fourth season. Griffin also could sign a four-year extension. Griffin, who will earn $7.2 million next season, is expected to sign one of the deals.

The Clippers are expected to offer (Chris) Paul a three-year extension worth $60 million. But Paul, who will make $17.7 million next season, is likely to turn down that offer. Instead, the point guard is likely to wait and decide whether to accept the Clippers' five-year, $110-million extension offer in July 2013.

The Clippers are also expected to make offers to re-sign free-agent guards Chauncey Billups, Randy Foye and Nick Young. Billups is still recovering from season-ending Achilles' tendon surgery. The Clippers also have an interest in unrestricted free-agent guard Jamal Crawford.

The Clippers are not expect to make offers to free-agent forwards Kenyon Martin and Reggie Evans.
via Clippers get Lamar Odom in four-team deal - latimes.com.
Griffin will almost assuredly get done. It just will. They'll throw the max, he'll come back, everything is hunky-dorey.
Paul will wait, because he can make the most money by entering free agency, then re-signing with the Clippers for five years. But that also means the Clippers have to make sure nothing disastrous happens in 2013, the year he oped into for the Clippers to justify his trade from New Orleans, to prevent him from reconsidering. Paul has said he's committed to the franchise. But a disastrous step-back season in 2013 could change his mind. He's not handcuffed to the Clippers. 
Paul has given assurances he'll consider the Clippers, that he wants to return long-term. But that's also what you say. Paul will still be a free agent. Now at the same time, his best choice will be a team in L.A. with a young superstar, and making the most money possible by staying. Donald Sterling is not a popular person, but he's not unpopular enough to get a player to move away from that. Still, the Clippers need to not only keep up with their progress this year, they need to exceed it to get Paul to buy in. 
Re-signing Nick Young could get expensive, and Billups could be looking to chase a championship ring, something the Clippers aren't quite ready for yet. With Neil Olshey being allowed to walk away this spring while Vinny Del Negro was retained, there are questions about where the leadership and vision to improve the team is going to come from. 
The Clippers have a bright future. But it's got enough question marks that go with it to keep it interesting. 
And hey, they have Lamar Odom, now!
We've got you covered for all the scores and highlights from Sunday's NBA games

The Cavs superstar compared Kaepernick to Martin Luther King Jr. and Muhammad Ali

The Warriors coach isn't surprised that the president and LaVar Ball are in a war of words
Kyle Kuzma is tired of how his teammate Lonzo Ball is being treated

The Warriors used a huge third quarter to come back from a 23-point deficit to get the win

Three takeaways from Golden State's 24-point rally past the Sixers