Clippers F Blake Griffin 'back at 100 percent' after summer knee surgery
Los Angeles Clippers forward Blake Griffin is "back at 100 percent" following a summer knee surgery that kept him out of the 2012 London Olympics.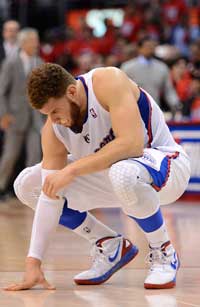 Blake Griffin is back on his feet after knee surgery.

(Getty Images)
No gold medal, but at least no lasting damage either.
Los Angeles Clippers All-Star forward Blake Griffin says that he has essentially completed a full recovery from arthroscophic surgery on his left knee that forced him to sit out the 2012 London Olympics.
Griffin told the Los Angeles Times on Friday that he is already good to go for the 2012-13 season.
"I came back after surgery and started rehabbing and getting back into it. I've been shooting and lifting [weights] and all that for a while now," Griffin told The Times in telephone interview Friday. "So, I'm pretty much back at 100%, been back at 100% for a little bit. So I'm good."

"In talking to my doctor, he told me if this was the season and the playoffs were coming up, I would have been out two or three weeks," Griffin said. "We're kind of taking our time with it and really making sure we meet every single area and making sure that my strength is 100% back to where it needs to be.

"But it's been there for two or three weeks now. So, really, I'm just kind of working myself into condition and still getting my basketball work in and getting my lifts in."
Griffin suffered a medial meniscus tear during USA Basketball's training camp in Las Vegas. He banged knees during a scrimmage and later experienced discomfort and swelling. He left the camp and returned to Los Angeles to undergo an MRI and later underwent arthroscopic surgery on July 16. 
The surgery and rehabilitation sidelined him from participating in London, where USA won the gold, and he was replaced by New Orleans Hornets rookie big man Anthony Davis. 
The No. 1 pick in the 2009 NBA Draft, Griffin missed the entire 2009-10 season with a left knee injury, that reportedly was unrelated to this meniscus tear. Griffin also hyperflexed his left knee during the 2012 playoffs.
Griffin, 23, was named to his second All-Star Game in 2012, averaging 20.7 points and 10.9 rebounds per game.
He signed a 5-year max contract worth $95 million just days before he suffered his injury.
The Rockets are gunning for their 10th consecutive win

Victor Oladipo just wants to live his life and enjoy his breakout season with his new team

Keep it right here for all of the news, notes, scores, and highlights from around the Asso...
LeBron has a player option for next season, and is expected to opt out and become a free a...

The Pistons will be looking to snap a five-game losing streak when they host the Celtics on...

Bryant offers some advice for Ball and other rookies about having a sense of urgency in the...