Clippers F Blake Griffin to miss 2012 London Olympics with knee injury
Los Angeles Clippers forward Blake Griffin suffered a left knee injury during a Team USA practice Wednesday and is expected to miss the 2012 London Olympics.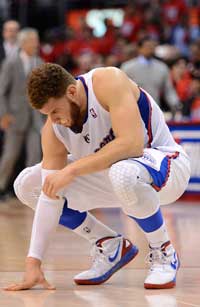 Griffin is expected to miss the 2012 Olympics.
(Getty Images)
It looks like Blake Griffin will be staying stateside this summer.
Griffin, the Los Angeles Clippers All-Star forward, will not participate in the 2012 London Olympics but will be ready for 2012-13 training camp, according to SI.com.
Ken Berger of CBSSports.com has confirmed Griffin's summer outlook.
The Los Angeles Times reports Griffin tore meniscus in his left knee, an injury that will require arthroscopic surgery.
One of 12 players to be named to USA Basketball's Olympics team, Griffin suffered a left knee injury during a USA Basketball scrimmage on Wednesday. He missed Team USA's Thursday night exhibition against the Dominican Republic in Las Vegas after leaving the team to return to Los Angeles for an MRI and further evaluation.
On Thursday, USA Basketball and the Clippers confirmed Griffin "experienced discomfort" in his left knee after "completing a full practice" on Wednesday. The Clippers stated that Griffin will undergo an MRI in Los Angeles and that he will be evaluated by the team's medical staff. This weekend, he will be examined by Dr. Neal ElAttrache of the Kerlan-Jobe Orthopaedic Clinic.
Griffin, 23, was the No. 1 pick in the 2009 NBA Draft. Griffin had season-ending surgery on his left knee that caused him to miss the 2009-2010. He also missed time during the 2012 playoffs after he hyperflexed the knee. He signed a 5-year, $95 million contract extension this week.
USA Basketball called up New Orleans Hornets big man Anthony Davis, the 2012 NBA Draft's No. 1 pick, to replace Griffin. He was in uniform for Thursday night's exhibition. It's not clear whether Davis will permanently replace Griffin.
Kidd was fired by the Bucks on Monday afternoon

We've got all the scores, highlights and news from an NBA Monday

Leonard was recently shut down again to rehab the nagging quad injury
Durant, who joined the Warriors, says that Capela, the league's most efficient player, has...

Jason Kidd's firing gets the celebratory balloon treatment on Milwaukee's Twitter page

Milwaukee has parted ways with its coach in the middle of his fourth season