Clippers-Grizzlies Game 5 Preview: Back to Cali
Previewing Game 5 of the Clippers-Grizzlies first-round series.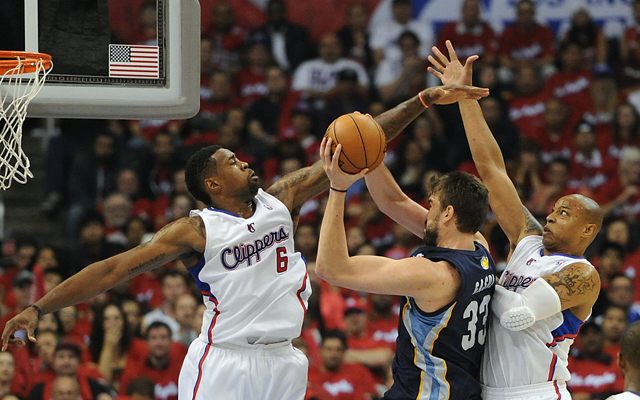 Previewing Game 5 of the Clippers-Grizzlies first-round series.
1. Where We Are: All knotted at 2-2, home court defended so far. The Grizzlies got back to what they do best in Memphis, locking down the Clippers and forcing them to play their kind of game.
Zach Randolph got involved early and often, Marc Gasol became aggressive offensively, and the Grizzlies' shooters finally knocked down some jumpers. Memphis has the momentum headed back to L.A., but the record in this series really shows where it's at. It's a draw.
2. The Big Number: 16.0. That's the number of second-chance points the Grizzlies have created in this series. The Clippers outworked Memphis early in the series, but by the banks of the Mississippi everything changed. The Clippers' bigs cannot let Randolph clean up the glass, cannot let the poor Grizzlies offense create extra possessions and must control the inside. They need big games from DeAndre Jordan, Blake Griffin and the rebounding wings.
3. Key Adjustment: Might be time for the Clippers to start doubling Randolph. They're bringing help but usually after he has already made his move. They need to start blitzing to get the ball out of his hands and force it to one of Memphis' perimeter shooters. The Clippers can't trust their one-on-one coverage. In Games 3 and 4, Jordan blocked a fair number of ZBo's shots, but Randolph just kept coming, drawing fouls and picking up offensive rebounds. He's such a big part of their offense, the Clippers need to dedicate themselves to shutting him down.
Anyone else but ZBo should be the rule.
4. The Big Story: Three-game series, Clippers hit shots on their home floor, Grizzlies hit shots on theirs. But the big narrative is how Chris Paul disappeared down the stretch in Games 3 and 4. Paul was so dominant in Games 1 and 2 and so absent in Games 3 and 4 it didn't look like the same guy. Will Memphis' adjustments keep Paul disengaged? Or will the friendly confines of Staples help Paul to become the Point God again?
5. The Facts: 10:30 p.m. ET start time. Keyon Dooling is a game-time decision.
LBJ, CP3 and other players around the league show support for Steph Curry and the Warriors...

George is on potential contender in OKC and Pacers can move on to a new era. Everybody's happy,...

Donald Trump didn't appreciate Curry's comments and responded on Twitter
Trail Blazers guards Damian Lillard and C.J. McCollum have been pushing for Anthony to join...

Anthony reportedly gave the Knicks an expanded list of teams he'd waive his no-trade clause...

The Suns will also receive a second-round pick in the deal