Clippers J.J. Redick (bruised quad) will be out for a week and a half
Los Angeles Clippers sharpshooter J.J. Redick has a bruised quadricep and it will keep him out a week and a half during the preseason.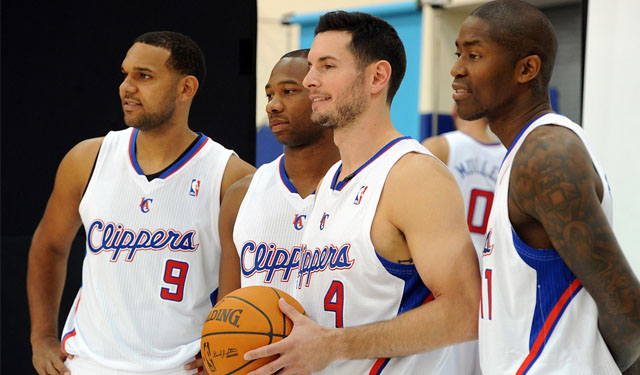 The Los Angeles Clippers' wing depth was already pretty good last season. When they added J.J. Redick and Jared Dudley to that depth this offseason, it became the biggest strength for the team outside of Chris Paul's otherworldly ability and Blake Griffin's play. In fact, they may have too many players on the wing and that could cause someone like Willie Green, who shot the ball really well at 42.8 percent, without time in the rotation. 
At least for now, some minutes in the preseason will be open for Doc Rivers to figure out his wing rotation and get guys some playing time. Broderick Turner of the Los Angeles Times says that the coach informed everybody J.J. Redick has a bruised left quadricep and will be out a week and a half with the injury. Matt Barnes is day to day due to a sore calf muscle as well. 
Rivers said that guard J.J. Redick will be out another 1 1/2 weeks with a bruised left quadriceps and that Matt Barnes is day to day with a sore left calf.
This isn't a huge blow to the Clippers because it's just preseason and it doesn't seem like a serious injury for Redick. It's better to be cautious about this kind of thing and let rest and the training staff get him ready to play before the regular season starts. However, it would probably be nice for the newest shooting guard for the Clippers to get some time in Rivers' system and develop better on-court chemistry with his new teammates.
Redick signed four-year, $27.7 million deal with the Clippers this offseason as part of a sign-and-trade deal that netted the Clippers Jared Dudley as well and sent Eric Bledsoe and Caron Butler to the Phoenix Suns. The Milwaukee Bucks received second round picks in the trade.
Kidd was fired by the Bucks on Monday afternoon

We've got all the scores, highlights and news from an NBA Monday

Leonard was recently shut down again to rehab the nagging quad injury
Durant, who joined the Warriors, says that Capela, the league's most efficient player, has...

Jason Kidd's firing gets the celebratory balloon treatment on Milwaukee's Twitter page

Milwaukee has parted ways with its coach in the middle of his fourth season