Clippers sale lifts burden from those who didn't deserve it
As the Donald Sterling saga unfolded in all of its ugliness, the perception of whose mess this was to clean up was terribly misplaced right from the beginning.
Related: Clippers sale final | Rivers to talk extension| Latest from Ken Berger 
As the Donald Sterling saga unfolded in all of its ugliness, the perception of whose mess this was to clean up was terribly misplaced right from the beginning.
No sooner had the remarkable audio recordings of Sterling's offensive opinions of minorities aired, the news cycle wanted to move the ball down the field to the next eligible receiver.
The news cycle no longer waits for fairness. It just moves on to the second-day story, which has been phased out by the second-hour story -- or, more accurately, the second-minute story. Soon enough, news coverage will involve predicting the news, with odds, like Las Vegas.
Somehow, since the Clippers' former owner had directed his hateful opinions primarily at blacks -- and since his coach and most of his players were black -- it was somehow their responsibility to respond. A mess that was none of their doing had become Doc Rivers' and Chris Paul's to navigate.
There was vague talk of a playoff boycott back in April when the news broke, but that was never realistic or appropriate. As the legal battle to oust Sterling -- finally consummated Tuesday -- meandered from one damning detail to the next, it started to become more about what Rivers and Paul were going to do about it than it ever should have been.
Last month, Paul told ESPN.com that he, his teammates and Rivers had discussed the possibility of not coming to work next season if Sterling remained the owner. Some viewed it as an empty threat, but it was never anything that Paul should've felt compelled to address in the first place. Sterling's misdeeds weren't his. His only ties to this sordid affair were A) being black, and B) cashing paychecks signed by Donald T. Sterling. Neither, in case this isn't obvious, required any explanation.
As part of the legal proceedings, Clippers interim CEO Dick Parsons testified last month that Rivers would quit -- walking away from the final two years and $14 million on his contract -- if Sterling were not ousted. The same logic applies to Rivers; collecting a paycheck from someone with offensive views does not deflect responsibility for those views onto the innocent.
The NBA and its army of lawyers solved all of these problems on Tuesday, when the record $2 billion sale of the Clippers to former Microsoft CEO Steve Ballmer finally closed. And I use the word "finally" quite inappropriately. It might seem as though this tale has gone on forever, but think about it: Sterling's recorded comments denigrating blacks and other minorities became public on April 26. Three days later, commissioner Adam Silver banned Sterling for life, fined him $2.5 million and urged the NBA's Board of Governors to commence a forced sale action under the league's Constitution and By-Laws.
Fifteen weeks later, Sterling is gone -- with suing himself for $1 billion the only apparent legal option left in his arsenal.
So should anyone be disappointed that we won't get to see if Rivers and Paul were willing to put their money where their mouth was and walk off the job to protest Sterling? Not in any way. This was never their doing; never their problem.
The best part of all this is that Paul, Rivers and everyone else in the employ of the Clippers' new owner can now go about doing what they were hired to do -- without having to answer for someone else's sins. And they can do it in ways that will represent the business and social interests of the NBA in the manner intended and expected of those lucky enough to be in their positions.
Unlike the former boss, who finally was left holding the bag -- and the blame -- that he deserved.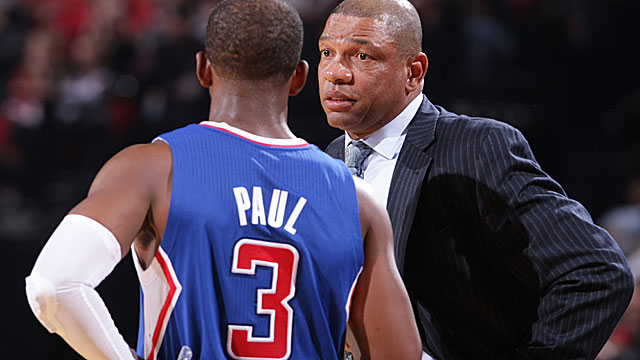 The kid just about lost his mind after getting Durant's game-worn sneakers

The revamped Thunder lost on Monday night, dropping to 12-14 on the season

Two of the league's young, up-and-coming squads will square off on Tuesday in Minneapolis
Kawhi Leonard is set to make his season debut for the Spurs

Lonzo Ball will make his Madison Square Garden debut

Leonard, who hasn't played this season due to a quad injury, may return with more skills than...