Clippers-Thunder Game 3: An L.A. Story
How will the series shift at Staples? Will Chris Paul or Russell Westbrook own the day?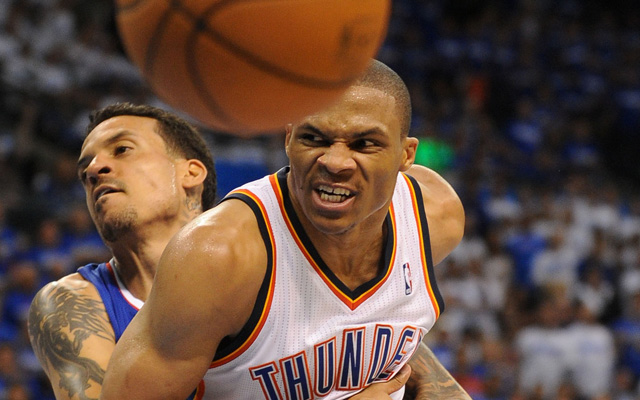 More postseason coverage: Playoff schedule, results | Latest news, notes
Previewing Game 3 of the Clippers-Thunder first-round series.
1. Where We Are: All even at 1-1. The Thunder tied things up in a must-win Game 2 Wednesday behind a monster game from both Kevin Durant and Russell Westbrook. They played with more urgency and used their frenetic energy to attack the Clippers defensively. 
But the Clippers got the split in Loud City it wanted, and heads back to Staples with home-court advantage and a game of tactical adjustments to work from. The Thunder have to get this split going back to OKC for Game 5, so Game 3 is nearly the same position as Game 2. OKC can't survive going down 3-1 even with its home crowd. 
The Clippers have to get Blake Griffin involved though. Chris Paul carried them in Game 1 but Griffin has yet to be a factor in this series.
2. The Big Number: 4-for-14. That was Matt Barnes and Jamal Crawford from three-point range in Game 2. The Thunder will pick their poison with the Clippers and the choice is to not suffer by Chris Paul and J.J. Redick, live with Matt Barnes, and run the gambit with Jamal Crawford. The Clippers have to make them pay for their aggressive doubles and if they miss open threes, that plays right into how OKC wants the game. 
3. Key Adjustment: The point guards are emerging as the bellwether for this series, as the team with the better point-guard performance has won each of game. How will Doc Rivers approach defending Russell Westbrook? Is it time to provide a longer defender on him, and if so, who? 
Meanwhile, the Thunder have resisted trapping Chris Paul at halfcourt, the most reliable defense for him historically. If Paul starts to get loose like he did in Game 1, will they start to use that strategy? How many defenders each team sends at the opposing point guard and how they react to it will determine much of the rest of this series. 
4. The Big Story: Officiating has dictated a lot of the Clippers' play this postseason. Chris Paul landed in foul trouble in the first two minutes of Game 2 and that swung the momentum significantly. Will the whistles go the Clippers' way? Does that help them if it means more trips to the line for DeAndre Jordan, or fewer fouls drawn by Blake Griffin in the post? Officiating is a big part of this one. 
5. The Facts: 10:30 p.m. ET. Hedo Turkoglu is questionable with a back injury. Derek Fisher is a gametime decision with a shoulder injury.
Stephen Curry, who grew up in North Carolina, wants to be part of the next Panthers ownership...

Vince Carter is destined for a Raptors reunion; he doesn't know when it'll happen

Thomas has a target date for his return, and with the Cavaliers scorching, this could be h...
LeBron James once again is using his platform to be socially active

Not many games, but still plenty of action and intrigue Sunday in the Association

Kobe Bryant had a solid piece of advice for back in 2016 when he left OKC for Golden State