Clippers-Thunder Game 3: LA's pick and roll hammer and sickle
A look at the pick and roll matchup for the Thunder going into Game 3 and how pivotal is for their success.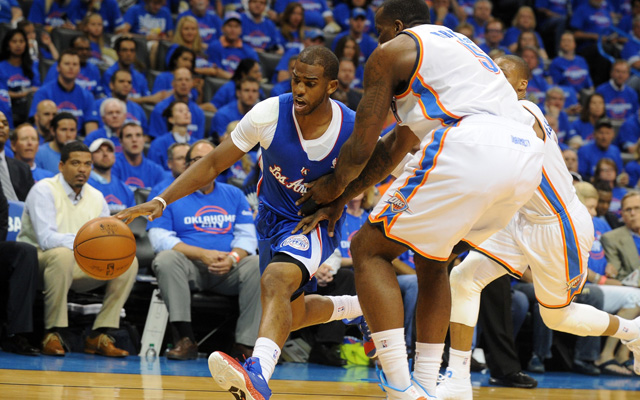 More postseason coverage: Playoff schedule, results | Latest news, notes
The Los Angeles Clippers bludgeon you to death with the pick and roll. There's no better way to put it. It's not just that they run it with a devasting combination of Chris Paul's skill and Blake Griffin's acumen with crack shooters on the outside. It's that they run it over, and over, and over again. They put you through the first screen, and unless they get just what they want, they run the defender right back through it again. 
Against the Oklahoma City Thunder, the Clippers essentially got their split in OKC thanks to that pick and roll action. In Game 1, LA produced 15 shots by the ball-handler in the pick and roll, and scored an unbelievable 18 points per possession on those plays. (1.0 is a stellar mark, the closer you get to two points per possession the crazier it gets.)
They turned the ball over zero times on those plays. They also got five buckets out of passing to the roll man. All of this is outside of the shots to shooters on the outside. 
Chris Paul's dynamic 32-point, 10-assist performance stood out on the stat sheet, but it was the impossibility of covering him that he gave the Thunder which really hurt OKC. This isn't about complexity of sets, it's about execution and spacing. It's not what they did with it, it's how they did it. 
A few examples:
One of the big keys is that Paul is able to read the defense and make the appropriate pass no matter how they adjust. And with the high-IQ passers LA has on the perimeter, it can create open looks if everyone isn't sharp as a tack. 
Watch what happens here when Russell Westbrook decides to try and play back to interrupt the pass. When you watch this GIF, also notice that if CP3 wants, he can pass to the roll man as well. He's got a buffet of options, despite a good hedge here. 
The other trick is there's no way to get ahead of Paul when they run it. Here Westbrook tries to jump the pick and roll before Paul can go over. 
Big mistake. 
And even when they did manage to cover Paul in this side pick and roll, the Clippers immediately run another one. Because two defenders have been moved to the corner to keep Paul contained, and Thabo Sefolosha has to stay home on the strongside corner, Matt Barnes is able to run the pick and roll for an easy score. Matt Barnes, y'all. That's how much better Chris Paul makes his teammates. 
The result? Lob City gets engaged. 
And sometimes, it's just simple stuff. The Thunder play this prety well, but there's too much space between the big defender hedging and Westbrook coming behind. Paul only needs that much room. 
So what happened in Game 2? The Clippers actually got more shots out of the pick and roll (19) but averaged just .47 points per possession on those plays and turned the ball over four times. The biggest difference? More sound coverage on Paul, combined with early and constant foul trouble for CP3. Getting the offense into Darren Collison's hands helped the Thunder a lot.
Both of those factors are in part due to Russell Westbrook's aggressiveness. Not only did Westbrook's attack help force the fouls on Paul, but it wore out Collison on the defensive end. Just as Paul's attack in Game 1 muted Westbrook, Westbrook's blitz in Game 2 got the Clippers off-kilter. 
Some of their success against Paul was good scheming to get the ball out of his hands. Some of it was just a different approach from CP3. Paul comes off the screen here and instead of taking the jumper immediately, hesitates to read, and then goes deeper towards the baseline for a tougher shot. 
The counter-point to the Thunder's success was that the Clippers still produced 11 points on seven possessions by passing to the role man. The Thunder did a much better job of forcing the ball out of the ball-handler's hands, but that meant giving players rolling to the basket more opportunities. Yet they contained Blake Griffin for the most part there, so in some ways it was a success. 
But even when they played the initial action well, Paul was still able to find ways to score. Moving Paul baseline to keep him out of the middle is a good idea after the damage he dished in Game 1, but Caron Butler winds up feeling like he can't help over on the roll man because he has to stay home, leaving Derek Fisher to a. get from the corner to the paint at age 98 and b. try and stop Big Baby. 
Staying agressive on offense to wear out Paul and not let him be the aggressor is huge. Making sure someone stays on him if he looks for his shot is big. Mostly, it's about multiple efforts. You can't relax the first time he comes off that pick, you have to stay engaged. The question in Game 3 will b if Westbrook can keep busting over screens and staying up in Paul's grill or if CP3 finds more ways to hurt the Thunder. 
The point guard matchup is the biggest key to this series, and it starts with he pick and roll. 
Davis left the Pelicans' game against the Nuggets in the third quarter

Popovich was upset about an out of bounds call

Wall went 3-for-12 from the field, and had just eight points in the Wizards' loss
Noah was reinstated from his 20-game suspension on Monday, but is yet to play for the Knic...

In his first season with the Cavs, Rose has not played since Nov. 7

Keep it right here for all your Friday NBA scores, updates and highlights