Clippers to sign Stephen Jackson
The Clippers will sign forward Stephen Jackson, adding some veteran depth to their bench.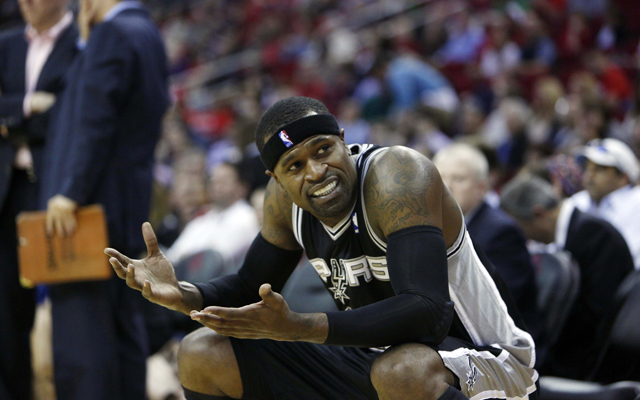 The Los Angeles Clippers are set to add some veteran wing depth, as Doc Rivers told reporters they intend to sign Stephen Jackson.
Rivers said Jackson will join the team Tuesday in Boston.
Jackson tweeted Sunday evening:
I never lost faith. The wait is over. http://t.co/kXmH7S7mR1

— IG: stak5ots (@DaTrillStak5) December 9, 2013
He also posted to his Instagram on Monday, "One thing about me I never panic bkuz God taught me how to enjoy the bad and good times. It's easy to b positive when u are thankful and humble. God is Great. Let's turn up LA. Promise to give my all."
The Clippers have been dealing with a number of injuries to their backcourt, most notably J.J. Redick who is still out for a number of weeks, as well as Matt Barnes and rookie Reggie Bullock. 
Jackson spent last season with the Spurs, but was waived shortly before the postseason because of an apparent dust-up with the coaching staff after being unwilling to accept a lesser role behind Kawhi Leonard and Danny Green. 
Jackson, 35, averaged six points and three assists last year for San Antonio on 37 percent shooting from the field. 
The inaugural BIG3 season comes to a close Sunday with the championship game

Thomas was traded to Cleveland yet some fans are taking it out on him ... and his jerseys

The Celtics dealt the No. 1 pick to Cleveland as part of the Kyrie Irving-Isaiah Thomas tr...
Thompson was rumored to have been a point of discussion with the Cavs regarding Kyrie Irvi...

What the Celtics and Cavs look like after the Eastern Conference powers swap point men

Simmons was the No. 1 pick in the 2016 NBA Draft but did not play last season