Clippers trade for Doc Rivers: Heavy is the crown on Chris Paul's head
Chris Paul has effectively taken over the franchise of the Clippers now that the coach he wanted, Doc Rivers, has been acquired through trade. Is that a good thing?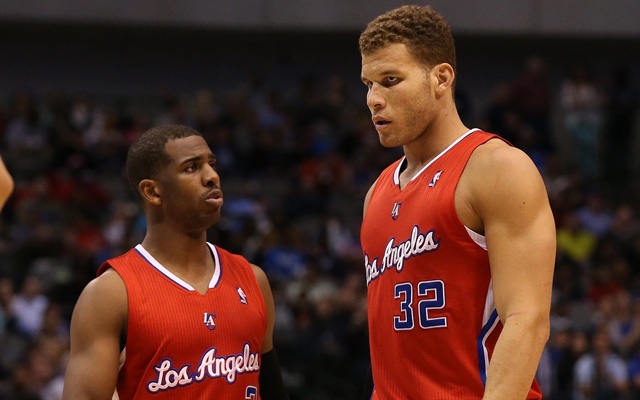 The question that surrounds the Los Angeles Clippers with the addition of Doc Rivers as coach after they reached an agreement with the Boston Celtics to send a 2015 first-round pick in exchange for Boston releasing Rivers from his contract, is whether or not a coach can be your missing piece.
The Clippers entered last season with extremely high hopes. They had added a veteran shooting component in Jamal Crawford . Blake Griffin should have continued developing (and did, in ways most failed to recognize). DeAndre Jordan should have been ready to make the leap. The veterans were healthy, they added Grant Hill , and the team had been together long enough to gel into a contender. For months it seemed like that was indeed the path as the Clippers flirted with a top seed in the West. Even as the fourth seed, after Russell Westbrook 's injury the door was wide open.
Memphis slammed it shut.
The ensuing chaos can be summed up pretty easily. The players indicated to management that coach Vinny Del Negro was the problem, and so management elected not to retain Del Negro as head coach. The allegations that Chris Paul was behind the removal incensed him, whether or not they were true, and that strained the relationship between the franchise star and his team just weeks before he was set to become a free agent. Throw in Paul's reportedly tumultuous relationship with Blake Griffin and you have an outright disaster on your hands.
Doc Rivers represented a way out. Rivers is the exact kind of coach Paul would want to play for, who he would be happy with. A player's coach with championship pedigree, loved by his players, with a combination of discipline and nurturing to get everyone involved. It gave the Clippers a huge upgrade if they could get him, and over the course of weeks, the Clippers endeavored to do just that, finally coming to terms on sending the pick and picking up Rivers' final three years and $21 million Boston was set to pay him.
So Paul will in all likelihood re-sign with the Clippers, inking a five-year max deal which he'll likely agree to sometime after midnight on July 1st. The Clippers will keep the franchise star. And if the choices were "lose Chris Paul" or "do anything and keep him," you do anything. Trade a pick for a coach you pay $21 million to for three years when he constantly re-examines his desire to coach each season? Do it. The question will be if the league will stick to its standing order not to allow a separate trade involving Kevin Garnett to the Clippers as some sort of combined compensation for a Garnett-Rivers package.
Because the trick with this deal is that one thing isn't changing. The roster.
LA has minimal cap space to work with to try and improve a team that was ousted in six games, four straight by the Memphis Grizzlies in the first round and looked both unimaginative offensively and undisciplined defensively at the end of the season. After Paul's new deal, they will have hit the luxury cap. They can let Lamar Odom spread to the wing, but are desperate for wings after the retirement of Grant Hill. If they want to keep Chauncey Billups , they have to re-sign him. Matt Barnes , also a free agent, likely chasing the first and last big deal of his career. Both their reserve centers, Ryan Hollins and Ronnie Turiaf expire.
In essence, the team is Paul on a max contract, Griffin on a max contract, DeAndre Jordan with $22 million over two years left, Eric Bledsoe in the last year of his deal before he demands a fortune as a restricted free agent, Crawford at $5 million, and... that's pretty much it. They can clear pennies by renouncnig everyone, but how do they improve the team beyond the MLE? They can trade Bledsoe, but can they get an elite talent that will help them win now? Because that's what they'll need.
How does Rivers help? The defense will be more disciplined. Rivers implemented terrific schemes from brilliant assistants like Tom Thibodeau and Lawrence Frank, and knows how to reach into a player's head and pull out the kind of effort that has eluded other coaches. Rivers hasn't gotten to work with a truly impactful center, physically, since Kendrick Perkins . His work with DeAndre Jordan could produce huge dividends. Blake Griffin's game is most often criticized for being too dependent on athleticism and not enough on ability. Rivers will bring the veteran moves to Griffin, will teach him how to work in an offense, and will focus on improving his rebounding.
(It should be noted however, Rivers' teams are never elite rebounding units. Something to keep an eye on when it comes to Griffin.)
The offense will seem more imaginative. What I mean by that is the complex screens to free Jamal Crawford or Billups if he is retained will seem more seamless than before. The out-of-timeouts sets in particular will look sharper, and that will appeal to Paul. The Clippers will not be unprepared for clutch time situations, they'll know what they're running and how to run it.
But behind all that is the fact that the Boston offense was putrid under Rivers. Not bad. Putrid. Awful. Horrid. Sucky. Whatever word you want, it's negative, that was the Boston offense. Let me put it this way. If Kevin Garnett and Brandon Bass weren't able to knock down mid-range jumpers out of the pick and pop, the least efficient of all shots, then they would have routinely been bottom-five in offense.
That same set might work with Griffin if he makes a dramatic leap forward with his jumper. Griffin improved last season at it, though few noticed. But can he be automatic? Some seasons, Garnett shot nearly 50 percent on those mid-range catch-and-shoot sets. In 2012 the best pick and pop mid-range jumpshooters in the league were Kevin Garnett and Brandon Bass. It's unlikely Griffin will produce at that level.
Chris Paul of course makes the offense better. We've never seen Rivers with a point guard who can shoot like Paul can. But we have seen him with a ball-dominant superstar in Paul Pierce , and often the offense simply came down to getting out of Pierce's way. Will the Clippers offense now emulate that approach? Is that a bad thing? These are the questions you have to ask as Rivers takes over.
Finally, there's the Paul part of this equation in focus. The decision was a success if for no other reason than it kept Paul in LA. That's a win. You do what it takes to keep your superstar. Paul's departure would be a catastrophe for the franchise. Avoiding it isn't a win, it's like winning the ability to breathe for three more years. Without it, you die.
But there's a backside to this. Paul has now been reportedly linked to the signing of free agents, the decision to not retain a coach, and the decision to not just hire, but trade a pick for a new one. We've seen what happens in other organizations when one player holds too much power over the team. Paul is a leader and a fierce competitor who wants to win, as well as a shrewd businessman and floor tactician. But at some point the simple matter of making the Clippers into Chris Paul's personal kingdom has its drawbacks.
It's an awful lot to keys to hand over to one guy who, despite being the best point guard on the planet, has never advanced beyond the second round of the playoffs.
Lob City was fun. That's over.
For the Clippers, it's about to get very, very serious.
Wade's days with the Chicago Bulls appear to be numbered

Misty Suri will reportedly keep his job with the New Orleans Pelicans

The MVP has better things to do with his time, but the former NFL receiver isn't taking 'no'...
Randolph was arrested last week in Los Angeles on felony marijuana charges

Bagley wants to be in the 2018 NBA Draft and should be the No. 1 overall pick

Durant helped build the court in Manhattan as part of his community outreach program