Coach K: 'Not one second of hesitancy, I'd trade for Kevin Love'
Duke and Team USA coach says that trading for the Timberwolves All-Star is the right move given certainty of Love's value now.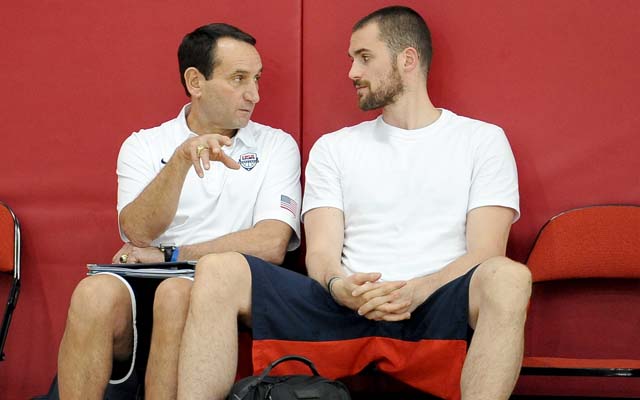 Offseason: Free Agency | Latest from Ken Berger | Rumors
In an interview with John Feinstein on CBS Sports radio, Duke and Team USA coach Mike Krzyzewski broke down what he would do in the Cleveland Cavaliers' position of trying to decide whether to trad for Kevin Love. 
The verdict? He'd trade for Love. 
Click here to listen to the audio.
"There's absolutely not one second of hesitancy. I'd trade for Kevin Love," Coach K said. "That's not saying anything bad about any of the other youngsters. Love's an All-Star and he's a double-double guy. But he's a double-double guy who can spread the court. There aren't many double-double guys who can spread the floor; he can go inside and outside. There may be a low post player that gets you a double double, but Love, you can do a lot of different things with him."
Krzyzewski went on to make the "you know what you've got" argument with Love, which essentially stipulates that while Wiggins' ceiling may be higher, his actual value is unknown, vs. with Love, you know you're getting an All-Star caliber player. 
"I've coached him on two teams, and no pun intended, I love Kevin Love," he said. "You look at LeBron, and you have the best player in the world. He's 29, I'm not saying he's at the end of his career, but he's in the second-half of his career. And in the first half of his career he was becoming a great player. It took time, just like with Andrew Wiggins, it takes time. LeBron is a great player right now, you do not want to waste any year of a great player's career. Love is close to being that. He's not as great a player as LeBron, but he's there. You know who Love is right now."
"They're always developing, but he's a consistent outstanding player. And to put that with LeBron and a great player with Kyrie [Irving] who will get there quicker with LeBron around and with Love around he'll get there even quicker, because you're influenced by your environment; we all are."
The Cavs are reportedly inching closer to signing Andrew Wiggins, which would put a hold on any trade of Wiggins for Love for 30 days. Cleveland is said to be trying to find a way to trade for Love without giving up the No. 1 pick they selected in June's draft. Minnesota, meanwhile, continues to negotiate with multiple teams including Golden State, who has balked at the inclusion of Klay Thompson
Wade, as he's done so many times in his career, threw it up to LeBron for the thunderous f...

The Warriors coach added there should be no shame in being picked last since everyone's an...

We've got all the scores, highlights and news from all of Saturday's games
The two teams have reportedly not had any substantial discussions to this point

Oladipo may be getting most of the shine, but this second-year big man has been phenomenal...

SportsLine's Mike McClure, a DFS pro with more than $1M in winnings, gives optimal lineup...