Coaches sitting on a hot seat: Who's feeling the pressure?
Which coaches are feeling the world beneath them start to warm up and whose seat is scorching already?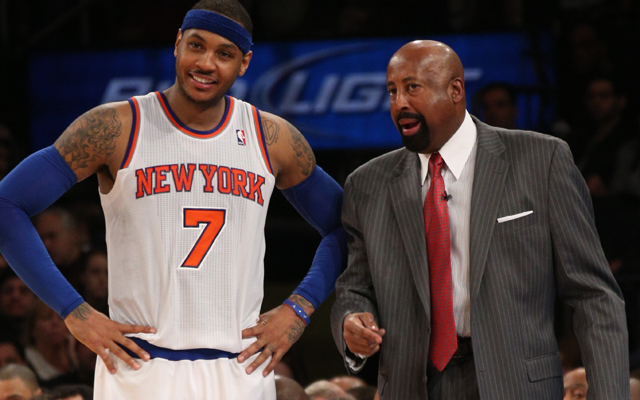 Thirteen. There are 13 new head coaches this season in the NBA. That's like, almost half the league, man. 
What that illustrates more than anything is that organizations have less patience than ever. Last season, the Lakers, Suns, Nets and Bucks fired their coaches in-season, replaced him with an interim, then let that interim go in the offseason to be replaced by a new guy. The NBA is about winning now and when the ship veers off course, the easiest person to pin the blame on is the head coach. 
But with all the shaking done over the offseason, you would think that would breed a bit more stability. It's unlikely we'll see the same kind of turnover this as we did last season, but there will be casualties, because there always are. 
Who are the prime candidates feeling some heat under their seats already? Five come to mind:
Dwane Casey, Toronto Raptors
Casey's already battling uphill. The Raptors just turned over it's entire front office with Masai Ujiri taking over and Casey wasn't his hire. That's always strike one. Strike two is not having a solid resume, which Casey does not (he's 57-91 in two seasons in Toronto). Strike three is not winning regardless of that, and that's something the Raptors may have issues with. 
And if there was such a thing as a strike four, Casey is entering the final year of a contract extension he signed after 2011-12. So parting ways won't cause much pain. 
There was talk Ujiri might can Casey this offseason, but that was shot down and Casey was given a vote of confidence, which as we all know is kind of sports' kiss of death. 
A lot of Casey's future will be held in the hands of the direction the front office chooses. After dealing Andrea Bargnani , there's thought the Raptors may once again blow things up from the bottom, deal Rudy Gay and try building all over. If that's the case, Casey could simply be a lame duck to get through most of the season before Ujiri brings in the man he feels is right to guide his overhauled roster.
And if the Raptors limp off the starting line? Ujiri may start the blow-up off right away, beginning with the head coach. 
Randy Wittman, Washington Wizards
The Wizards have actual optimism this season. Which is great! But it's also bad for a coach, in that if things go south, it's probably his fault. Or at least it will be in the mind of the ownership and front office. 
With the way the Wizards performed to finish the 2012-13 season, particularly after getting John Wall back in the lineup, the team did enough to save Wittman's job. It seemed like the roster was responding and it's kind of hard to can a guy when there's positive momentum brewing. But they're already dealing with some injuries and with the playoffs as a goal -- Wall is writing "playoffs" on his shoes for crying out loud -- if the team starts the season 5-12, Wittman might get the axe as the ownership tries to find a spark to dig them out. 
It's time for the Wizards to start taking actual steps forward instead of small shuffles. They've been in this process now for a good number of seasons and with the backend of the East wide open, there's really no reason they shouldn't compete for a postseason spot. 
Ty Corbin, Utah Jazz
Jerry Sloan's replacement has had a bit of a rocky start to his coaching career in Salt Lake City. He's 87-89 in two-plus seasons, and has had to do it after losing Deron Williams .
He's been given an underwhelming roster this season that's going to rely heavily on younger talent and if there's not progress, Corbin could draw the short straw. New general manager Dennis Lindsey, who took over after serving as an assistant GM in San Antonio, probably prefers continuity, but with Corbin in the final year of his contract, starting over with his own hand-picked selection is a strong possibility if the Jazz struggle.
Which they probably will. With Trey Burke out for a while, the Jazz don't really have a point guard and their bench is almost funny, unless you're a Jazz fan. Or Ty Corbin.  
Mike Woodson, New York Knicks
You coach the Knicks, you're on the hot seat. It's just part of the job description.
Right now, Woodson is totally in the clear. He's done a nice job in replacing Mike D'Antoni and the Knicks enjoyed their best season in more than decade in 2012-13. 
But, patience is not a virtue in New York and with the added pressure the Nets are putting on, anything less than taking significant steps forward isn't good enough. It wouldn't be fair, but there's a history here with the Knicks pulling knee-jerk moves and if there are grumbles and the team is only mid-tier in the East, could James Dolan get restless? 
What helps Woodson a lot is that there aren't any obvious candidates on the open market. With Phil Jackson apparently out of the return conversation, maybe George Karl would step in, but really, Woodson's their best bet. For now. It's always for now with the Knicks. 
Mike D'Antoni, Los Angeles Lakers
Really, this season could be one that restores D'Antoni's former sterling reputation. With Kobe Bryant out for at least part of the regular season and most everyone penciling the Lakers in for between 30 and 40 wins, D'Antoni has little pressure on him. He's got a roster of misfits, which is often what he's done the best with, particularly in Phoenix. 
The problem? The Steve Nash that made everyone so much better for the Suns is now 39 years old and has chronic back issues. So I wouldn't bank on Nash turning Wesley Johnson or Nick Young or Chris Kaman into All-Stars.
Kobe will be restless if the team struggles, but with so much to look ahead to with cap space in 2014, the Lakers may just look to wipe things clean. The blood won't be on D'Antoni's hands this season, but lose a lot in charge of the Lakers, and you get fired. Occupational hazard.   
Three more that could be warming: 
Kevin McHale, Houston Rockets
He's Dwight Howard 's coach. Enough said. 
Scott Brooks, Oklahoma City Thunder
The Thunder are maybe the more patient franchise in the league, but it could start to wear thin if the team doesn't show improvement this season. Brooks was given a pass last postseason because he had to deal with overcoming losing Russell Westbrook , but that forgiveness will dry up if the Thunder don't at least make a push back to the Western Conference finals. This is a team featuring two top five players, and the undisputed second best player in the league. If they don't win, you have to start asking questions, and you start at the top. 
Jason Kidd, Brooklyn Nets
His hiring made a big splash, but what if the team gets off to a miserable start? Kidd's one of the greatest point guards ever, but he's as raw a first-time head coach as there is. He's managing a roster with big personalities and if the Nets don't respond, would Mikhail Prokhorov pull the plug? The franchise just retired his jersey and he's a team legend, so it could be kind of awkward if it doesn't work out.
Could be an awkward meeting, whether Melo suits up for the home team or the visitors

If Chicago was fleeced -- the prevailing thought -- when dealing its star, so were a lot of...

I.T. is optimistic about returning in time from a hip injury, but it all depends on how things...
Noel, now being represented by Rich Paul of Klutch Sports, reportedly feels he's worth a max...

Steve Kerr opens up about his back issues and more

OJ Mayo, banned from the NBA for positive drug test, is considering playing overseas