Coaching changes: Lindsey Hunter could be in trouble in Phoenix
As the NBA coaching and front-office carousel began spinning Thursday, Doug Collins resigned as coach of the Sixers, Byron Scott and Lawrence Frank were fired, and the future was in doubt for Lindsey Hunter in Phoenix and Raptors president Bryan Colangelo.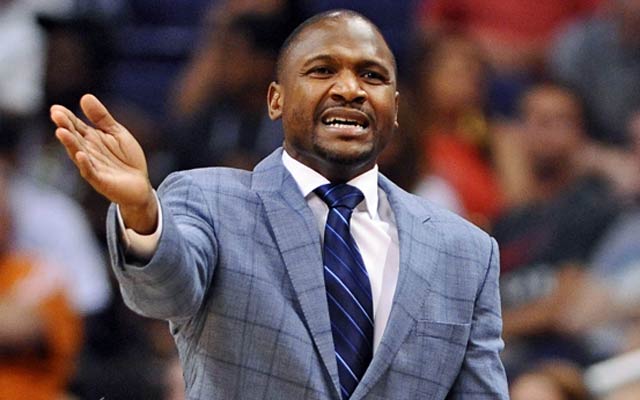 UPDATED 2:27 p.m. ET
As the postseason coaching carousel began to spin Thursday, here's the latest on who's in and who's out:
-- The Pistons fired Lawrence Frank after back-to-back sub-30-win seasons. Frank had asked the team to pick up his fourth-year option before coming back for his third season, a maneuver motivated by family concerns. Frank's wife has been ill, and the 42-year-old coach had reservations about being away from his family next season without assurances he'd be retained long-term to oversee the completion of Detroit's latest rebuilding effort.
-- The Cavaliers fired coach Byron Scott after three losing seasons and a record of 64-166. The move had been expected for several days, with questions arising about Scott's defensive preparation and a lack of initial public support for him to stay beyond this season from the team's star, Kyrie Irving.
-- As expected, 76ers coach Doug Collins resigned and will stay with the team in an advisory role. Team president Rod Thorn also shifts to a consulting role next season, and Tony DiLeo will remain GM for another year, managing owner Josh Harris said. DiLeo's current contract expires at the end of this season.
-- The Suns conducted their exit interviews a week ago, and a person familiar with the process told CBSSports.com that interim coach Lindsey Hunter did not fare well in his player evaluations. The Suns went 12-29 under Hunter -- one game worse than the first half of the season under Alvin Gentry -- and there's a feeling among some players that the team regressed. "Players don't want him back," one league source said. President Lon Babby received a two-year extension earlier this month. GM Lance Blanks, who was instrumental in appointing Hunter as interim coach, has one year left on his contract.
-- The situation with Rick Adelman in Minnesota probably will take a couple of weeks to sort out, league sources say. Adelman's wife also has been ill, and the 1,000-win coach is expected to wait for a new round of medical tests before making a decision on whether to coach next season.
-- A league source says no coaching change is expected in Toronto, where Dwane Casey already has had his option for next season picked up. There's no word yet on an impending decision by the Raptors' ownership board on whether to pick up president Bryan Colangelo's option for next season. Colangelo and Casey have clashed stylistically at times, and there has been persistent speculation that they'd have difficulty working together again. However, the Raptors announced Thursday that Casey and Colangelo would hold their end-of-season media availabilities on Monday.
Griffin said recently he thinks it's more likely that LeBron James goes to New York than L...

Mayo was suspended for two years last summer for violating the league's anti-drug program

The NBA broke its silence with a statement related to the Lakers-Paul George tampering cha...
The Clippers big man thinks LeBron will reunite with the banana boat crew at some point

Have the Clippers reportedly found their next GM?

The NBA stayed to the point in their response to the Greek basketball federation