College has March Madness while NBA suffers through March Badness
As the calendar flips from March to April in the NBA, avert your eyes if you know what's good for you.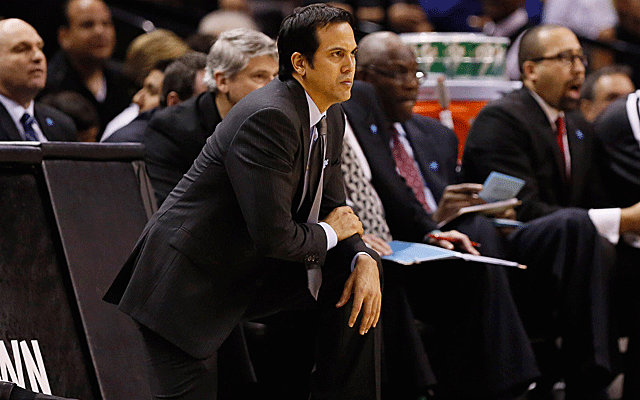 The NBA in late March and early April is the basketball equivalent of TV reruns.
(Getty Images)
NEW YORK – As the calendar flips from March to April in the NBA, avert your eyes if you know what's good for you. March Madness demands the nation's attention, the one-and-done college tournament bringing its annual smorgasbord of drama, upsets, made-for-TV storylines and the myth of student-athletes who are really there to make billions for others. 
In the NBA, it's nothing but March Badness. The sport of professional basketball becomes more of a sideshow every year around this time. From the resting of superstars to the meaningless games to the tanking for better odds in the draft lottery -- for the right to choose among a litany of incomplete, ill-prepared players, mind you -- the NBA isn't a sport for anymore in late March and early April. It's the basketball equivalent of TV reruns. 
With the Miami Heat's winning streak over, the lone news item of any significance in the Twitter-driven NBA is the Lakers' quest for a playoff berth over the final nine games of the regular season. Even that pales in comparison to the flame throwing of the past few days between Celtics president Danny Ainge and Heat president Pat Riley, who emerged from the sport's proverbial Vatican and torched Ainge's antagonistic quotes about LeBron James' officiating complaints after he was clobbered by Tom Thibodeau's Bulls in Chicago on Wednesday night. 
"He drew him out," Celtics coach Doc Rivers said of Ainge inciting Riley. "I'm very proud of Danny in that one. He threw a smoke bomb. But Danny will bring that out in you, if you've been around Danny long enough." 
Once Ainge had described LeBron's complaints about the Bulls and others getting away with rough, non-basketball contact against him as "laughable," and once Riley had issued a statement saying that Ainge needed to "shut the [expletive] up," what mere basketball game could possibly move the social-media needle? Not even the Knicks and Celtics on Sunday night would register so much as a blip on the news-cycle radar, given the catastrophic leg injury suffered by Louisville's Kevin Ware in the Midwest Regional final against Duke and the fact that Kevin Garnett was not barking obscenities on the Madison Square Garden court or trying to stop the Knicks' seven-game winning streak, but getting himself healthy and rested for the playoffs. 
The Heat and Spurs? A showdown bigger than Texas between the teams with the two best records in the NBA? With Miami's winning streak over, that game on Sunday night became an even bigger joke than the meeting in Miami back in November, when Spurs coach Gregg Popovich didn't even bother to bring four key players to the city where the game was being played. This time, it was Miami playing without James, Dwyane Wade and Mario Chalmers due to a variety of ailments that can safely be categorized as March-itis, anti-Pop-ism or both. 
True to his incomparable form, Popovich feigned shock and outrage upon hearing the news of his suddenly depleted opponent. 
"What kind of [expletive] is that?" Popovich told reporters at the AT&T Center, a place that foolishly thought it was hosting a meaningful NBA game on Sunday night. "Are you kidding me? Who would think of something like that? That's below the belt. There's no place for that." 
And while there will always be a place in the NBA for Popovich and his unvarnished irreverence, there should be no place in professional sports for the kind of diminished, watered-down product that the NBA puts on display annually in the final weeks of the regular season. And somehow, I don't think a $250,000 fine coming down on the Heat -- the way it did on the Spurs for sending Tim Duncan, Tony Parker, Manu Ginobili and Danny Green home instead of to Miami to face the Heat in a nationally televised game in November -- will correct it. Nor does anyone in his right mind think such a fine is forthcoming, not to mention a refund for the Spurs. 
On one hand, coaches who are paid to win in the playoffs should be allowed to manage rosters, injuries and rest as they see fit. Whether fans are savvy enough to understand that part of the strategy is beside the point, given the money they are paying to attend the games -- and the money the TV networks are paying to beam them to the masses. 
Tanking? They have tanking in baseball, too. It's just not called tanking. Like everything involving baseball, there is a romantic name for it: September call-ups, an idyllic phenomenon by which rosters are expanded and non-playoff teams put 20-year-old studs on the mound to see if they can get anybody out. 
There are no easy answers, but someone is going to have to start coming up with some -- namely, the next commissioner, Adam Silver. There is a growing uneasiness among team executives about the future of the NBA product, along with healthy levels of uncertainty about whether Silver will have the clout and gumption to emphasize the game itself over appearances. Maybe he will, and maybe he won't; nobody knows which way that the wind will blow when Silver takes over for David Stern in February 2014. 
Silver is an outstanding businessman and executive, and clearly, he's a brilliant negotiator, having brought an NFL-style hard salary cap to his league without the players even realizing what hit them. In business, part of the job is to react to the bottom line. Two years into Silver's collective bargaining agreement, the NBA is nothing if not financially healthy -- well on its way to profitability, if it isn't there already. So with annoyances like age-eligibility for the draft, PEDs, tanking and so many meaningless chunks of the regular season, the bottom line might be screaming a deceptive half-truth: Nothing's broken or in need of fixing. 
The Heat's quest for a 28th consecutive victory last Wednesday deteriorated into another episode of lobbying for better treatment from the officials once the playoffs begin. I wouldn't bet on the NBA if I were you, but if you did, you could put everything on LeBron spending most of May and June at the free-throw line. In the meantime, the war of words between Ainge and Riley overshadowed any actual basketball activity that might or might not be going on between now and then. Not even the Knicks and the Celtics -- with New York achieving its first season-series victory over Boston since the 2003-04 season with a 108-89 victory -- could move the needle.
The NBA has forever enjoyed an endless supply of faux controversies and verbal skirmishes to sustain it when the games themselves fail to amuse. But you have to wonder -- as smart executives who care about the game are doing -- how good a long-term business plan that is. At some point, you have to sell your product, and there's only so much devaluing a product can take.
McCollum hurled a clever insult at the French forward

Hosts Bill Reiter and Reid Forgrave are joined by Blazers guard CJ McCollum

Check back throughout the night for the latest updates from Monday's NBA games
Garnett has worked with Maker and says he is reminded of himself

It might be a good time to place a bet on the Boston Celtics

SportsLine's Mike McClure, a DFS pro with more than $1M in winnings, gives optimal lineup...