Corey Brewer talks Madness, free agency and why he's always smiling
The Nuggets' sixth man talks about the experience of growing in the NBA, losing his father to diabetes, his goat and free agency.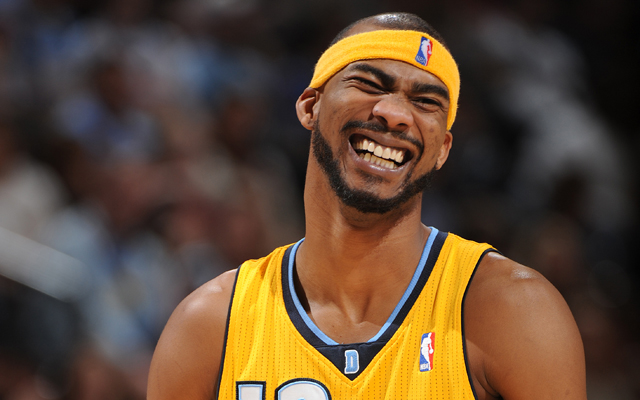 No, seriously. Corey Brewer smiles a lot.
On the bench during games. On the court during games. In the locker room. Out with the team. After games when he plays well. After games when he plays poorly. When you ask him about his start in Minnesota, where he nearly fell out of the league. When you ask him about the passing of his father from diabetes, as he remembers how hard he worked and how much he loved him. 
It's this huge, face-encompassing, happy-go-lucky smile with no snark or sarcasm, and the Nuggets' best bench player has got it on his face seemingly every minute of every day. 
So why does he smile so much?
"Man, I get to play basketball ... for a living!" he said. "Why wouldn't I smile all the time?" 
------------------------------
Corey Brewer has finally made it in the NBA. After reaching the top of the college game as a repeat national champion at Florida, then being drafted seventh overall in 2007 and finding himself in what he calls the "toughest situation" of his career, being traded away in the Melo deal, only to be waived, and spending a year on the bench for a championship team, rarely seeing the floor, Brewer has come into his own. 
He's the Nuggets' spark off the bench, the defensive pitbull whom they sick on opponents to create havoc, the leak-out machine, the emotional spark that's caused me to start calling him TNT. He goes off the second he's lit. 
Brewer is sixth among players playing 20 minutes a game in steal percentage. He has developed into a tremendous on-ball defender. The perception is that he continues to gamble, and he does, but he's adapted to become like a poor man's Tony Allen, attacking the dribble or trapping the ball-handler on the pick and roll, then recovering with swinging arms. And effort. Always effort. 
First up the floor, first to the ball, first to the rim. The Nuggets score the most points off turnovers, their bread and butter, when Brewer is on the floor of any player to play the entire season (Wilson Chandler has had a slightly bigger impact in fewer games). His presence leads to the second-most points in transition of any player on the team to play the full season. 
His presence is undeniable. And though his shot is still a complicated subject, bear in mind this. The Nuggets desperately, badly need a corner 3-point shooter. Brewer is 40 percent from the left corner, 30 percent from the right. It's everywhere else that he struggles. 
"I like the corner three," Brewer said. "I've been working on it. It's been getting better and better. Now I gotta work on knocking shots down at the top of the key."
Brewer has been working, every day, to get better as an NBA player. The amazing part? If he wasn't? He'd kind of be fine with that. 
------------------------------
Portland, Tenn., ain't big. It's just a lil' town.
That's what your typical Southern small-town kid would tell you. I know this, because I grew up in a town similar to the size of Portland, a few hours away in Arkansas. You can tell small-town Southern guys if you're from there. You know how to talk baling hay and fishing. Brewer said you can tell the NBA guys the same way. There's a way they talk, a way they carry themselves. 
And in Brewer's case, there's a work ethic. 
His father, Ellis Brewer, affectionately known as Pee Wee, worked the land throughout almost the entirety of Corey's life. Brewer would go with him to work the tobacco fields, to bail hay for folks around, to do the hard work that Brewer said made his father the man he was. Ellis died last February from complications of diabetes after having his legs amputated. But when Brewer speaks of him, he doesn't grimace, and he doesn't blame the problems of health education in rural communities. 
"He just worked so hard, man," Brewer said with a smile. "He was an old-school guy. It's hard to get a guy like that to slow down." 
That part runs in the family, so to speak. 
------------------------------
College was where Brewer learned to run. 
"I figured out, I'm guarding usually the best offensive player on the other team," Brewer said, "but I played with two really great bigs (at Florida in Joakim Noah and Al Horford). So I figure, if I can guard this guy for 25 seconds, Al or Joakim are gonna get the rebound, and I'm pretty much faster than anybody on the court. As soon as it hits their hands, it's just about being the first guy up the court."
Brewer was, and that helped the Gators to two national titles. Along the way, Brewer found a bond with Horford and Noah that continues to this day. 
"That's my guys. In the summer, we try and see each other two to three times. We always see each other. That's my guys. The best. They're both great guys. When you live with someone for three years ... We'd only go home for a couple weeks out of the year, so we were always together. So when we got to the NBA, we were like 'This is crazy.' It's always good to see those guys."
Brewer said as March Madness rolls on, he still "gets chills" thinking back to those days in Gainesville and at the tournament. He remembers that vs. the NBA, which is a business and fraught with politics. The simpler times of the tournament is what makes players so nostalgic for it.  
"Everybody's about one thing. When I was in college, everybody was about winning. We all worked out together. Now it's more about, 'It's a business.' Some guys are in a contract year; some guys are this. One guy makes $20 million; one guy makes $2 million. But in college, there's no difference. We're all the same."
------------------------------
I ask Brewer if his mother, Glenda, still lives in Portland or if he has moved her out to Denver into some big house. 
He laughed. 
"Man, you couldn't drag my mom from Portland. That's her home. That's my home." 
Brewer means it, too. A lot of people dream of escaping their small-town environment, of "making it big." Brewer surprised me by refuting that, adamantly. 
"If I hadn't made it to the NBA, I'd be fine. I'd probably still be on the trash route, or working on a farm, raising a family. I'd be totally happy and content there. Portland's home. It's always going to be home." 
Brewer still has a pet goat. That's the kind of guy he is. How often does a guy with a pet goat who's cool settling down at home make it to the NBA?
------------------------------
But he did make it to the NBA. It was there that his struggles began. The Timberwolves drafted him in June of 2007. In July, Kevin Garnett was traded to the Boston Celtics. It wasn't just a group of young guys trying to find themselves but a team with an identity that was the antithesis of what's best for Brewer. 
"It was difficult for me because when I got there," he said, "it was the same time as the KG trade. We had a bunch of young guys trying to prove themselves. We didn't really know what we were going to do. I went from playing a fast-paced offense to just walking the ball up and throwing the ball into the post. We had Al Jefferson, and he was supposed to replace KG. I just went down and stood in the corner. I didn't know what I was going to do. That was probably the toughest year I ever had."
As the Minnesota rebuild continued, Brewer slipped further and further to the edges. In 2011, as part of a series of trades involved in the Carmelo Anthony deal, the Wolves traded Brewer to New York. The Knicks bought him out soon after. Four years after winning two national titles, he was without a team. 
But not for long. The Mavericks snatched up Brewer and offered him a three-year deal. Brewer appeared in just 13 games for that Mavs team and just six playoff games. He only averaged 11 minutes and barely scratched the game. But he got two things out of it. 
He earned a championship ring and learned what it takes to get one. 
"It shows you how to be a professional," Brewer said. "If you watch a guy like Jason Terry, who's been in the league for so long and he goes so hard every day? It's amazing to me. Then you've got Dirk [Nowitzki] and Jason Kidd and Shawn [Marion] and Tyson [Chandler]. It made me appreciate being in the league and showing me what hard work is. I went through each round of the playoffs, even not playing. Just going through that experience was so valuable."
And with the Mavericks having so many aging players, it appeared Brewer might earn a chance to play. 
Whoops. Traded on draft night with Rudy Fernandez to Denver. 
It was there, under the exact opposite system from the one that he started his NBA career with, that Brewer broke loose. Brewer said the best thing about coach George Karl for him, outside of the fast-paced style that's a hallmark of Karl's teams, is that the Nuggets' coach lets players be themselves and "puts them in the best possible position to succeed." 
"I was just happy to be in a better situation in a winning organization. Not to knock Minnesota, but in Minnesota, we knew we weren't going to make the playoffs. That's tough, when you're used to winning and you realize 'We're not going to make the playoffs. We're going to win like 15 games,' that's tough. Just to be in a winning environment and in a great system, that's huge. I got in that position, and it's worked out."
------------------------------
As the Nuggets rattle off 50-plus wins and Brewer continues flying up and down the court, he has to have one eye on the future. The Nuggets are running out of cap space after giving new deals to Andre Miller and JaVale McGee, an extension to Ty Lawson and with Andre Iguodala expressing interest in free agency. 
Brewer wants to return. He's happy in Denver; he finally has a place here. He knows it's a business and acknowledges that this contract is a huge one for his financial stability. But it's his preference to return. 
"It's going to be a tough decision," he said. Hopefully, I can stay here. If I have to go somewhere else, hopefully, it'll be a similar system. A fast-paced system."
That fast-paced system has brought the Nuggets to the brink of a top-four seed. But questions still surround Denver and whether its style can translate to the playoffs without the traditional superstar. Brewer said that's what's driving him and his teammates this postseason. 
"I can't wait for the playoffs. Everyone says, 'Oh, they can't win like that,' or 'They don't have a superstar.' You never know who's going to step up for us. It's all about us surprising people and proving them wrong.
'In college, we didn't have a superstar. We just had a bunch of good players who knew how to play and played together. It's all about us, if someone has a good game.

"And if someone has a good game, why not?"
After all, if Brewer can go from raising his pet goat (no, seriously, he still has a pet goat) and working tobacco fields to winning a national title, to struggling to fit into the league, to finding himself as the TNT to Denver's potential playoff explosion, why not? 
And to those players who enter the league and wind up in a difficult situation when they're drafted? 
"You gotta go to work every day. No matter how bad things are, you gotta keep working on your game. Because you never know -- if you get traded, if you get your chance, are you going to be ready? I've always prided myself on that. No matter what, I'm always ready to play.

"You never know when you can get your number called."
After the Buzzer: 
On kooky teammate JaVale McGee: "JaVale's JaVale. You never know what he's going to do or say, but you have to love him. He's maturing. He's getting better since he got here. If he can keep maturing that level, he's going to be an All-Star."
Brewer's a surprisingly good mid-range jumper, despite the fact that Karl hates those shots with every ounce of his body. Brewer wishes he could take more of them: "My whole basketball career, I've shot mid-range jumpers. Coming off curls and stuff, that's always been my game. That's my favorite shot, coming off the curl making that shot. Shooting's confidence. It's all about confidence. A lot of guys are in a situation, they won't make shots."
Brewer said the two best outlet passers that he has ever played with are Andre Miller and Kevin Love. 
The Warriors coach added there should be no shame in being picked last since everyone's an...

We've got all the scores, highlights and news from all of Saturday's games

The two teams have reportedly not had any substantial discussions to this point
Oladipo may be getting most of the shine, but this second-year big man has been phenomenal...

SportsLine's Mike McClure, a DFS pro with more than $1M in winnings, gives optimal lineup...

The Lakers were just 2-14 from the stripe