Could Rajon Rondo return sooner than expected?
Is it possible that Rajon Rondo could return to the floor much sooner than expected? His agent thinks so.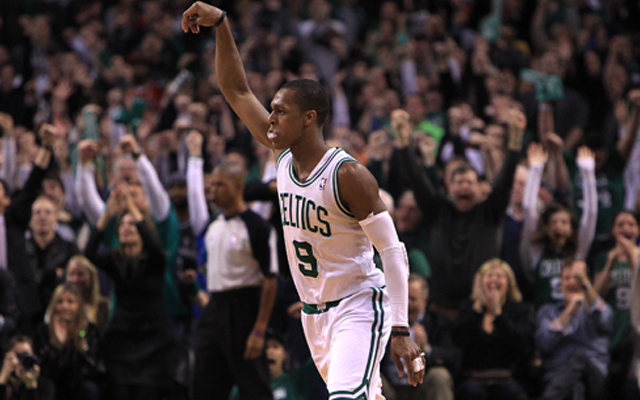 Rondo back sooner than later?
(Getty Images)
Is it possible that Rajon Rondo could return to the floor much sooner than expected?
His agent thinks so.
Via CSNNE.com, Rondo's agent, Billy Duffy, said the point guard's ACL injury is actually a partial tear, thus opening the door for an earlier-than-anticipated return.
"It's still too early to tell for sure," his agent said. "But we are very optimistic about his return now that we know his injury is only a partial tear and not a full tear."
Rondo has yet to have surgery on his injured knee. The original diagnosis was a torn ACL with him being ruled out for the rest of this season and likely ready at the beginning of the 2013-14 season.
Celtics general manager Danny Ainge, however, told CSNNE.com that Rondo will not return this season and his timetable has not changed.
And to be clear: Rondo's agent isn't saying he will come back before the end of the season. He said they are "optimistic" that it's not a full tear and don't know for sure yet. Which isn't firm either way, but certainly leaves the door cracked a bit.
There's a minor misconception with ACL injuries that it's the tear itself that causes a player to miss 8-12 months. It's not actually the injury; it's the surgery to repair it. And if Rondo's tear is indeed partial, it's possible that it might heal on his own in a shorter amount of time.
It makes enough sense. Most times with major ligament injuries, it's a certainty as to what happened. But with Rondo, he finished the game that night on a torn ACL, then prepped to play Boston's next game thinking he had only a hamstring injury or something. So it obviously wasn't that severe.
Rondo is expected to undergo surgery soon, which would end any speculation that he could return.
The Celtics have performed extremely well following Rondo's injury, going 6-0 and rising all the way to the seventh seed in the East at 26-23. It could be coincidental, but the team has clearly rallied together after losing its star point guard.
Rondo is one of the toughest, most competitive players in the league, so it's not surprising that he's pushing to return. Following his injury, he actually was heard saying he'd be back in two weeks.
It's a career decision for Rondo, though. He might want to battle back and give it a shot, but he has to consider his long-term future. And the Celtics need to do the same. Possibly soon, they'll be moving on from the Pierce-Garnett era and will completely hand the keys over to Rondo. He's their cornerstone for the future, and he can't be damaged goods.
But until he actually goes under the knife, I guess we'll have to just wait and see.
CBS Sports HQ Daily Newsletter
Get the best highlights and stories - yeah, just the good stuff handpicked by our team to start your day.
Please check the opt-in box to acknowledge that you would like to subscribe.
Thanks for signing up!
Keep an eye on your inbox for the latest sports news.
Sorry!
There was an error processing your subscription.
All three teams got what they wanted out of the Carmelo deal

Carmelo Anthony's trade to the Hawks has layers, but Twitter just respects his hustle

Keep checking back for the latest updates as NBA free agency continues
Atlanta is expected to waive the 10-time All-Star, who could soon be a Rocket

The three-time champ is the latest NBA star to go Hollywood

The next act of LeBron's career could put him in some unfamiliar territory