Could the Thunder draft-and-stash a player in the D-League?
First round pick Josh Huestis was a reach but could break ground as the first player held in the D-League before being signed.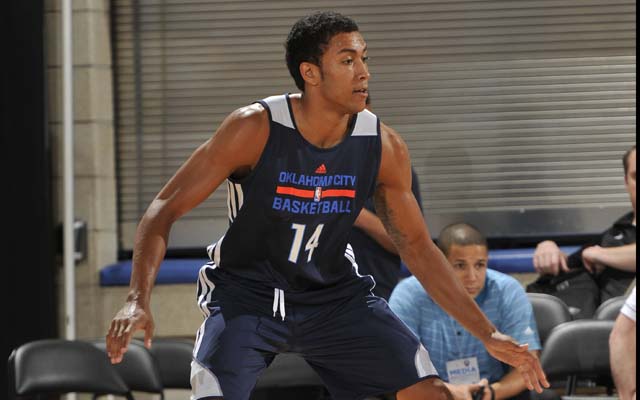 More Offseason Analysis: Updating Free Agency news | Free Agent tracker
An undercurrent to Adam Silver's push to increase the NBA age limit as commissioner has been the quiet notion that a partner to that plan would see a major expansion of the D-League. Theoretically, players who wanted to go pro out of high school could instead either sign with the D-League and make smaller salaries -- exceeding the nothing they would get from the NCAA -- or conceivably teams could draft them out of high school, but they would have to spend two years in the D-League.
The Oklahoma City Thunder are considering something innovative with their D-League team for an older player. Stanford forward Josh Huestis was a surprise first-round pick when Oklahoma City picked him up in June's draft. Now, he could become the first player to be stashed domestically, as opposed to heading overseas while the Thunder retain his rights. From The Oklahoman:
But with Josh Huestis, a first-round selection, the Thunder could be on the verge of breaking ground.

As the 29th overall pick, Huestis would become the first player selected in the first round to forgo his rookie season to sign in the D-League. In other words, he'd be the first-ever domestic "draft-and-stash" player.

NBA teams have long drafted international players and left them overseas, developing on someone else's dime. But if Huestis signs with the 66ers as expected, he'll be an American-born, American-bred prospect who, as a first-round pick, could be the flag-bearer for how the NBA envisions the future of the D-League.
via Oklahoma City Thunder: Why Josh Huestis might become the NBA's first domestic 'draft-and-stash' player | News OK.
Huestis would make only between $25,000 and $35,000 in the D-League. Under the current system, players sign with the D-League itself, and then are assigned to teams. Huestis would then be assigned to the Thunder's affiliate, the 66ers, who recently announced a move from Tulsa to Oklahoma City because of venue issues in Tulsa.
He would play in the Thunder's system there, get training and feedback from Thunder coaches, and essentially be in the same pipeline he would be were he to be signed and then assgned to the D-League. That all may sound like a rough deal for Huestis, but it could help his pro career considerably. It keeps him in the Thunder's reach, vs. going overseas and either picking up poor habits or developing some which won't help him with OKC.
The best solution for all this is to simply expand the D-League to a true one-to-one system and allow for two players to be on roster, but assigned to the D-League and not count against cap space for the duration of their season-long assignment. The league is headed in that direction. But it's a long, slow process, with several teams still holding out from purchasing their own affiliate while they wait for the league to make changes, while the league holds out for those same teams to go ahead and get with the times and buy their own affiliate or a basketball operations department of an existing team under the hybrid model.
For Huestis, it's a complicated decision. If the Thunder don't sign him to guaranteed money, his rights are frozen, he can't sign with another NBA team until those draft rights expire. He can go to Europe and make more money than in the D-League, but sometimes heading overseas can make it hard to return. Plus, being right under the Thunder coaches' noses can give you a better chance to be seen and maybe have them pull the trigger on signing you to your rookie deal. There are pros and cons that go well beyond the immediate money.
But it's an interesting idea, and a way to really get a guy into a minor-league development plan, without compromising a roster spot or cap space for OKC.
SportsLine's Mike McClure, a DFS pro with more than $1M in winnings, gives optimal lineup...

LeBron had 29 points, 11 rebounds, and 10 assists in the Cavs' 109-100 win over the Jazz

The montage showed Carmelo's best Knicks moments before playing the Thunder game
KCP can't leave California for 25 days due to the terms of his pleading guilty to a misdemeanor...

Keep it right here for all of the news, notes, scores and highlights from around the leagu...

LeBron tried to keep what he said a secret, but one mic on the court picked it up