Court Vision: Heat, Spurs put on clinics in Game 1 wins
What we've learned from Heat vs. Nets and Spurs vs. Blazers in Game 1 of their semifinals series.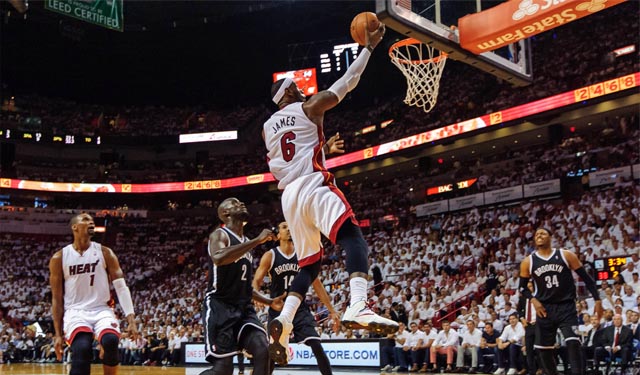 More postseason coverage: Playoff schedule, results | Latest news, notes
Here's what we learned on Tuesday, May 6, in the NBA playoffs featuring Game 1 of the conference semifinals between the Miami Heat and the Brooklyn Nets, along with the San Antonio Spurs and the Portland Trail Blazers.
After Game 1 of the semifinals for last year's NBA finalists, the Heat and Spurs look ready to do it all over again. We learned LeBron James and his crew are dialed in and aren't even thinking about a season series sweep by the Nets that gave Brooklyn confidence. James, Wade and Bosh were as focused on both ends of the floor as you could have hoped for, looking like they weren't going to mess around with letting a lesser opponent give them troubles. This is truly the sign of a team ready to make another run at a championship because they're valuing their rest.
Tony Parker and the Spurs looked the exact same way too. They struggled against a brilliant defensive game plan by the Mavericks in the first round, and if anything it seemed to prepare them for this matchup against the Blazers. The Blazers didn't do a good job of taking away the side-to-side offensive action that makes San Antonio so dangerous, and the poor defense of Portland probably made the court look like an open scrimmage to the Spurs.
It's certainly too early to feel like the Spurs and Heat are fast-tracked for a rematch of the epic 2013 NBA Finals, but they've looked like the two best teams after one game of each series. Even with the Clippers dominating in Oklahoma City Monday night, the Spurs' performance was less based on a super performance from a star and more rooted in the system being too much to handle. The Heat and Spurs have won a combined seven titles since 1999 and look on pace to try to stop each other from getting another one in June.
San Antonio Spurs 116, Portland Trail Blazers 92: Spurs lead series 1-0
• We learned that the Spurs are a team you can't really just stop. You have to have a great game plan and shock them out of doing what they do. The Blazers didn't give up a lot of points in the paint -- San Antonio only had 40 of their 116 in the paint -- but that didn't stop the Spurs from getting great shots throughout the night. They shot 60 percent from the floor in the first half, outscoring the Blazers 65-39.
• The Portland Trail Blazers didn't hit their first 3-pointer until 11:06 left in the fourth quarter. Will Barton knocked down a three from the right corner, ending the eight straight misses Portland had to open the game. They only had 10 games in the regular season in which they hit five 3-pointers in a game or fewer, going 6-4 in those games. When they made six or more in a game, the Blazers were 52-26, including the playoffs. Portland finished 4 of 16 from downtown.
• Tony Parker had 33 points and nine assists, while peppering the Blazers with buckets from all over the floor. He balanced the midrange and shots at the rim beautifully to keep the Blazers' defense off-kilter. 
• We had some dubious history for the Blazers. They finished the game with just nine assists in the game, which set a franchise record for fewest assists in a playoff game. Their previous low was 10, which happened twice (both against the Jazz in 1999). Mo Williams had four assists, Damian Lillard had three, and Earl Watson and Wesley Matthews each had one.
• Marco Belinelli looked horrendous in the first round of the playoffs, but bounced back nicely in Game 1 of the second round. He had 19 points off the bench, and will need to shoot the ball well while not trying to do too much with playmaking to have a good impact moving forward. They need his shooting, but shouldn't ask him to be Gary Neal.
• If we get the LaMarcus Aldridge of the second half in Game 2, this will be a lot tougher for San Antonio. Aldridge had 13 points on 6-of-17 shooting in the first half, but followed it up with 19 points on 6-of-8 shooting and got to the free throw line eight times. Lillard also had a much better second half, but the damage was done and they couldn't cut into the lead enough to make it matter.
Miami Heat 107, Brooklyn Nets 86: Heat lead series 1-0
• We learned that the Miami Heat are apparently impervious to rust. They received a week off between finishing off the Bobcats in four games and getting to play Game 1 against the Nets in the second round, and they still walked away with an easy victory in the second half. After Deron Williams hit a 3-pointer to end the first half and cut the deficit to three points, the Heat outscored the Nets by 18 points in the second half. Jason Kidd pulled the starters early in the fourth and rested them for Thursday.
• LeBron James was a bully out there. The Nets tried a bunch of different looks defensively against James, but he just kept coming back. He was either too quick for Paul Pierce or too strong for Shaun Livingston. Whatever situation he found himself in, he exploited. He had 22 points on 10-of-15 shooting and it all seemed like light work for him. Ten of his shots came in the restricted area and he was 4 of 5 with his jumper. He also became the youngest player to 4,000 career playoff points, which is something I guess. He's eighth all-time in playoff points.
• Joe Johnson had another solid scoring effort, but there just wasn't enough there for him to cut into the Heat's defense in the second half. He finished with 17 points on 7-of-11 from the field. He hit a couple corner 3-pointers as well, which the Nets should try to find more of for him.
• The Nets only had 11 assists on 33 made shots. The ball movement just wasn't there against the Heat's defense. An 11-to-13 assist-to-turnover ratio is not ideal for Brooklyn.
• I wonder if Ray Allen wanted to remind Kevin Garnett and Paul Pierce that he wasn't crazy about being shunned and criticized for leaving the Celtics for Miami, especially now that those two are now on Brooklyn. Allen had 19 points off the bench and made 4-of-7 from downtown. 
• The Heat hit 56.4 percent of their shots in this game, which was the 15th time this season they made 55 percent or better. They're now 14-1 in those games. They had a 52-28 advantage for points in the paint and just got much better shots throughout the game. 
• Chris Andersen had four blocks in 16 minutes to go with four rebounds and seven points. He's still so effective off the bench for the Heat and other teams don't seem to have an answer for what he brings.
• Kevin Garnett didn't score in 16 minutes of action, missing both of his shot attempts. It was the first scoreless game of his playoff career, besting (worsening?) his previous low of two points which he set in Game 3 against the Toronto Raptors. 
Vince Carter is destined for a Raptors reunion; he doesn't know when it'll happen

Thomas has a target date for his return, and with the Cavaliers scorching, this could be h...

LeBron James once again is using his platform to be socially active
Not many games, but still plenty of action and intrigue Sunday in the Association

Kobe Bryant had a solid piece of advice for back in 2016 when he left OKC for Golden State

An old rivalry is reignited between LeBron James and the Cavaliers and John Wall and the W...