Court Vision: Miami runs away from Indiana in Game 3
LeBron James, Dwyane Wade and Ray Allen outscored the entire Pacers team in the second half on Saturday.
• 3 min read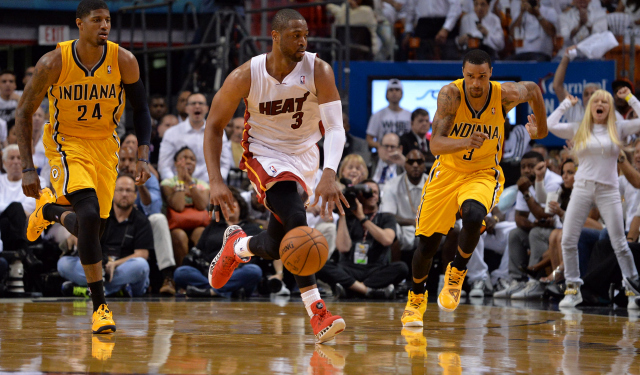 Indiana Pacers 87, Miami Heat 99 (Heat lead 2-1) | Vintage Wade | Playoff schedule
What we learned in Game 3 of the Eastern Conference Finals is that the Miami Heat are capable of looking unstoppable. The Heat started slowly once again, and transformed into a completely different team in the second half. Miami came back by running and making the Indiana Pacers defense move, and ended up with a 99-87 win and a 2-1 series lead on Saturday. LeBron James finished with a game-high 26 points, seven assists, five rebounds and four steals, shooting 9-for-14 from the field.

• We learned that Dwyane Wade is still a superstar, if there was any doubt about that. Wade continued his brilliant series, scoring 23 points on 9-for-16 shooting. He hit all sorts of crafty in-between shots, and even swished two of his three attempts from behind the arc. On the series, he is averaging 24.3 points per game and shooting 62 percent from the field. All that regular-season rest is more than paying off.
• It's impossible to know whether there were any lingering effects from the concussion, but Paul George took a while to get going. He had just four points at halftime and finished with 17 points on 5-for-13 shooting. George has an insanely difficult job this series, guarding James and serving as his team's No. 1 option, and it'd be unfair to put the blame on him. Still, he signed up to carry a big burden, and the Pacers might need a huge night from him soon. It's no coincidence he was so spectacular offensively in their one win this round. 
• Indiana started the game on a 17-4 run, and it was positively bullying Miami. The Pacers were able to force turnovers and score at will in the paint. The tables turned later on, when the Heat started putting more pressure on Indiana's ballhandlers and getting out in transition.
• Will the Heat abandon the Udonis Haslem plan? He competes gamely against Roy Hibbert, but has an undeniably harmful effect on the Heat's spacing. Miami was discombobulated to start the game on offense, and some of that has to be attributed to the floor being so crowded. Haslem and Rashard Lewis each played exactly 16:43; Haslem was +1 and Lewis was +21. 
• Here's how the Heat took their first lead:
• Miami's best lineup in this game was Norris Cole, Ray Allen, Wade, James and Chris Bosh. That group pulled away from a traditional Indiana unit in the fourth quarter, using their speed and shooting to pick apart best defensive team in the league. Allen made all four of his three-point attempts in the fourth quarter, including this huge one around the halfway mark:
• Cole was everywhere, terrorizing the Pacers. In one sequence, he stripped George on one end and, on the other, made a slick jump-pass to Allen in the corner for a three. 
• Indiana's bench was a bit less terrible, but it wasn't enough. Luis Scola had a great second quarter, scoring eight points on 4-for-5 shooting, and contributed nothing after that. C.J. Watson had to play extended minutes because George Hill was in foul trouble, and hit a couple of threes. Rasual Butler also made two threes. Evan Turner played just three and a half minutes.
• Bosh is shooting 36 percent from the field in the series, and Miami still has a 2-1 lead. He was in foul trouble all night, and looked frustrated at times. Imagine if he starts putting things together. 
• The Heat outscored the Pacers 61-45 in the second half. James, Wade and Allen combined for 47 of them.
Magic Johnson and Rob Pelinka wanted Ball to tone down his criticisms of Lakers coach Luke...

Hayward talked to CBS Sports ahead of his event at the Boys & Girls Clubs of Boston

Another day, another social media beef for Embiid
We have all the latest scores, highlights and news from Wednesday's NBA games

Thomas spent a day with a 10-year-old girl whose family is also new to Cleveland

Barkley did not hold back with his opinion of the Big Baller Brand patriarch