Court Vision: Pacers force Heat into Game 6 with careless whisper
Lance Stephenson blew in LeBron James' ear, James suffered with foul trouble and passed up the last shot, and Paul George was incredible. Pacers win. Somehow.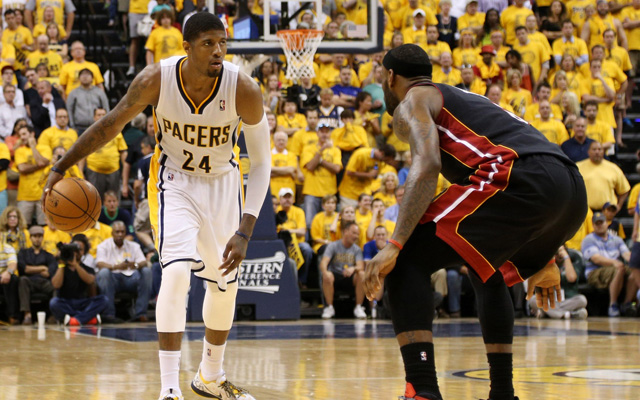 Indiana Pacers 93 Miami Heat 90 (Heat lead series 3-2)
Here's what we learned on Wednesday, as the Indiana Pacers pulled out an ugly comeback win full of controversy to pull within 3-2 of the Miami Heat 

• That was weird. Just a weird, weird, weird, weird game. For half of the game, LeBron James was in foul trouble, playing just 24 minutes. Yet the Heat went on a 30-13 run, and had the lead at the half. The Pacers looked totally unable to do anything against them. They couldn't get out of a double team to save their lives. They couldn't find any open buckets. They couldn't make shots. It got so bad, I started writing the "Series in Review" post. Sorry, Heat fans. 
• And then somehow, everything flipped. Everything. The Pacers picked up the fourth foul on LeBron James, and that set them on fire. They were running, pushing, hitting shots, finding the open man, crashing the offensive glass, and generally playing like that team that we all assumed was dead and gone from three months ago. They battled, they had heart, they were fierce. 
• They won by three. 
• So despite foul trouble to James (some were legit, some weren't as is often the case), a no-show from the Heat bench outside of Ray Allen, and 17 Heat turnovers, the Pacers still had to eke out a win. Not exactly confidence-inspiring heading down to South Beach. 
• But they are going to South Beach, thanks in large part to a masterful Paul George game. George stepped up big time, knocking down monster shots and playing with confidence for the first time in a long time. He's had a good series. But he was great in this game, and he carried Indiana once the effort ramped up thanks to Stephenson. 
• Speaking of...
• That's Lance! Stephenson has shown himself to be the boldest of the bold in this series but at some point, the Pacers do  need an edge and Stephenson is providing that. I mean, it wasn't a dedicated, serious blow in the ear. It was a careless whisper. 
• Roy Hibbert with 13 rebounds and 10 points in Game 5 and you still feel like it was a mixed performance. 
• The big controversy will revolve around LeBron passing to Chris Bosh for the corner three. I mean, we can debate it, but at this point, good or bad, LeBron James is not going to change. He's the guy who makes that pass. He makes the right play. That's in his DNA. Some things you can't change. And if that makes him weak, so be it. But he's going to go with what his gut tells him, and his gut tells him "You don't have a great look, make the pass you need to make to find a corner three." Bosh missed. The end. 
• Ian Mahinmi played 12 seconds. 
Warriors' forward doesn't understand the reasoning behind the all-too-common double technical...

Hardaway Jr. gave a 'safe' call like he was an umpire in baseball

Barnes hits the trey with less than a second left to lift Mavericks to dramatic 95-94 vict...
Kevin Durant was once again back in Oklahoma City

Gregg Popovich has never seen an injury lead to the issues that Kawhi Leonard has been fac...

Kobe Bryant, of course, had his 81-point game against Rose and the Raptors back in 2006