Court Vision: Pacers get their groove back, Thunder win thriller
What we learned in the NBA as the Pacers got their groove back vs. the Wizards and the Clippers and Thunder battled in one of the best games of the playoffs.
by

Eye on Basketball staff

• 4 min read
What we learned in the NBA Playoffs as the Pacers got their groove back vs. the Wizards and the Thunder beat the Clippers in a thriller.
We might have watched the worst game of the second round followed by the best. Indiana's win was a slugfest and a blowout, while Oklahoma City's was both beautiful and unrelenting. It felt like a TNT Thursday, without the Knicks.
Indiana Pacers 85 Washington Wizards 63 | Pacers lead the series 2-1
• We learned that somewhere, deep in the recesses of the warped, sad mess the Pacers had become... the Indiana Pacers from at-least January still live. For the first time in months, the Pacers looked like themselves. They contested everything. They fought over every screen. Their offense wasn't pretty, it wasn't good, it wasn't efficient, but it was effective and it let them get back to defend the Wizards in transtion. They wore the Wizards down, they wore the Wizards out, they demoralized them. 
• We learned that the Wizards still have that regular season, inconsistent version of themselves. Washington melted down offensively, and honestly, let the Pacers get into way too many one-on-one situations. They lost their men on perimeter rotations and missed just everything. It wasn't just from the field. 
• Washington missed 15 free throws. They shot seven-of-fifteen from three, but two of those came after the game was decided. Their shot chart was...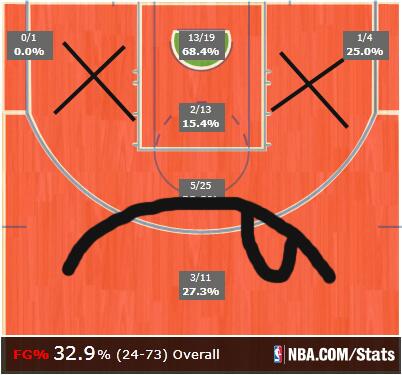 • John Wall had his third straight poor game, going 6-of-13 for 15 points, six assists and seven turnovers. And some of the turnovers...
• Meanwhile the Pacers started to adjust to how the Wizards were defending. When Paul George came off this double-screen, Trevor Ariza jumped out to defend the three. So when George cut back inside: 
David West finally got comfortable passing from the high post for the first time in this series, and got his mid-range jumper going. 
• Roy Hibbert with back to back good games! It's possible! Hibbert 14 points, 6-of-9, five rebounds, and three blocks. His interior defense was as good as it has been this season and he swallowed up perimeter penetration drives. The Wizards shot well in the paint, but not because of Hibbert. 
• I really cannot stress how bad the Wizards were offensively. 
• Bradley Beal was really bothered by Paul George's length in this game, his first really poor showing. 
• The coaching matchup, it is not kind to the Wizards in this series. After wining the first game, Frank Vogel has adjsusted more and more to what the Wizards want to do. 
• Wall had a bad game, but he had this moment: 
• Short dude mocking David West before his team gets housed. Good times: 
Oklahoma City Thunder 118, Los Angeles Clippers 12: Thunder lead the series 2-1
• We learned that the peak version of the Oklahoma City Thunder is incredible. Wait, we should have already known that. Kevin Durant and Russell Westbrook were phenomenal, and Serge Ibaka made nine of his 10 field-goal attempts. The Los Angeles Clippers are/were great, so this was still close.
• Your MVP had 36 points, eight rebounds and six assists. He played 46 minutes. He took smaller defenders down low and he guarded DeAndre Jordan for a while. He hit ridiculous turnaround jumpers that only the MVP makes. He also did this, which is not fair:
• You could almost make the argument that Westbrook was as good in this one as he was in that ridiculous, dominant Game 2. He was all over the floor again, and he played a complete, controlled — for him — game. Chris Paul might be the better point guard, but Westbrook refuses to be outplayed in this series. "It was vintage Russell," Oklahoma City head coach Scott Brooks said. The numbers: 23 points, 13 assists, eight rebounds, two turnovers, 7-for-14 shooting. There were many, many highlights; here is one:
• Blake Griffin had the bounce-back game the Clippers needed, wanted, expected. While he had trouble producing in the post on Wednesday, he had no such issues back home. The efficient 34 points, eight rebounds and four assists were awesome, but his defense at the rim deserves mention too. He had three blocks, and did his best Roy Hibbert impression by going straight up to protect the rim.
• Los Angeles shot just 7-for-26 from three-point range. As much as we'll credit Durant, Westbrook and Ibaka for this, some of those long-range misses could have easily dropped. Matt Barnes went 1-for-6, Jamal Crawford went 1-for-5 and J.J. Redick went 1-for-4. They were mostly good looks, and on Sunday they will have to knock them down. 
• This has to be considered the best game of the second round so far, and it's up there with some of the classics from the first. Just about every second play felt YouTube-worthy, whether it was a Westbrook drive, a Griffin dunk or a Steven Adams swat. It seemed like it should have gone to multiple overtimes, but the Thunder didn't let it happen. And by didn't let it happen, I mean Westbrook hit a three off the dribble and then Durant hit a long, absurd turnaround jumper over Paul to close it out.
• The face of victory:
Smilin' Russell Westbrook pic.twitter.com/4SlohYJ7me

— CJ Fogler (@cjzero) May 10, 2014
• The face of defeat:
NOBODY MAKES ME BLEED MY OWN BLOOD. pic.twitter.com/LmzDhHNBMz

— Hardwood Paroxysm (@HPbasketball) May 10, 2014
A report last week indicated Charlotte is looking to move Walker, along with one of its hefty...

Barea responds by claiming that none of Wall's teammates like him; the Wizards continue to...

Cousins finished with 44 points, 24 rebounds, and 10 assists
Love left Saturday's game, which the Cavs lost 148-124, due to illness

Kidd was fired by the Bucks on Monday afternoon

We've got all the scores, highlights and news from an NBA Monday