Court Vision: Pacers make statement to start series against Heat
The Indiana Pacers led wire-to-wire against the Heat on Sunday.
• 3 min read
Game 1: Doyel: Pacers match up | LeBron, Bosh out of sync | Indy's containment 
What we learned in Game 1 of the Eastern Conference finals is the Indiana Pacers are a different team against the Miami Heat. This is the matchup the Pacers have wanted all season — as LeBron James noted before the game — and none of Indiana's issues that have reared their ugly heads over the past few months were present. 
We also learned that the Heat need to raise their game. What worked against the Charlotte Bobcats and Brooklyn Nets won't be as effective against the defense the Pacers play. We can expect Miami to be better next game.

Indiana Pacers 107, Miami Heat 96 | Pacers lead series 1-0
• We learned that if Paul George and Lance Stephenson outplay James and Dwyane Wade, Indiana will probably win. Jeff Van Gundy made that point late in the fourth quarter and, after a moment of consideration, it's hard to argue. George scored a team-high 24 points on 7-for-13 shooting, but Stephenson's 17 points on 8-for-12 were probably more instrumental. Stephenson set the tone from the start, making six of his seven first-half shots. The Pacers wings combined for 15 assists and were brilliant on both ends. On offense, they never stopped cutting when they didn't have the ball and they made a concerted effort to keep it moving. James made several surprising defensive gaffes, and the Heat as a whole weren't on their usual string.
• Wade was phenomenal offensively, finishing with 27 points on 12-for-18 shooting. His knees didn't look "messed up" at all. You can look at this as a silver lining, or you can look at it like Miami wasted a great performance that it won't likely get out of Wade on a consistent basis. Your call. Anyway, look at the beautiful shot chart: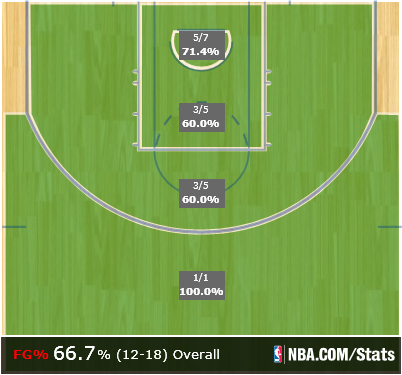 • In other positive Heat news, here's LeBron finishing an alley-oop:
• All five Indiana starters scored in double figures. George Hill was more aggressive than he's been all playoffs. David West shot 8-for-11 and did all the tough David West things you'd expect. Roy Hibbert had 19 points and nine rebounds, and he scared the Heat away from the paint.
• Hibbert's tough, and the Pacers in general make things difficult for Miami, but there will be adjustments. The Heat shot 6-for-23 on three-pointers and 10-for-15 from the free throw line. They probably won't miss so many open looks next time, and they settled for way too many jumpers. 
• Chris Bosh had a really rough game. The line: nine points, two rebounds, four assists, 4-for-12 shooting. He was thoroughly outplayed by Indiana's frontcourt, and this is a completely different game if he plays up to his potential. 
• This Mario Chalmers flagrant foul wasn't great:
• Stephenson fears no one:
• Heat head coach Erik Spoelstra decided to start Shane Battier rather than reverting back to Udonis Haslem … and then he went with Haslem to start the second half. Neither strategy worked particularly well. Battier couldn't handle the Pacers wings, and Haslem didn't do enough against Hibbert to offset the spacing issue he brings. 
• Evan Turner has strep throat and did not play. This did not hurt Indiana.
• "That's probably us at our worst defensively." - Spoelstra, postgame. The Pacers shot 52 percent, and scored the equivalent of 120 points per 100 possessions. 
• Mark Jackson returned to the booth, and he didn't say, "Hand down, man down." There was no, "Mama, there goes that man," either. Fancy that.
We've got all the scores, highlights and news for Thursday night

The Sixers big man got his first All-Star selection -- and maybe some revenge -- on Thursd...

It appears some players are not entirely taking the All-Star voting process seriously
There were some weird discrepancies between the fan, media and player votes

LeBron and Steph will be the captains for the 2018 NBA All-Star Game

Arron Afflalo was involved in an altercation with Timberwolves big man Nemanja Bjelica on...