Court Vision: Pacers survive Wizards' spell, Thunder put away the Clippers
We go over the lessons from Thursday's Game 6 action in which the Pacers and Thunder advanced to the conference finals.
by

Eye on Basketball staff

• 5 min read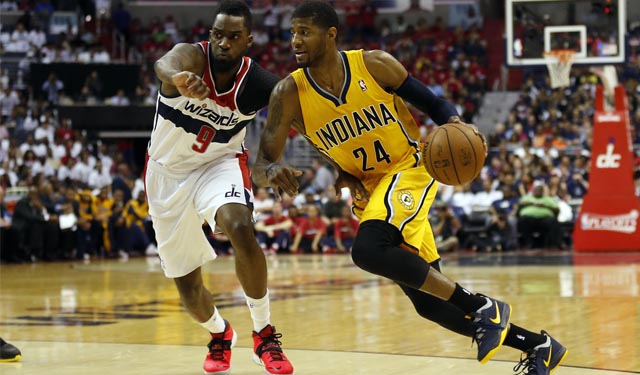 More postseason coverage: Playoff schedule, results | Latest news, notes
Here's what we learned in the NBA Playoffs on Thursday, May 15, 2014 as the Indiana Pacers survived a huge test against the Washington Wizards on their way to the almost always inevitable Eastern Conference finals with the Miami Heat and the Oklahoma City Thunder managed to punch their ticket to the Western Conference finals against the San Antonio Spurs.
Indiana Pacers 93, Washington Wizards 80 | Pacers win the series 4-2
• We learned that the worries about the Indiana Pacers were greatly exaggerated over the last 3.5 months. OK, that's not true at all. This team was in serious trouble for quite some time and almost lost to the 8-seed Atlanta Hawks in the first round. But they managed to figure it all out and be good enough to get by. They weren't dominant like we saw them in the early parts of the season, but sometimes you just have to be good enough to advance and then you recalibrate.
• When the Pacers needed someone to step up to avoid a potential coin flip game in Indianapolis on Sunday in a Game 7, David West was their guy. He was the guy they could trust outside of Paul George most nights, and he came through with 29 points on 13-of-26 shooting. He had 18 points in the second half and was just too much for a very good Washington Wizards' frontcourt. 
• Marcin Gortat and Nene were very good in Game 6, combining for 34 points and 12 rebounds. Gortat continued his good play from Game 5, but they needed more from him with the bench and backcourt struggling a bit.
• Neither bench did much in this game. Pacers' bench had 13 points and the Wizards' bench scored 12, but the starters were going to win or lose this game for both teams. 
• When the Pacers win in this series, Roy Hibbert is very solid. He had 11 points, seven rebounds, and three blocks in this game. In Indiana's four wins, Hibbert averaged 17.5 points, 7.5 rebounds, and 2.5 blocks. In the two losses, he averaged 2.0 points, 1.0 rebound, and 1.5 blocks. He is needed for this team to be successful.
• Home teams in this series were 1-5. There is no such thing as home court advantage anymore. All hail, road court advantage. 
• The Wizards' backcourt of Bradley Beal and John Wall combined for 13 assists, which was good, but they made just 12-of-35 from the field and turned the ball over seven times. Washington has such a bright future because of these two, and it was good for them to experience what they did this postseason. Just a reminder that John Wall is 23 years old and Bradley Beal is 20 years old. 
• Lance Stephenson was absolutely phenomenal in this game, aside from a couple of bad attempts. He had 17 points on 8-of-13 shooting, contributed eight assists, and grabbed five rebounds. His all-around game was much-needed and he helped set the tone of the game for the Pacers early on. Without him, they might not get that momentum going in the first half. He was everywhere and the Wizards couldn't stay in front of him.
• Game 1 of the Eastern Conference finals starts Sunday in Indianapolis at 3:30pm ET. 
Oklahoma City Thunder 104, Los Angeles Clippers 98 | Thunder win the series 4-2
• We learned that Kevin Durant is reliable. In a close-out game, he had 39 points, 15 rebounds, five assists and two blocks. After shooting 1-for-7 in the first quarter, he went 11-for-16 the rest of the way. He made five of his eight three-pointers on the night, and all 10 of his free throws. In Game 5, he struggled for most of the game while Russell Westbrook carried the Thunder. In Game 6, Westbrook struggled but it didn't matter because of Durant's brilliance.
• We learned that the Los Angeles Clippers need some better two-way wing players. I sort of wish they'd have played Danny Granger more in this series, but clearly head coach Doc Rivers thought he'd be toxic for their offense. The problem was that J.J. Redick and Jamal Crawford were getting burned defensively, and Matt Barnes shot 4-for-14 from the field.
• Blake Griffin had 22 points, eight rebounds and eight assists in his final game of the season, but shot 8-for-20 and fouled out of the game. He was not happy about fouling out. Warning: there is mature language in this video. 
• Even though it was a down game for Westbrook offensively — he shot 4-for-15 from the field — he played as hard as he always does and compiled 12 assists. He also made all 10 of his free throws.
• Chris Paul was magnificent, with 25 points, 11 assists and seven rebounds. He had 14 points on 6-for-7 shooting in the fourth quarter, but it wasn't enough to save his team. Also, boy, he is sneaky:
• The Thunder are a different team when Reggie Jackson is giving them a spark. He scored 14 points off the bench, three fewer than all of the Clippers reserves combined.
• Steven Adams was +17 in 40 minutes. Nick Collison was +16 in 17 minutes, after not playing at all in the first half. This is partially due to Serge Ibaka's calf injury, but both of these guys should be huge factors against the Spurs. Kendrick Perkins only played eight minutes, and that is important.
• Oklahoma City only scored 28 points in the paint to Los Angeles' 52, but got to the free throw line a ton, making 29 of its 33 attempts. 
There were several controversial calls late in the game, and these two tweets are worth sharing:
Fans throwing drinks at referee Ed Malloy

— Marc J. Spears (@SpearsNBAYahoo) May 16, 2014
I thought the ref was going to run in the stands. Whewww. Close call

— Metta World Peace (@MettaWorldPeace) May 16, 2014
• Lisa Salters did some great sideline reporting:
• Game 1 of the Western Conference finals starts Monday in San Antonio at 9 p.m. ET.
Dan Fegan was once considered as one of the most influential agents in the NBA

Ersan Ilyasova isn't quite the player he used to be, but maybe the 76ers can bring the best...

LeBron James speaks his mind and that's part of what makes him a superhero to Gregg Popovi...
We've got all the scores, top plays and news from Sunday's NBA games

Stephen Oh has his finger on the pulse of Wizards basketball and released a play for Sunda...

The Warriors don't have any interest in winning a popularity contest. They're fine winning...