Court Vision: Playoff lessons and looking ahead, 4/20
A look back at the action Sun., April 20, in the NBA playoffs starring how the Hawks toppled the Pacers. Updating Sunday
by

Eye on Basketball staff

• 9 min read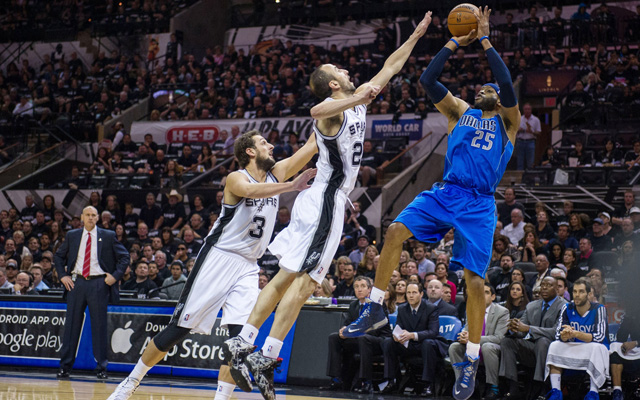 More postseason coverage: Playoff schedule, results | Machine
Here's what we learned from the playoffs on Sun., April 20, as well as a look ahead to Monday's games. 
Portland Trail Blazers 122, Houston Rockets 120 (OT): Blazers lead 1-0
• We learned that Damian Lillard is as legit a superstar as we thought he was. Lillard played 45:50, scored 31 points, nine rebounds, five assists, and only one turnover. He also was the one to first tie the game: 
• And then in overtime, to recover after Patrick Beverley swiped the ball out of bounds to get the and-one on the next possession, drawing the sixth foul on Beverley. Lillard took over the game and made things happen whenever the Blazers needed. This was his time, and while LaMarcus Aldridge was incredible with 46 points and 18 rebounds, it felt like Lillard who owned the game's biggest moments. 
• We learned this series is set to be fantastic. Despite the Blazers taking one on the road and gaining homecourt with the raucous Rose Garden waiting for Game 3, the two teams are evenly matched. It took huge shot after huge shot and whistle after whistle for this to go to overtime. LaMarcus Aldridge was hitting threes. Robin Lopez battled Dwight Howard and made his life tough. This series is serious, intense, and evenly matched. Don't be surprised if it goes long. 
•  We learned that once again, the officials had way too much to say in a huge, fun game. Just as in Clippers-Warriors Game 1, the officials seemed terrified of letting this get out of hand despite neither team being the "big and bad" type, and called it exceptionally tight. There were huge moments ruined by bad calls, and a few technicals that should be rescinded into oblivion on Monday. 
•  Terrence Jones had a mixed game. He made plays early and played well, but once again, LaMarcus Aldridge took time to roast him. It's a tough matchup, but one that Jones has to find answers. 
•  Portland had a stellar defensive rating (99 points per 100 possessions) while LaMarcus Aldridge was on the floor. He was great on both ends. 
•  Wesley Matthews had a great performance on both ends. 
Washington Wizards 102, Chicago Bulls 93: Wizards lead 1-0
• We learned that the Wizards are legit. Good teams find a way to win when what you do well isn't working. The Wizards didn't shoot, or make much from the perimeter, John Wall (16-6-6 on 4-of-14 shooting) didn't have a great game, and they still won Game 1 on the road. 
• A lot of that can be attribued to Nene, who was an abject beast. 24 points on 11-of-17 shooting, eight rebounds, three assists, two steals and a block, and he just torched Joakim Nene. It wasn't close. It was a blistering. 
• The rest can be attributed to this. The Bulls are a nightmare of unbelievable proportions on offense. D.J. Augustin, who has never been a great shooter, was great for the Bulls this season. He shot 3-of-15 from the field. Kirk Hinrich took sixteen shots. 16! Mike Dunleavy, 4-of-12. Here's a good example of their offense: 
• The Bulls lived on second-chance points for much of the game. But when the Wizards shored that up and started giving better efforts, the Bulls couldn't keep pace. The Wizards moved the ball, made smart decisions, only turned the ball over ten times, and ground the Bulls into dirt. 
• Jimmy Butler made a ton of plays defensively, and shot pretty well for him, at 50 percent from the field. But the Bulls were overwhelmed offensively. Butler played 44 minutes to start this series, and the Bulls were -15 with him on the floor. 
• You wonder if Noah was distracted by the death of his close friend and mentor, Tyrone Green. Noah missed time away from practice this week and was clearly grieving. He seemed slow of foot and unfocused at times, which is rare for him. Expect a strong bounceback from the Bulls' MVP.
•  Andre Miller came off the bench and scored 10 points in 14 minutes, helping spark the run for the Wizards. 
• Was the Wizards' offensive performance an outlier, or was it an anomaly from Chicago? or are there serious problems here?
•  No matter what, it's a big loss for the Bulls who find themselves having to find major adjustments early in this series. 
•Gortat had a huge block on Boozer in the third: 
•The Bulls don't need to panic, they should see how Game 2 goes. But if they continue to struggle offensively, they have to get Jimmer Fredette on the floor. You have to make jumpers in the playoffs, and outsid of Dunleavy, if Augustin's not hitting, they have no one who can.
Miami Heat 99, Charlotte Bobcats 88: Heat lead 1-0 in the series
• We learned that this Charlotte Bobcats' team is extremely well-coached. The Bobcats came out ready to play because seems to be what Steve Clifford demands of them and prepares them to do. This is a pretty inexperienced team when it comes to the playoffs, and they did a great job of coming in early and taking away the nervous energy a road team can have on the road. While they weren't able to hold up throughout the entire game, the Bobcats kept coming back when Clifford would call a timeout, make adjustments, and re-focus his troops.
• Al Jefferson is fantastic at basketball. Charlotte was making a big push for him to be on an All-NBA team this season and a national audience got to see why. Jefferson scored easily in the early parts of the game before straining his left plantar fascia and having to leave the game. When he came back, he noticeably limped around but still gutted out an 18-point, 10-rebound performance in 35 minutes. Before he left, he was 4-of-4 from the field and just 5-of-12 after his injury.
• LeBron James can turn it on in these games whenever he wants to. Michael Kidd-Gilchrist did a good job of trying to contain James, but when LeBron wanted to be at the basket, he was. When he wanted to get open for a 3-pointer, he had the space. MKG is a quick defender, but he's not nearly as strong as LeBron. James had 15 points in the second half and helped give the Heat a bit of a cushion.
• Apparently, James Jones is a god who was waiting to reveal himself to the masses. He had 12 points in just over 14 minutes, after playing in just 20 minutes this season. He can flat-out shoot the ball, no matter what the situation is.
• Josh McRoberts got baptismal:
• Dwyane Wade looked rested. Gerald Henderson is a pretty good on-ball defender against scoring guards. He may not stop them game in and game out, but he historically makes them work pretty hard to get their looks. Wade seemed to get his points with ease in Game 1 and really took advantage when Chris Douglas-Roberts found himself matched up on him.
• Chris Andersen may have been dunked on by McRoberts but he still had eight points and 10 rebounds in 22 minutes while posting a plus-28 in the game. Andersen's addition last season was a huge boost because he gave the Heat a big finisher at the rim. The league still hasn't figured out how to take that totally away.
• I'm worried about Kemba Walker's knees. Not that you have any reason to worry, necessarily, but I don't see how the human body can absorb this much force consistently while stopping suddenly after going full speed.
• Actually, the freaky thing is he's not going full speed there.
• Kemba also had a pretty solid game. He attacked nicely and made some shots, but he can't give the ball to the Heat so much. His 20 points and six assists were great contributions but his six turnovers can't happen again.
• Gary Neal takes a lot of shots. 16 attempts in 28 minutes. 
• Charlotte looked overmatched with Douglas-Roberts in the game. His impact comes scoring the ball and he had just one point in 21 minutes. He was the worst plus/minus on the team with a minus-17. 
• Everybody on the Heat's bench had a positive plus/minus with four of the five players putting up positiive double-digit numbers. 
• This game was close for the majority of it and still the Heat once held a 20-point lead in this contest. They're just so explosive and the Bobcats don't have the talent yet to continually withstand that advantage by Miami.
San Antonio Spurs 90, Dallas Mavericks 85: Spurs lead 1-0 in the series
• We learned that even when the Mavericks play well, they may not be good enough. And we learned that even when the Spurs play badly, their better is better than your better. Dallas had this. A ten-point lead with less than eight minutes to go, a fantastic defensive performance for a bad defensive team, and the Mavericks couldn't hold on. They completely fell apart, especially Dirk Nowitzki who went 2-of-6 in the 4th along with Monta Ellis going 0-for-3. 
• We learned Tiago Splitter is going to feast inside in this series. He got great position on all of his scores, benefitting from the chaos Tony Parker created from the perimeter. 
• Speaking of Parker, he was a demon today. He took over early. Part of that was the Mavs' strategy, constantly switching and daring Parker to beat them with scoring. It worked for a long time despite Parker's scoring, but eventually it cost them, as his burst in the late fourth sealed the game with a spin-move. 
• Also, we learned Parker's crossover is amazing: 
• We haven't learned if this is the best shot the Mavs had at making this a series. They looked like the better team for three and a half quarters, they had fewer turnovers, more offensive rebounds, and held San Antonio to 3-of-17 from three. And they lost. Can they recover? That's the big lingering question. 
• In 12 minutes, the Mavericks were plus-16 with Jae Crowder on the floor in a smallball approach. In 18 minutes the Mavs were minus-11 with Samuel Dalembert on the floor. 
•Vince Carter was tremendous on the boards with five rebounds. 
• Tim Duncan was unbelievable. Just unbelievable. That guy took over and kept the Spurs in it when Parker lost some juice in the second half. An incredible performance and he just killed Dirk Nowitzki.
• Speaking of, here's Dirk's fourth quarter shot chart: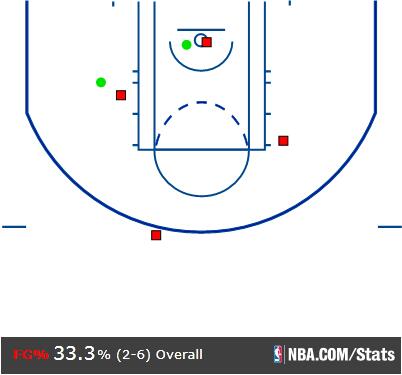 That miss at the rim was killer. It was a bunny that he's made a million times, and just went long. Huge miss. 
• We learned Gregg Popovich is awesome. 
• Mark Cuban not thrilled. 
Tomorrow's questions, today; 
Memphis at Golden State Game 2, 8 p.m. ET: Can Memphis manage to not go down 20 points this time? Was the Memphis surge in Game 1 a blip or a sign of things to come? Can anyone spread the floor for Memphis? Will the Thunder guards slice and dice this easy? Is Serge Ibaka the most important player in the series? Tayshaun Prince is set to return from illness, does coach Joerger accept the Grizzlies are better off with him on the bench? 
Golden State at Los Angeles Clippers, 10:30 p.m. ET. : Will Blake Griffin get to play more than 20 minutes? If Griffin does play, how does Golden State slow him down? The Warriors won with Steph Curry having a bad shooting game. What happpens if he doesn't come out of it. Can the Clippers get away with the dual-point guard lineup defensively? 
Westbrook's late layup gave the Thunder a 109-108 victory

LeBron became the seventh player in league history to reach the milestone

There were a few things that stood out from Tuesday's All-Star selections
Here are three players from each conference who had legitimate claims to make the game

LeBron achieved the milestone in the first quarter Tuesday

Here are the full lineups for the 2018 NBA All-Star Game