Court Vision: Playoff lessons and looking ahead, 4/24
Looking back on Pacers-Hawks, Thunder-Grizzlies, and Warriors-Clippers.
by

Eye on Basketball staff

• 8 min read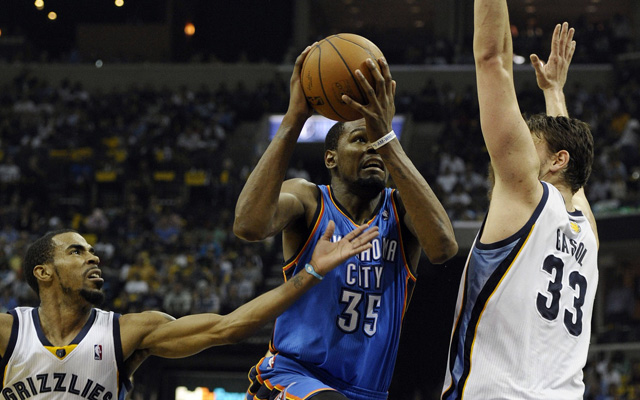 More Playoffs: Schedule | Threat Matrix | Previews: East | West | Picks
More postseason coverage: Playoff schedule, results | Machine
Here's what we learned from the playoffs on Thursday, April 24, as well as a look ahead to Friday's games. 
Atlanta Hawks 98, Indiana Pacers 85: Hawks lead series 2-1
• We learned not to trust the Indiana Pacers just quite yet. After a very Pacers win in Game 2 when they dominated the third quarter and used it to put their opponent away, the Pacers reverted back to the previous two months of futility when they completely blew a chance to regain their confidence. The Pacers got drilled for 59 points in the second half and just couldn't get stops or offense to go at any point.
• We learned this Atlanta Hawks team is not to be trifled with right now. They went back toward "Bud Ball", which is the type of unselfish offense Mike Budenholzer has instilled in this organization. They had 21 assists on 28 made baskets, and just looked to have a much better flow to their game, despite not hitting a lot of shots. They shot just 38.4 percent but made up for that by making 12 3-pointers.
• Paul George (3-of-11), Roy Hibbert (2-of-9), and George Hill (1-of-11) sucked. There is no other way around. Hibbert couldn't get anything going, George can't seem to dribble or hit jumpers anymore, and nobody knows what Hill is trying to accomplish out there. You can't survive three of your key players being so inept, especially when one is your best player. 
• Jeff Teague capping this shot off with the shrug was fantastic. (Via @BenGolliver)
• Luis Scola had his second really good game in a row since that 0-of-6 performance in Game 1. He had 17 points in 20 minutes, after scoring 20 points in 19 minutes in Game 2. The Pacers need to find a way to get him the ball and play him a little bit more because he's the only consistent scoring option they've got right now.
• While starters for the Pacers couldn't get it done, the role players of the Hawks were amazing. Kyle Korver had 20 points on 6-of-9 shooting, DeMarre Carroll had 18 points on 6-of-8 shooting, and Lou Williams' line of 11 points on 3-of-6 doesn't seem that impressive but he had some big scores for Atlanta. 
• Aside from that crazy shot by Teague, he had an incredible game once again -- 22 points and 10 assists -- and while he didn't shoot great, he managed to control the tempo of the game for the Hawks. 
Memphis Grizzlies 98, Oklahoma City Thunder 95: Grizzlies lead series 2-1
• We learned that there is no end to the madness this series, these playoffs, can provide. After Game 2's overtime thriller, it looked like a runaway Grizzlies win in the third when the lead swelled to 17. 
• Then we learned that the Thunder's defense can blitz Memphis for stretches. OKC ramped up the intensity and started trapping Mike Conley out of every pick and roll. The Grizzlies' offense stagnated, running up against the clock on every possession and failing to rotate the ball to the weak side. The Grizzlies went cold, and the Thunder made a huge rush despite a horrible shooting night for Kevin Durant, eventually closing the gap to four. 
• Yes, four. 
• You know what happened. Again. 
• Kaboom. 
• So the game goes to overtime, again, only this time, Kevin Durant scores immediately and-one to start OT. So the script is flipped, right? Nope. Memphis responds once again, scoring with Marc Gasol and then Mike Conley making huge shot after huge shot. Eventually it came down to ... a four-point lead when Courtney Lee missed a clinching free throw. 
• No timeouts, and the Thunder heave it. Westbrook heaves ... and Tony Allen fouls him. Of course. So Westbrook can hit two, then miss the third and if Thunder tap it in, it's tied. But Westbrook misses the second, and that's all she wrote. 
• We learned that sometimes, great players have terrible nights. Kevin Durant was 10-of-27 from the field and oh-fer-eight from three. In the seven games Durant has failed to hit a three in the playoffs, three of them have come against Memphis. KD's shot chart: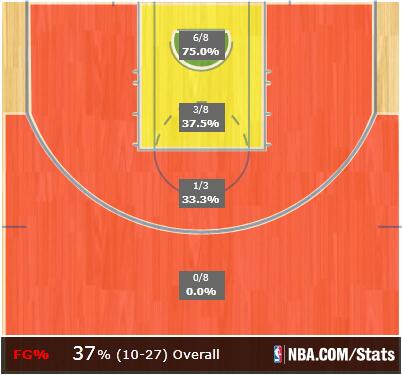 • Most confusing was what seemed like a panic three from Durant when they didn't need a three late in overtime. He missed badly. Durant had an off night, of that there can be no doubt. But Tony Allen and the Memphis defense legitimately have the presumptive-MVP shook, and that can't happen if the Thunder are going to survive. 
• And of course, Russell Westbrook: 9-of-26, 30 points, 13 rebounds, four turnovers, only two assists. Westbrook seemed to tweak his knee before the game and aggravated it in-game, but finished the game. They wouldn't have forced overtime without his heroics. But he also was brutal from the field and made key mistakes. 
• Tony Allen is feast and famine all at once. He would miss an open jumper or force up a layup trying to get the attention off his teammates from the Thunder defense, then make a huge steal, deflection, or, especially, rebound, at the other end. He converted plays into layups and cost Memphis with bad shots. He was there for the team whenever they needed them and fouled Westbrook on a desperation heave at the end of the game down four that if it had gone, would have been the second four-point play he would have surrendered in a game. 
• Zach Randolph and Marc Gasol had 30 points on 34 shots. Gasol especially was passive and unable to finish at the rim, but hit a huge shot late to help seal the win. Randolph stuggled after the Thunder defense adapted. 
• If the Thunder are going to even this series and win it, it has to get Memphis out of their heads. They hesitated on shots they should take, and missed shots they should make. They did a good job forcing the issue to draw fouls to keep OKC in it, but the Thunder just have had no poise whatsoever. They have to resolve that. 
• Great guard play from Mike Conley all night. And Beno Udrih once again gave Memphis a huge lift with 12 points off the bench. 
• Kendrick Perkins remains the Thunder's best player. Which kind of sums up how screwed they've been in this series. 
Los Angeles Clippers 98, Golden State Warriors 96: Clippers lead series 2-1
• Blake Griffin is still a dominant force in this series. He wasn't allowed on the court much in Game 1, but he still made an impact in that time. In Game 2, he led a charge that was far too much for the Golden State Warriors to handle. In Game 3, he showed his wide array of skills that prove his dunking is probably talked about too much. He hit a slew of jumpers in a row in the second half and just showed overall activity the Warriors couldn't match. Griffin finished with 32 points on 15-of-25 shooting to go with eight rebounds.
• The Los Angeles Clippers got a bit lucky in this game considering the Warriors missed 25 3-pointers. They were just 6-of-31 and Stephen Curry didn't find much of a rhythm until the final minutes. He was 3-of-8 on 3-pointers, Klay Thompson was 2-of-11 from downtown and the Warriors' bench was just 1-of-11 from deep.
• Jamal Crawford beat Klay Thompson in a game of Twister when Jamal called out "left foot, yellow" and Klay crumbled to the floor.
• Curry had 15 assists in this game and did a much better job of keeping control of his passes. He had just three turnovers and we saw a lot less of that one-handed slinging the ball over his head for a quick pass that the Clippers have been all over in this series.
• DeAndre Jordan officially owns the boards without Andrew Bogut's presence. Maybe he'd own them anyway but there's no doubt about it so far. He finished with 14 points, 22 rebounds and five blocked shots. 
• This is a foul but the way CP3 fouls him is pretty genius. He gets a little bit of the follow through, but doesn't reach over to do it so you could technically say he's entitled to that space. Where the really smart foul comes in is putting his forearm into the hip of Curry. Refs typically aren't going to see that or call it at the end of the game.
Tomorrow's questions, today;
Toronto at Brooklyn Game 3, 7 p.m. ET: How do the inexperienced Toronto Raptors handle a potentially hostile Brooklyn Nets crowd? Will DeMar DeRozan be the aggressive scorer who gets into the paint in Game 2 or the passive jump shooter we saw in Game 1? How much does Kyle Lowry have to dominate Deron Williams? Will Kevin Garnett be able to give Brooklyn 32 minutes? Will Patrick Patterson get almost all of the backup forward minutes?
Chicago at Washington Game 3, 8 p.m. ET. : How resilient are the Chicago Bulls? We've seen them bounce back before in the face of adversity, but could this be too much for a team with so little offense? Do they have an answer from Bradley Beal? Can Nene keep controlling the paint? Is Carlos Boozer the best scorer for the Bulls? Has John Wall had the biggest impact in this series? Will Tom Thibodeau unleash the Jimmer?
Houston at Portland Game 3, 10:30 p.m. ET. : How do the Houston Rockets respond to being down 0-2 and having to go on the road? Will LaMarcus Aldridge have mercy on his defenders? Is Dwight Howard back to being a great center again? How can James Harden make a bigger impact in this series? Whose bench will step up the most? Will the Rockets get their 3-point shooting stroke back?
Westbrook's late layup gave the Thunder a 109-108 victory

LeBron became the seventh player in league history to reach the milestone

There were a few things that stood out from Tuesday's All-Star selections
Here are three players from each conference who had legitimate claims to make the game

LeBron achieved the milestone in the first quarter Tuesday

Here are the full lineups for the 2018 NBA All-Star Game