Court Vision: Playoff lessons and looking ahead, 4/25
We're taking a look at what we've learned from Nets-Raptors, Bulls-Wizards, and Blazers-Rockets.
by

Eye on Basketball staff

• 5 min read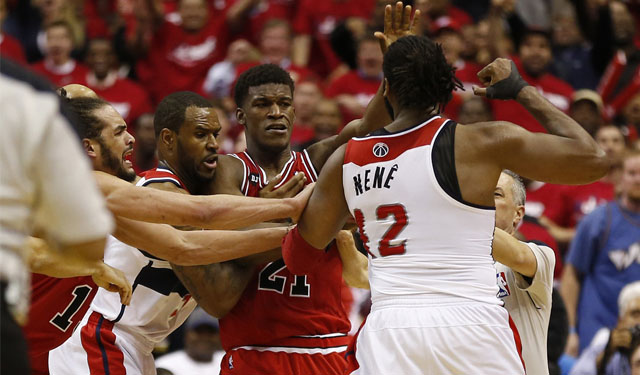 More Playoffs: Schedule | Threat Matrix | Previews: East | West | Picks
More postseason coverage: Playoff schedule, results | Machine
Here's what we learned from the playoffs on Friday, April 25, as well as a look ahead to Saturday's games. 
Brooklyn Nets 102, Toronto Raptors 98: Nets lead series 2-1
• The Brooklyn Nets opened up a 93-78 lead on the Toronto Raptors with 5:01 left in the fourth quarter. From that point on, the Raptors finished the game on a 20-9 run but screwed up multiple chances to tie the game late in the fourth quarter. Each team missed four free throws in the final five minutes of the game and looked like they were hoping the other team would make a move. It was like an awkward first date once it gets to the goodbye.
• Joe Johnson was filthy in this game. He had 11 points in the fourth quarter and 29 points overall on 11-of-17 from the field. He was the best scorer on the floor all game long and the Raptors didn't really have an answer for him most of the night. Whether he was attacking the basket or freeing himself up for the jumper, he got into the space he needed to get a good shot off.
• DeMar DeRozan tried to answer and his 30 points were the game-high. However, he forced the action a little too much late in the game. He made just 2-of-7 from the field in the fourth, but to be fair, the Raptors' offense was pretty constipated for most of the second half. With the way the Raptors were playing, you would have liked for a point guard to take over, but DeRozan was the best option with an injury to Kyle Lowry and Greivis Vasquez playing erratically. DeRozan was just 3-of-13 in the second half. 
• Rihanna was at the game. This has nothing to do with basketball but some people are into that.
• Terrence Ross had a bad game for the third straight time in this series. He was just 1-of-4 from the field in 22 minutes, and scored just five points to go with three turnovers. For the series, he's 3-of-16 from the field for 10 points in 62 minutes. I'm not even sure you can play him at this point if you're not getting any kind of scoring from him. 
• Good Deron Williams is back! For now, at least. He had 22 points on 14 shots to go with eight assists. He also teamed up with Shaun Livingston to do a really good defensive job on Lowry. Williams struggled a bit in the second half but he was still distributing the ball. The majority of his damage came in the first half and even if you can just get one really good half out of him each game, that should be enough to win this series.
• Tyler Hansbrough played nine minutes in the game and it was a complete waste of time. All of his minutes should be going to Patrick Patterson, who was tremendous once again. He was 6-of-7 from the field for 17 points, but did miss two huge free throws that would have tied the game with 19 seconds left. 
• 63 fouls called in this game and each team was 29-of-37 from the free throw line.
• The Nets made 35.0 percent of their 3-pointers in this game after making just 22.9 percent of their shots from downtown in the first two games. When the Nets make at least 30.0 percent of their 3-pointers in a home game, they're 23-7 this season. 
Chicago Bulls 100, Washington Wizards 97: Wizards lead series 2-1
• We had a little scuffle in this game that cost the Wizards having Nene in down the stretch. He and Jimmy Butler got into it during the fourth quarter. With 8:27 left, Nene ended up putting his forehead against Butler's, before grabbing him around the back of his head and needing to be separated. 
• Butler stayed in the game and hit a huge 3-pointer to put the Bulls up 94-91 with 24 seconds left. He finished with 15 points on 3-of-7 shooting from the field and 7-of-8 from the free throw line. 11 of his points came in the fourth.
• Mike Dunleavy had the scoring explosion the Bulls were desperate for in this series. He had 35 points on 12-of-19 from the field and 8-of-10 from 3-point range. He had 16 points at halftime and then came out and scored 13 more in the third quarter. He gave the Wizards' defense someone they had to focus on the rest of the game and it helped space the floor a bit for the rest of the offense. They've been desperate for a guy like that.
• Bradley Beal once again hit some big shots for the Wizards. It's like he craves the big shot when it comes to carrying this team in the fourth. He ran off seven straight points in one minute and seven seconds. He finished with 25 points with 13 of them coming in the fourth quarter. 
• John Wall was great as well with 23 points, seven assists, and four steals. He also only had one turnover in the game. But it feels like he needs to create a few more opportunities for his teammates right now. Perhaps that needs to come in transition and Washington couldn't get a ton of stops to create fast break chances. 
• It wasn't just the ejection in this game: Nene struggled to score the ball. He was 5-of-15 from the field, but his presence late in the game could have provided some much-needed presence inside. It didn't look like the Wizards had a drop-off option to score inside on late drives or dribble penetration, and Nene is that guy for them. 
• Wall's body control is absurd. This was part of an 11-point first quarter that set the tone early for Washington but they eventually lost some offensive steam.
• Joakim Noah had four assists, pushing the Bulls to 34-20 this season when he gets at least four assists in a game. 
The Rockets beat the Warriors 116-108 on Saturday night

The Cavaliers gave up 148 points in their loss Saturday afternoon to the Thunder

Blatt made the comment before coaching in the All-Star Game in Turkey
We've got all the scores, highlights and news from all of Sunday's games

Is this rock bottom for the Cavaliers because it sure feels like it is

Wade, as he's done so many times in his career, threw it up to LeBron for the thunderous f...