Court Vision: Playoff lessons and looking ahead, 4/27
A look at what we saw on Sun., April 27th, as the Wizards toppled the Bulls, the Clippers and Warriors faced off, and more.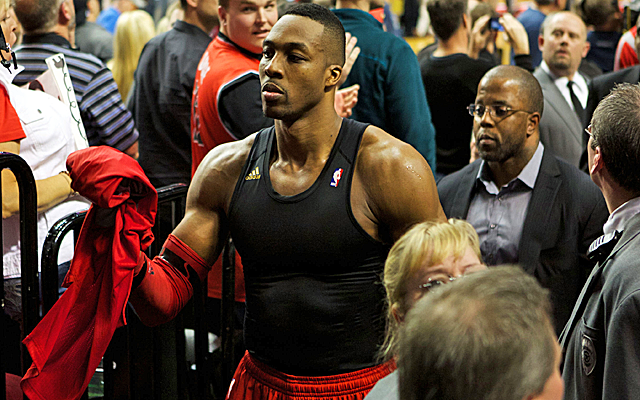 More postseason coverage: Playoff schedule, results |Nene suspended
Here's what we learned from the playoffs on Sunday, April 27. 
Blazers 123 Rockets 120: Trail Blazers lead series 3-1
• We learned that Houston is probably not going to outgrow their late-game execution troubles. Houston had this game several times, and it wasn't a lack of shot-making, talent, or even defensive troubles that doomed them. They lost in clutch time because of decision-making. Hammering the ball in the post before Robin Lopez fouled out yielded mixed results. James Harden ISO's produced mixed results. Jeremy Lin trying to dribble out and bringing a turnover that lead to the biggest three of the game on himself. The Rockets struggled all season with understanding how to close games, as far back as their first game against the Lakers in November. It came back to bite them.
• We learned that Damian Lillard doesn't have to hit big shots to make big plays. Lillard made some monster shots, but also delivered whip passes and managed the offense. He made the right plays, instead of the big plays. 
• We learned that James Harden still isn't ready to lead. Harden let Nicolas Batum go by him for a layup after being frustrated at Howard dominating the ball. He overdribbled, tried to draw the foul too much, and generally just didn't work to engage the offense. 
• Mo Williams was a hero in this game... but mark this down. Relying on Mo Williams late in these games is dangerous. He made some big shots... and took some bad ones. He played some tough defense... and gave some bad fouls. If Terry Stotts continues to rely on him late in games, it could be problematic. Lillard's the guy. That needs to be understood. 
• LaMarcus Aldridge went back to work tonight. 29 points on 23 shots and 10 rebounds. He just kept plugging. 
• When Robin Lopez was in, the decision to keep hammering the ball to Dwight Howard in the post was a nightmare. Once Lopez fouled out, it became an optimal strategy. A blown call on an out of bounds play in which the official Ed Malloy said the ball went off Howard's leg which was clearly off of LaMarcus Aldridge. The decision to not review that call is pretty awful in an offseason full of reviews. 
•  The final play was probably a steal but you wonder if that would have been a foul call with another player. Meanwhile, Jeremy Lin screwed up the final play of regulation, but he's also really good at splitting doubles like the one that Beverly lost the ball on. 
• Wes Matthews was killer at both ends. Just a massive effort from him. 
• Thomas Robinson had an epic block on Dwight Howard: 
• Houston is down 3-1 and have lost two overtime games. Chances lost. 
Washington Wizards 98 Chicago Bulls 89: Wizards lead series 3-1
• We learned that relying on Jimmy Butler and Mike Dunleavy making jump shots off the dribble as your primary offensive weapons remains unsustainable. After a strong performance in Game 3, the Bulls went back to being the Bulls on offense. Plodding, ugly, and largely inept. It wasn't only shot making. Bulls who are not Taj Gibson took 22 shots from mid-range, 19 from three and only 21 in the paint. They have the worst effective field goal percentage in the league (factoring 3s) and they took mostly jumpers. This is not a plan for success.
Here are the Bulls minus Gibson: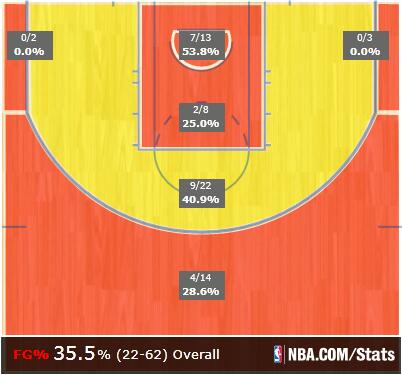 That's a lot of red, Bulls. 
• Meanwhile, the Wizards played fantastic, especially on the defensive end. Their first half was great offense, as they racked up six corner three attempts, double what the Bulls typically allow per game. Those are high percentage shots and Trevor Ariza and Bradley Beal made them pay for it. 
• We learned that it isn't a mirage, this Wizards team can defend. John Wall's defensive anticipation of rotations is reaching precognitive levels, and the Wizards muscled up down low without Nene. The Bulls had 15 second-chance points in the first half, just five the rest of the game. Some of that was improved shooting from Chicago, but even still, the lesson was once again proven: Keep Chicago off the glass and you can destroy their offense. 
• To that end, Trevor Booker was huge. In Game 4, the Bulls' percentage of offensive rebounds grabbed with Booker on court was 29 percent. With him off, they grabbed 46 percent. Booker made a huge impact that end. 
• I mentioned above "the Bulls without Taj Gibson." That's because he was singularly great. He brought his usual level of energy, but also played smart, made jumpers, finished off cuts to find gaps, and generally wrecked the Wizards. 
• This series has been a real wake-up call to the realities of D.J. Augustin. What Augustin did this season to reclaim his career has been pheomenal, but he's neither explosive enough, nor big enough, to threaten inside, and he has to score so much, he's not a passing threat (the Bulls won't make them if he dishes). So the Wizards tracked him and blocked him at the rim, forcing him into contested jumpers. 
• Jimmy Butler went back to being Jimmy Butler in Game 4, 5-of-14 from the field, and a minus-11. 
• It's pretty huge that the Wizards won this game with Nene suspended. That's a huge part of their offense and they still ran laps around Chicago. The Bulls made it a game ithe fourth outscoring the Wizards 27-16, but in the endthe izards peeled off to a ten-point win. It felt easy. 
• This may have been it for Chicago, now down 3-1. It's not over, they get to get back to Chicago for Game 5. But there's been very little in this series to illustrate the Bulls have enough firepower to match up with Washington three straight times, no matter how much hustle and heart they show. 
Golden State Warriors 118 Los Angeles Clippers 97: Series tied 2-2
• We learned about the emotional damage of having to play after the events of the past 36 hours with the alleged Donald Sterling comments. The Clippers players admitted they didn't really know how to feel, and Doc Rivers admitting not being sure of what to say to the team. They didn't have it. They didn't have anywhere near close to the kind of energy you'd expect for a game of this magnitude. The reality is that this was the perfect storm of perfect storms for the Clippers and emotionally, they had almost no chance to compete in that kind of an environment. 
• The Warriors obviously don't want to hear that, since they played terrific Sunday. You can talk about the small lineup, or about better decision making, or about the style and intensity they played with, but really, they just hit shots. When their three-point shooters in the Splash Brothers -- Steph Curry and Klay Thompson -- get going, and they're hitting those off-balance, toss-em-up threes in volume, the Warriors are nearly impossible to beat at home. That was really the difference. The Warriors made a legion of shots that they've missed throughout this series, tough shots that they don't always make but when they do, they roll. 
• Now, the subtext of that success does lie with the small-ball lineup. They started David Lee and Draymond Green, and the impacts were tremendous. Green is strong, active, fast and a plus-minus monster. He predictably lead the team with a plus-33, with only four points, five rebounds, and five assists, but a world of impact. Now, if Blake Griffin and Chris Paul were engaged, his impact changes, since Green can't contain an engaged Griffin in the post at all. But regardless, he played great, and it was a huge part of their success. 
• Curry hit his first five threes. The game was effectively over right there. You let the Warriors front-run in a Roaracle playoff game and you're sunk. 
• David Lee was fantastic, battling for loose balls, fighting on defense, and giving great production offensively. 
• Chris Paul was in foul trouble all day. It started early and he never really was able to control the game. 
• Klay Thompson's jam in the second quarter had incredible ups. 
• DeAndre Jordan was a non-factor. Whether that was the impact of the Sterling situation or the small-ball lineup will be a big question going into Game 5. 
• We learned how reslient ths Raptors team can be. Instead of laying down on the road, the Raptors came out with fire and lead for most of the game, hammering the Nets with a combination of DeMar DeRozan and Kyle Lowry. But it was their defense that got the job done. Only six Raptors scored. 
• Joe Johnson, seven points on seven shots despite matchup advantages. Deron Williams, 10 points on 12 shots. Brooklyn had 16 turnovers. It was ugly. 
• Really, the key for this game was that Raptors defense. The Nets just couldn't ever get any momentum and Toronto kept them in the hole. 
• Can we talk about Barclays? That environment needs something money can't fix. 
•  The series is tied 2-2 and it really feels like neither team has momentum. 
• For more on the Nets' inability to close, read Royce Young's thoughts on the matter. 
Questions for Monday, April 28th: 
Heat-Bobcats Game 4: This is it, right? I mean, we're done here? Can the Bobcats get something, anything to feel good about going into next season? How will Al Jefferson's injury impact his conditioning going into next season? Can the Heat just rest Dwyane Wade for this one? Will anyone remember how much fun the Bobcat were his season? Anyone? 
Hawks-Pacers Game 5: Can Atanta get back to bombing from deep? Indiana has taken a step back every time they've taken a step forward. Can they break that trend? Will Paul Millsap get loose? David West is going to fight with someone in this series, right? Can the Hawks get back to finding Pero Antic threes with the five-out? Can Roy Hibbert do something? Anything? 
Mavericks-Spurs Game 4: I mean, this isn't happening again, right? The real Spurs will show up, right? Monta doesn't actually have it all, right? Total chaos won't reign, right? 
Teodosic had to leave the Clippers' game Saturday night against the Suns

Irving said recently that he does not regret the profane outburst

Wade is having a rough start to his first season playing in Cleveland
Greek Freak scores career-high 44 points and reaches scary level to finish the game

It was an ugly finish as the Warriors fell to 1-2 on the season -- both Curry and Kevin Durant...

Mirotic was hospitalized with facial fractures after an altercation with Portis during pra...