Court Vision: Playoff lessons and looking ahead, 4/29
We review the Wizards-Bulls, Grizzlies-Thunder, and Clippers-Warriors games from Tuesday night.
by

Eye on Basketball staff

• 7 min read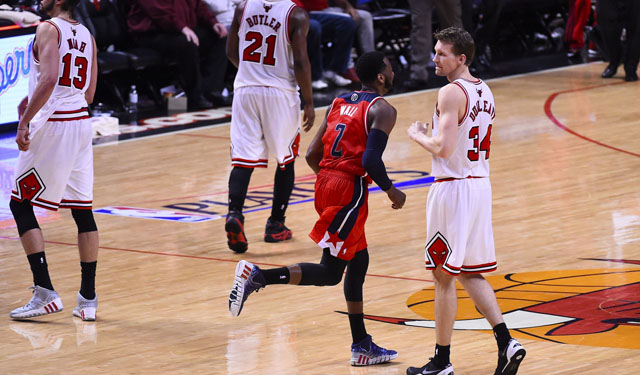 More postseason coverage: Playoff schedule, results | Latest news, notes
Here's what we learned from the playoffs on Tuesday, April 29, as well as a look ahead to Wednesday's games.
Washington Wizards 75, Chicago Bulls 69: Wizards win series 4-1
• The Washington Wizards ended the Chicago Bulls season and extended their own into the second round with a huge defensive effort in which they benefitted from the Bulls missing a lot of layups. The 69 points given up by the Wizards were the fewest in a playoff game in franchise history. Their previous lowest point total given up was 72 in a 36-point win over the Cleveland Cavaliers in 2008.
• The Bulls struggled so much from the field, and especially couldn't make shots inside. They made 25-of-75 from the field (33.3 percent), which is the fourth lowest percentage from the field in franchise playoff history. The Bulls made 9-of-32 from inside the restricted area (28.1 percent) and just buried themselves time after time with missed shots. The Bulls did pass the ball well with 19 assists on their 25 made buckets. 
• Joakim Noah looked to be struggling with some pain and racked up some cool stats in a losing effort. He finished with just six points on 3-of-8 shooting, but he grabbed 18 rebounds, dished out seven assists, and blocked three shots. 
• Nene was a monster once again for the Wizards. After being suspended for Game 4, Nene scored 20 points on 10-of-17 shooting to go with seven rebounds. He was 5-of-9 from midrange and seemed to take advantage of the looks the Bulls were willing to give up to him. 
• John Wall didn't shoot the ball well once again, but he had a huge impact on the game. He was the game's leading scorer with 24 points on 7-of-19 shooting and he came through at the free throw line by going 9-of-11 from the stripe. He turned the ball over just one time against a defense he navigated quite well throughout the entire series. 
• If the Bulls end up using the amnesty clause on Carlos Boozer this summer, his last game for the team will have been 10 points on 4-of-12 shooting, nine rebounds, and zero fourth quarter minutes. Boozer played a grand total of 7:47 in fourth quarters in this five-game series. 
• D.J. Augustin had a horrible Game 5 with a 1-of-10 shooting effort. For the series, he made 21-of-72 from the field (29.1 percent) and really only had one game in which he shot well. Game 2 saw him go 10-of-22 from the field and that was still a loss for the Bulls. Rough way for him to end the season after having such a nice resurgence with them this season.
• The Wizards will play the winner of the Hawks-Pacers series. The Hawks lead 3-2 heading back to Atlanta for Game 6.
Memphis Grizzlies 100, Oklahoma City Thunder 99 OT: Grizzlies lead series 3-2
• How insane has this series been? For the fourth straight game, these two teams went to overtime and the Grizzlies managed to take the huge road victory to take control of the series. The Grizzlies are the best in this series at being able to play the extra frame, winning three of those four overtime contests. 
• Kevin Durant played nearly the entire game for the Thunder, sitting out for just 1:15 of this game. He maybe could have used a little bit more rest because he turned the ball over far too many times (six) and shot just 10-of-24 from the field for 26 points. He made it to the free throw line just six times, making three. He's averaging just 7.8 attempts per game this series after getting to the line 9.9 times per game in the regular season.
• Russell Westbrook took 31 shots in this game and made only 10 of them, but he still managed to have a very good overall game. His 30 points were tops in the game and he also contributed 13 assists and 10 rebounds. Westbrook was 7-of-14 in the restricted area and just 2-of-10 in the middle of the floor. 
• There isn't enough you can say about Tony Allen's defense in this series and this game. He's just found a way to consistently be a thorn in Durant's side. Durant was supposed to be defense-proof after the season we saw him have, but once again Allen is the guy that bothers him more than anybody. It's become such a problem for Durant and the Thunder that they're in danger of losing this series in Memphis.
• How good is Mike Miller in Game 5's against the Oklahoma City Thunder? He infamously went off for 23 points on seven made 3-pointers in Game 5 of the NBA Finals to help beat the Thunder. Tuesday night, Miller scored 21 points off the bench by making five 3-pointers. He led the Grizzlies in scoring.
• This play by Russ looked like it was going to save the Thunder's season:
• I'm not sure how you stop Zach Randolph consistently, but it's apparently not with Kendrick Perkins and Serge Ibaka. He had an efficient 20-10 game and did the majority of his scoring in the restricted area. He's just a bull and there's nothing Perkins can do against him except body him up and hope for the best.
• Game came down to a horrible shot drawn up for Durant and Ibaka nearly winning the game on the offensive rebound and tip-in. Another 0.3 seconds and we probably have a different series leader:
Los Angeles Clippers 113, Golden State Warriors 103: Clippers lead series 3-2
• After an extremely emotional day, the Los Angeles Clippers found a way to make sure they were able to stay focused and take care of business at home. With the Donald Sterling cloud momentarily lifted away from their roster, the Clippers came out and just played a very good game against a focused Warriors team. They shot 48.7 percent from the field, 40.0 percent from three, and Clippers' not named DeAndre Jordan made 22-of-24 from the line.
• While Jordan didn't shoot free throws all that well (9-of-17), he did have a huge impact in other areas of the floor. He finished with 25 points, 18 rebounds, and four blocks. It was the first 25-18-4 game in Clippers' playoff history since 1986, according to Basketball-Reference.com. Closest was Elton Brand racking up 33-15-5 in 2006.
• And while Jordan was bad from the free throw line in this game, he was 6-of-8 from the line in the fourth quarter. 
• The Golden State Warriors got a solid shooting effort out of their backcourt. Klay Thompson had 21 points on 9-of-17 shooting, including 3-of-7 from downtown. He may have been the best Warriors' player on the floor tonight and took advantage of favorable matchups quite often. For the Warriors, Stephen Curry had 17 points on 5-of-10 from the field and 4-of-7 from the arc, but his eight turnovers were just killers for the Warriors. Clippers scored 22 points off of 14 turnovers overall. 
• This team gets out and runs so effortlessly and having Blake Griffin trailing the play is never a bad thing for the old YouTube machine:
• The matchup of the Clippers' bench against the Warriors' bench was big in this game. Darren Collison and Jamal Crawford led the Clippers' bench with 15 and 19 points, respectively, and the Clippers' reserves outscored the Warriors' reserves 36-19. 
Tomorrow's questions, today;
Dallas at San Antonio Game 5, 7 p.m. ET: Without DeJuan Blair for Game 5, will the Dallas Mavericks have enough big men in the rotation to survive this game? Can the Mavericks get the outside shooting and ball movement going again? Will Monta Ellis be a weapon again or will he have an inefficient shooting night like in Game 4? Will Tony Parker finally show up in the fourth quarter for the Spurs? Can Danny Green get going in this series? Will they have to ride Manu Ginobili again?
Brooklyn at Toronto Game 5, 7:30 p.m. ET. : Will the Toronto Raptors have a massively energetic crowd once again and will that boost them to a victory? Are the Brooklyn Nets seasoned enough veterans to keep weathering an atmosphere like that? Which Deron Williams will we get? Will he be healthy enough? What about the health of Kyle Lowry? Is DeMar DeRozan going to be aggressive? Will Terrence Ross finally show up in this series?
Portland at Houston Game 5, 9:30 p.m. ET. : Where is James Harden's offense and what have you done with it? Can the Houston Rockets out-execute the Portland Trail Blazers at the end of games? Will LaMarcus Aldridge prove to be too much yet again? Is Damian Lillard someone who Patrick Beverley can actually stop? Is Dwight Howard enough of a presence for the Rockets?
Irving has requested a trade away from the Cavaliers

The Lakers made a strong push for Rose, but he would have been a backup in Los Angeles

The small forward spent last season with the Sacramento Kings
Knight still has three years left on his five-year, $70 million contract

The Golden State forward is accused of assault, battery and making misleading statements

The Nets get their shooter a year later, and the Blazers reportedly will waive Nicholson