Court Vision: Playoff lessons and looking ahead, 4/30
We take a look at Spurs-Mavs, Raptors-Nets, and Rockets-Blazers, as well as looking ahead to tomorrow's games.
by

Eye on Basketball staff

• 6 min read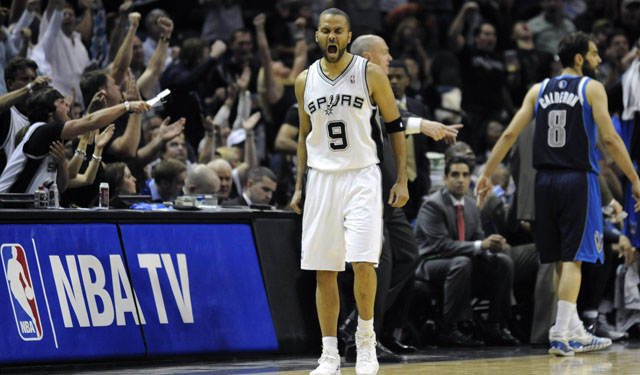 More postseason coverage: Playoff schedule, results | Latest news, notes
Here's what we learned from the playoffs on Wednesday, April 30 betweem the Spurs and Mavericks, Raptors and Nets, and Rockets and Trail Blazers, as well as a look ahead to Thursday's games.
San Antonio Spurs 109, Dallas Mavericks 103: Spurs lead series 3-2
• Tony Parker had been pretty inconsistent throughout this series thanks to some pretty incredible defense by Shawn Marion and Devin Harris. And while Parker didn't shoot all that well in tonight's game (9-of-23 from the field), his presence and 23 points were big boosts to the Spurs early on. He carried them in creating a big lead early on in Game 5, which gave them a nice cushion to absorb the eventual run by the second unit of the Mavericks.
• Speaking of Parker, his spin move is more powerful and deadly than any Sharknado that Tara Reid and Ian Ziering have had to battle:
• Dirk Nowitzki finally had a big game in this series with 26 points on 10-of-20 shooting to go with a big 15-rebound effort. Nowitzki didn't hit any 3-pointers in this game, but did his damage in the middle of the floor and around the paint. He doesn't even need to create the space to be deadly with his scoring touch, but he did a masterful job of putting on a clinic with getting that space.
• There was a point in the second half when Manu Ginobili was pressuring the ball and happened to get tripped up a bit with Nowitzki around midcourt. Dirk didn't take too kindly to the tangling of the lower limbs so he gave a shot to Ginobili out of frustration for what he felt was a bad no-call from the refs (via @BenGolliver).
• Perhaps, Vince Carter felt he should have received the Sixth Man of the Year award or maybe it's just some kind of spring fever that got into Carter's system, but he was ridiculous in this Game 5 loss. Carter seemed to single handedly bring the Mavs back into this game after a great start from the Spurs and he played perfectly with Devin Harris on the court. Vince was the leading scorer for the Mavs with 28 points in 27 minutes off the bench, and he needed just 16 shots to get those points. He hit some incredible shots:
• Tiago Splitter had nine points, six rebounds, and four assists... in the fourth quarter alone. He was incredible for a big stretch of the final period in which he helped the Spurs keep their lead at a pretty safe distance. For the game, he had 17 points, 12 rebounds, and five assists. This isn't even a contract year for him anymore. 
• This game was extremely well played with both teams combining for just 14 turnovers (eight from Dallas, six from the Spurs).
• The Spurs showed why they're so tough to beat in a series. They just have so many weapons. As good as Parker and Splitter were in this game, you could easily start glowing about Kawhi Leonard bouncing back, Tim Duncan providing a great presence all over the floor, or continue gushing about Manu Ginobili's play in this series. Manu once again had 19 points off the bench. 
• We learned that the Raptors are learning how to be a playoff team as they go. They started off this series rattled, unsure, too amped up. How were they supposed to play? Was it supposed to be easy? With the crowd like this it should be easy, right? But it wasn't. But instead of just letting the Nets take control and run away with this series, the Raptors responded by figuring themselves out. They stopped going for the home run and got back to their style. Grinding, penetration-reliant offense, and playing free. And that's how they got back into control of this series. 
•  We learned Kyle Lowry can be a dominant player. No one could stop Lowry from scoring and he just did as he pleased vs. the Nets. He was quicker, sharper, and smarter than the Nets' entire defensive system. Rotations were slow. And Lowry punished them. Oh and he did this to Deron: 
• We learned that sometimes, the old guys aren't veterans, they're just old. Kevin Garnett was minus-15 in 11 minutes Wednesday while Paul Pierce was a minus-31. The comeback that occurred came with them on the bench. They simply didn't give the Nets hardly anything Wednesday. 
• Really if weren't for Joe Johnson and Mirza Teletovic, this would have been a blowout. The Nets came back from 22 down behind Nova Joe and Teletovic making plays. It wasn't enough, but Johnson finished with 30 and was untouchable for a long stretch in the 4th. 
• The Nets actually would have had a chance at the win late. A missed free throw was tracked down by Andray Blatche who tossed it back... over the timeline for a backcourt violation before Williams could launch a desperation shot. Even crazier? Jonas Valanciunas did the KG "block the deadball shot" thing. So if the ball had been tipped and Williams' shot had counted... Valanciunas would have goaltended the winning shot. (Valanciunas likely heard a whistle, but still. What if?) 
• Terrence Ross made a three! So that's exciting! 
• Shaun Livingston picked up a tech for reaching in to swipe at the ball casually at a deadball. We're entering a horrible world. 
• DeMar DeRozan didn't shoot terribly well (5-of-12) but had five rebounds and six assists. 
• Greivis Vasquez remains the X-factor in this series. He makes huge plays for the Raptors offensively and hasn't been exposed defensively. 
• We learned the Rockets still have some magic left in them. Particularly Jeremy Lin, who harnessed the old Linsanity with 21 points. Lin sliced and diced, and got out in transition. It was a big runaround. 
• We learned that LaMarcus Aldridge is human, scoring just eight points after scoring 89 over the first two games of the series. 
•  We learned Dwight Howard can play effective defense on LaMarcus Aldridge. Howard locked him down and pestered him expertly in the fourth. 
• James Harden was not good overall, but had a strong finish to the game, taking over, drawing fouls, and actually blocking Damian Lillard. Yes, he made a good defensive play. Granted, he got roasted the rest of the time by Wesley Matthews, but still. 
• Chandler Parsons had 20 points on 22 shots, but him getting more shots is a good approach for Houston. 
Tomorrow's questions, today;
Indiana at Atlanta Game 6, 7 p.m. ET:  What do the Indiana Pacers look like with their backs completely against the wall? Do they even have it in them to take the next two games after all of the failure we've seen from them? How much should they be playing Roy Hibbert in this game, if at all? Will Jeff Teague smell blood and try to end this? Can Kyle Korver keep knocking down big shots? How much of an impact does Paul Millsap need to have? If the Pacers lose, is this the worst upset in NBA history?
Oklahoma City at Memphis Game 6, 8 p.m. ET: Speaking of teams we thought would challenge the Heat for the title and are failing miserably in the first round, what can the Thunder do to save their season? Is Kevin Durant playing too many minutes? Is this game going to overtime? Will Russell Westbrook provide solid play down the stretch? Who will step up for the Thunder outside of their two stars? Is Tony Allen going to have completely swung a playoff series? Can Zach Randolph continue his incredible scoring in Game 5? Are we going to see Mike Miller bury the Thunder again? 
Los Angeles Clippers at Golden State, 10:30 p.m. ET: Have the Clippers turned the corner on all of the emotional burden they've had to deal with the past week? Is DeAndre Jordan the most underappreciated role player in the playoffs? Can Blake Griffin and Chris Paul end this series on the road? How do the Warriors continue to free up Stephen Curry and Klay Thompson for big shots? Will the Warriors' role players find a way to make big shots? 
Leonard's relationship with Spurs also reportedly strained because of how injury has been...

San Antonio hasn't missed the playoffs in 20 years, but the road is rocky this season

Last year's MVP finalist has missed all but nine games this season
The design for the patch is still being worked on

The explosive forward and upcoming free agent is having a career year

Cuban said on Dr. J's podcast that losing is Dallas' 'best option'