Court Vision: Playoff lessons and looking ahead, 5/1
We review the Pacers-Hawks, Thunder-Grizzlies, and Clippers-Warriors games while looking ahead to tomorrow's playoff action.
by

Eye on Basketball staff

• 7 min read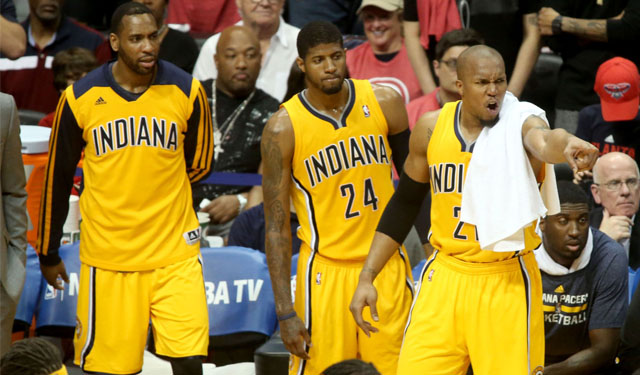 More postseason coverage: Playoff schedule, results | Latest news, notes
Here's what we learned from the playoffs on Thursday, May 1 between the Indiana Pacers and Atlanta Hawks, Thunder and Grizzlies, and Clippers and Warriors, as well as a look ahead to Friday's games.
Indiana Pacers 95, Atlanta Hawks 88: Series tied at 3-3
• The Pacers rode David West and Paul George to victory in this game with West putting on a fantastic display all game and especially in the fourth quarter. West had 12 points on 5-of-6 shooting in the final quarter to help his team erase a three-point deficit after three quarters. West finished with 24 points, 11 rebounds, and six assists on the night while George's nine points in the quarter helped secure the victory with free throws. 
• There was a point in the third quarter in which it looked like the Pacers could weather the comeback and keep control of this game, but Jeff Teague stepped up in the final three minutes of the period to snatch control of the game for a short while. Teague had eight of his 12 points in the quarter in the final three minutes and finished with a game-high 29 points. 
• Let's not forget what Mike Scott did to Ian Mahinmi, even if it's in a loss:
• Let's also not forget the game Lance Stephenson had. While he's been pretty erratic at times in this series, his aggressiveness and activity are exactly what the Pacers need when they don't seem to have any life in them. He didn't rack up assists like he normally does in big games, but he had 21 points on 7-of-13 shooting and he grabbed nine rebounds. Stephenson teamed up with George for a key stretch in the second quarter in which he scored eight points and had five rebounds.
• Mike Scott was also pretty angry when George Hill tried to check him for cavities:
• Roy Hibbert had another rough game. This series just isn't for him. In 12 minutes, he grabbed two rebounds, scored zero points for the second straight game, fouled four times, and had a plus/minus of minus-12. He did block a shot in the fourth quarter and he scared Shelvin Mack into a badly missed floater, but that was the extent of his good play.
• Paul Millsap was phenomenal in this game, grabbing 18 rebounds, scoring 16 points, dishing out five assists, stealing the ball three times, and getting two blocks. He didn't shoot well (4-of-13) and he fouled out, but you couldn't ask him to do much more out there. 
• The Pacers finally slowed the Hawks down from the 3-point line. Atlanta still took a lot of them, but they made only 9 of 35 from downtown. Players not named Kyle Korver and Lou Williams were 4-of-22 in the game. Also, the Pacers didn't have a single fast break point in this game, which is weird.
Oklahoma City Thunder 104, Memphis Grizzlies 84: Series tied at 3-3
• We learned that despite reports, Kevin Durant is still pretty good at basketball. You could even say he's (shades) RELIABLE. Durant was aggressive from tipoff, attacking the middle of the floor and getting to spots inside 15 feet. He wasn't settling for the long 2s and 3s, but instead was much more aggressive. He took 15 free throws, which has been an issue for him in the series. It was a statement from Durant, and a powerful performance from the Thunder. 
• We learned that Scott Brooks can make key adjustments when he has to. Brooks switched up his precious starting five, benching Thabo Sefolosha the entire game in favor of Caron Butler. The move made all the sense in the world. It opened up the floor a lot more, pulling Memphis defenders out of the paint a bit, and keeping them honest.
• We learned that Mike Conley is the heartbeat of the Grizzlies. Well, we didn't learn that. We knew that. But he struggled early in the game, then tweaked a hamstring and played only a handful of minutes. If his availability is in question for Game 7, the Grizzlies may be cooked.
• A big issue for the Thunder in this series has been settling for too many perimeter jumpers. They took only 21 3-pointers tonight, attacking the basket and the midrange a lot more consistently.
• Big time impact off the Thunder bench by Steven Adams. The rookie played 12 minutes in Game 1 and picked up three blocks, but then only saw nine total minutes in Games 2-5. He played 20 minutes in Game 6, swatting five shots and playing some high quality post defense on Zach Randolph and Marc Gasol.
• The Grizzlies got beat 47-36 on the boards. That doesn't happen often.
Golden State Warriors 100, Los Angeles Clippers 99: Series tied 3-3
• We learned we have no idea what we just watched. I'm not even sure how you take anything away from that game. The officiating was far too tight after Jermaine O'Neal was fouled hard by Glen Davis. There were 10 fouls called between the two teams in the first quarter. The second quarter had 21 fouls called. Things slowed down in the third quarter with 10 total fouls called, but you had three players from each team sitting with four fouls by the time the fourth started.
• Draymond Green played some incredible defense on Blake Griffin. The Warriors as a whole did a great job, but Green was incredible in making Griffin uncomfortable. Griffin had 17 points on 8-of-24 shooting and he was just 1-of-12 in the third quarter. Green took away space on his jumpers and forced him into some tightly contested shots throughout this game. 
• Chris Paul looked pretty bad in this game, and he injured his left hand at some point in the contest during the first half. He had just nine points on 3-of-10 shooting and eight assists to four turnovers. Klay Thompson really did a great job on CP3 when he drew that assignment, using his length to really bother Paul's dribble.
• Five players finished with at least five fouls and three players (Griffin, David Lee, and J.J. Redick) fouled out.
• There was a point in the fourth quarter when Mark Jackson was running consecutive isolation post-up plays for Jordan Crawford and the Warriors were playing in an elimination game. Mark Jackson found out he was on the hot seat and decided to walk barefoot across hot coals to prove how much heat he can withstand.
• Stephen Curry didn't shoot the ball all that well (9-of-24 for 24 points) but his playmaking was under much better control. He had nine assists and only two turnovers after eight of them in Game 6. When he's playing controlled like that, it allows the rest of the offense to keep moving and pick apart a defense.
• How incredible was Andre Iguodala in this game? 11 of his 15 points came in the second half and he hit a bunch of big shots during runs in this game. This is the Iguodala we saw in the early part of the season before he had his hamstring injury. 
• As I mentioned before, Curry had eight turnovers by himself in Game 5. The entire Warriors' team had eight turnovers in Game 6.
• The Warriors shot 39.3 percent from the field, 29.2 percent from downtown, and 62.2 percent from the free throw line and still won this game. 
• DeAndre Jordan still owns the boards with 19 and he had four blocked shots as well. But 3-of-9 from the charity stripe is just too rough, especially when you lose by one point.
Tomorrow's questions, today;
Toronto at Brooklyn Game 6, 7 p.m. ET: Is Deron Williams capable and likely to bounce back after being torched by Kyle Lowry in Game 5? Was the comeback effort by the Nets enough to make them feel confident they'll hold home court in Game 6? Is the near collapse by the Raptors the type of thing that will rattle them? Can Jason Kidd afford to sit Joe Johnson for very long in this game?
San Antonio at Dallas Game 6, 8 p.m. ET. : With DeJuan Blair back, will the Mavericks have enough big man depth to keep the Spurs' frontcourt decently matched? Was Dirk Nowitzki's big game a sign of the floodgates opening up? Is Vince Carter going to be able to match Manu Ginobili off the bench? Will we see aggressive Tony Parker again? Can Danny Green have a big closeout game?
Houston at Portland Game 6, 10:30 p.m. ET. : Should the Rockets primarily put Dwight Howard on LaMarcus Aldridge in this game? Is James Harden ready to be the star he was before this series? Can anybody stop Damian Lillard from downtown? Will the winner of the 3-point line win this game? What does this Houston team look like with their backs up against the wall for a second straight game? What does a Portland team look like trying to close out a series at home?
If the Thunder forward doesn't know the reason, he has a very short memory

The 76ers star doesn't see a bright future for Jon Snow

Valanciunas played professionally in Lithuania before joining the Toronto Raptors
SportsLine's advanced computer model simulated Tuesday's Cavaliers-Hawks game 10,000 times

Larry Hartstein is 14-6 on Sixers picks and 16-8 on Timberwolves picks and has a strong play...

The kid just about lost his mind after getting Durant's game-worn sneakers