Court Vision: Playoff lessons and looking ahead, 5/5
Here's what we learned Monday, May 5 in Game of Wizards-Pacers and Clippers-Thunder.
More postseason coverage: Playoff schedule, results | Latest news, notes
Here's what we learned on Monday, May 5, in the NBA playoffs featuring Game 1 of the Conference Semifinals between the Pacers and Wizards and Thunder and Clippers. 
We learned that the Pacers are not fixed and the Wizards are not a fluke. No one who watched the Pacers' first-round series vs. Atlanta thought they played well, but it was hard to know whether it was matchups or their own malaise. 
•  Spoiler alert: It's their own malaise. They lacked urgency, lacked cohesion, struggled in transition and from the field, and again looked perplexed by any sort of complexity offensively. 
• Roy Hibbert: 0 points, 0 rebounds, 1 assist, two blocks, five fouls, and a minus-17 in 17:43. We're approaching "maybe we should have an intervention for Roy's sucking" territory. 
• And yet, the bigger issue offensively for the Pacers was Paul George. Four-of-17 from the field for 18 points, six rebounds, five assists. The other numbers are good, but missing 13 of 17 shots is just going to murder their offense. 
• But wait, it wasn't just the offense that struggled! The Wizards lit up the Pacers defense. After embarrassing the tough Bulls defense, Washington again got whatever it wanted. 
• You want a deadly combo? Seventeen offensive rebounds for Washington (!) and 10 of 16 (!!) from three. You're going to win nearly every time you put up those numbers. 
• Bradley Beal with a 25-7-7-5 line, which is just unbelievable. He took over in the third and fourth quarter, finding quality looks and slicing past defenders. His and Wall's defensive ability on the perimeter is incredible, and they're still so young. Beal played like a veteran star who can take over and understands exactly how to manipulate the offense to get what he wants. 
• Frank Vogel went to smaller lineups to try and get the offense going ... and the defense fell apart. He went big to try and slow down the offense, and the Pacers' scoring died. There's no balance with the Pacers right now, especially when George plays that way. 
• The Wizards took 16 fewer threes than the Hawks did per-game in their series vs. the Pacers (32.3) but hit 10 of them, whereas Atlanta hit 10 per game. It's unlikely they shoot from the perimeter like that again, but it was good enough to win them this game and get them home court in the second straight series. 
•  Drew Gooden was fantastic off the bench: 12 points on 11 shots in a little under 18 minutes, and seven offensive rebounds. Nene and John Wall shot poorly from the field, but here's Ariza, Drew Gooden and Bradley Beal: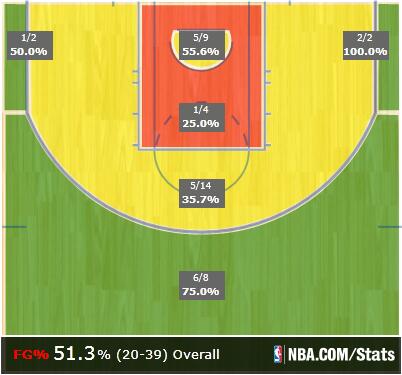 Los Angeles Clippers 122, Oklahoma City Thunder 105: Clippers lead series 1-0
• In case you were wondering, Chris Paul is still the Point God. He had 32 points on 12-of-14 shooting. He was 8-of-9 from 3-point range and hit his first eight attempts from downtown. He chipped in 10 assists that accounted for 23 points. He created 55 points through scoring and passing and that doesn't even count the hockey assists. He only played 28 minutes too. This was just a game of pure domination.
• Two other Chris Paul notes: According to Basketball-Reference.com, CP3 became just the seventh player since 1986 to score at least 30 points in a playoff game while making at least 85 percent of his shots. It was also the eighth time in his career he's scored 30 points or more in a playoff game. His teams are 6-2 in those games.
• Where is the help going to come from on OKC to support Kevin Durant and Russell Westbrook, and will they get enough opportunities to actually help? Durant and Westbrook are at the center of an imbalance in the Thunder's offense, but that's mostly because they don't seem to have much of a system to run anyway. It's too late to install more sets but it has to be on the role players to move without the ball and find opportunities for Durant and Westbrook to get them the ball. 
• Clippers' play-by-play announcer Ralph Lawler has Lawler's Law, which states the first team to 100 points in a game will win. I'm not sure what the winning percentage is on this fact, but it happens more often than it doesn't. The Clippers met Lawler's Law tonight with 1:44 left in the third quarter when Chris Paul found Jamal Crawford for a 3-pointer. Getting Lawler's Law out of the way with a little less than 14 minutes left on the clock seems like a good idea.
• The Clippers made 70.4 percent of their shots in the restricted area. That seems like a pretty good percentage.
• Turnovers were a problem for the Thunder. OKC had the 11th-highest turnover rate in the NBA this season and can really get sucked into being sloppy with the ball. Same problem happened tonight and the Clippers feasted on it. They scored 23 points off 18 turnovers by the Thunder. 
• Through the first three quarters, the Clippers only turned the ball over four times and gave up three points off them. Garbage time in the fourth saw the turnover total more than double to nine. 
• The Thunder resorted to Hack-a-DeAndre in the third quarter and he went just 1 of 8 in this span. But it didn't reset anything for the Thunder like we saw in 2012 when they went to Hack-a-Splitter in Game 2 against the Spurs. The Thunder were down big in that Game 2 against San Antonio, but slowing the game to sludge allowed them to catch their breath and reevaluate what was going on. That didn't happen tonight. The Clippers just kept coming and the Thunder couldn't turn a slowed-down game into transition opportunities. 
Galin Dragiev is on a 31-18 NBA run and just locked in a play for Thunder vs. Warriors on...

We've got all the scores, top plays and news from a busy NBA Friday

Butler didn't put any pressure on his right leg as he was helped to the locker room on Fri...
Our advanced computer model simulated Saturday's Magic vs. 76ers game 10,000 times

Several playoff contenders could use the services of Ilyasova, who's nearing a buyout agre...

Durant says he probably wouldn't have gone to college because he 'needed the money'