Court Vision: Playoff lessons as the Spurs trounce the Thunder
What we learned from the San Antonio Spurs as they demolished the Oklahoma City Thunder in Game 2 to take a 2-0 series lead.
More postseason coverage: Playoff schedule, results | Latest news, notes
Here's what we learned in the NBA Playoffs on Wednesday, May 21, 2014 as we watched a blood bath from the San Antonio Spurs as they destroyed the Oklahoma City Thunder in Game 2 of the Western Conference finals.
San Antonio Spurs 112, Oklahoma City Thunder 77 | Spurs lead series 2-0
• We learned that this got ugly quick. It's not that the San Antonio Spurs are so much better than the Oklahoma City Thunde sans Serge Ibaka, although that's certainly the case. It's that the Thunder seem to know the Spurs are so much better when OKC can't put Ibaka on the floor against them. They can put up a fight for a little while in these games, but Wednesday night saw that fight and fire extinguish pretty quickly.
• The Thunder went 2-of-20 from the 3-point line. Danny Green went 7-of-10 from 3-point range. Green is shooting 50.8 percent from 3-point range in the playoffs. 
• Thabo Sefolosha, Kendrick Perkins, and Nick Collison combined for four points on 2-of-9 shooting in 38 combined minutes. These are three starters giving you nothing right away. This just isn't working for the Thunder's starting lineup.
• Kevin Durant and Russell Westbrook combined for 30 points on 13-of-40 shooting. Officially, nothing is working for the Thunder on either end of the floor. But these two have to be stars. Context of a series and understanding of how hard the NBA game is end up being so key when assigning blame for big losses like this and failed goals. The Thunder are failing at their goal right now, but the fact that Durant and Westbrook look so ordinary out there with the ball are the biggest reasons.
• Jeremy Lamb was the third highest scorer on OKC tonight with 13 garbage time points in 14 minutes. 
• I'm not even sure the Spurs broke a sweat tonight. They hit 50.0 percent of their shots. They had 27 assists compared to the Thunder's 35 made shots. They only allowed 10 free throw attempts for the Thunder. Tony Parker carved them up. Danny Green shot them dead. The Spurs' bench had a great scrimmage. Nobody played heavy minutes. It's the Western Conference Finals.
• Game 3 is Sunday at 8:30pm ET on TNT. I wonder if Serge Ibaka will try to get back on the court.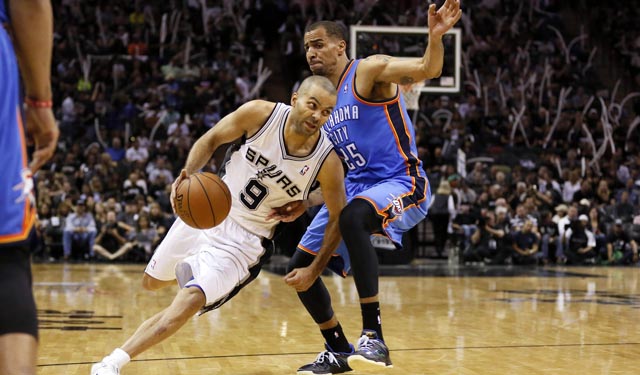 Greek Freak scores career-high 44 points and reaches scary level to finish the game

It was an ugly finish as the Warriors fell to 1-2 on the season -- both Curry and Kevin Durant...

Mirotic was hospitalized with facial fractures after an altercation with Portis during pra...
Irving had some choice words for a fan who heckled him in Philadelphia

Several teams were reportedly interested in Nelson after he was waived by the Nuggets

Cousins got into a heated exchange with a fan during the Pelicans' season opener