Court Vision: Spurs a step slow, Thunder flip script
The Oklahoma City Thunder made it a series on Sunday. Here's how they did it.
• 2 min read
Here's what we learned on Sunday, when the Oklahoma City Thunder hosted the San Antonio Spurs and won the game they absolutely needed to in the Western Conference finals.
Oklahoma City Thunder 106, San Antonio Spurs 97 | Spurs lead the series 2-1
• We learned that this isn't going to be easy for the Spurs. They kept pace with the running-and-gunning Thunder for a while but looked a step slow for the majority of the game. San Antonio had to expect that Oklahoma City would come out with incredible energy, but it did not match it, shooting 39.6 percent from the field and finding itself unable to compete when Manu Ginobili stopped bailing his team out.
• We learned that Serge Ibaka does indeed change everything for the Thunder. Ibaka made the first shot of the game and his five field-goal attempts. He gave Oklahoma City a huge confidence boost, and even at less than 100 percent, did a typically excellent job of deterring the Spurs around the rim. This was only one victory, but the Thunder's outlook is a thousand times better than it was a couple of days ago.
• It wasn't merely Ibaka. Russell Westbrook struggled to start the game, but hit two 3-pointers in the last 31 seconds of the first half and built on it after halftime. He wound up with a game-high 26 points, eight rebounds and seven assists, shooting 8 for 19 from the field and 8 for 8 from the free-throw line.
• The point guard matchup was a problem for San Antonio. Tony Parker had a rough, rough time, finishing with nine points on 4-of-13 shooting, plus four assists and one rebound. He orchestrated things with little difficulty at home, and he'll need to find a way to make more of an impact if the Spurs are going to regain their rhythm.
• Kawhi Leonard had a quiet night (10 points, three rebounds, two assists, 4-of-11 shooting), but he did do this:
• Ginobili was brilliant, finishing with 23 points, but he did almost all of of his damage in the first half and was the only Spur to have a good game off the bench. San Antonio looked like it had a huge depth advantage in the first two games, but not this time.
• Danny Green couldn't get anything going. He shot 3 for 12 from the field, 2 for 6 from behind the 3-point line.
• Here's how the first half ended:
• Kevin Durant had 25 points, 10 rebounds and three assists, shooting 8 for 19 from the field. He and Westbrook were both helped by the improved spacing that came with Ibaka's presence, plus the increased minutes for new starter Reggie Jackson and reserve Jeremy Lamb.
• In the third quarter, the Thunder shot 18 for 22 from the free throw line and the Spurs didn't attempt a single free throw. It wasn't unfair officiating; Oklahoma City was just much more aggressive.
• The nine-point final margin is deceiving. Down 17 points halfway through the fourth quarter, San Antonio coach Gregg Popovich did a very Gregg Popovich thing. Cory Joseph, Marco Belinelli, Matt Bonner and Aron Baynes checked in. Shortly thereafter, Jeff Ayres joined them. Pop wasn't going to ask his veterans to try to mount a miracle comeback at the expense of rest.
• Nick Collison did not play a single second, which was weird. But it worked.
• Game 4 will be Tuesday night at 9 p.m. ET. It will be broadcast on TNT.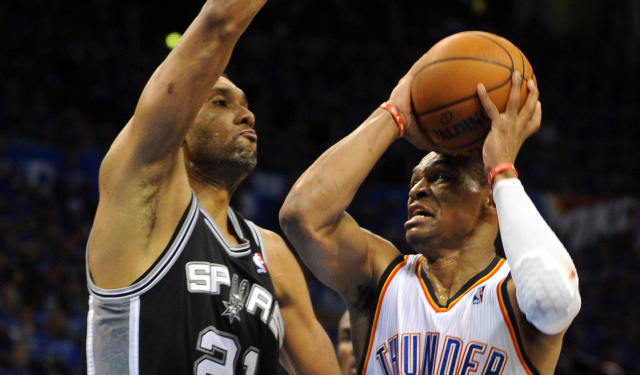 Is this rock bottom for the Cavaliers because it sure feels like it is

Wade, as he's done so many times in his career, threw it up to LeBron for the thunderous f...

The Warriors coach added there should be no shame in being picked last since everyone's an...
We've got all the scores, highlights and news from all of Saturday's games

The two teams have reportedly not had any substantial discussions to this point

Oladipo may be getting most of the shine, but this second-year big man has been phenomenal...