Court Vision: The Thunder are giving us a series after all
What we learned from the Oklahoma City Thunder's dominating win over the San Antonio Spurs in Game 4.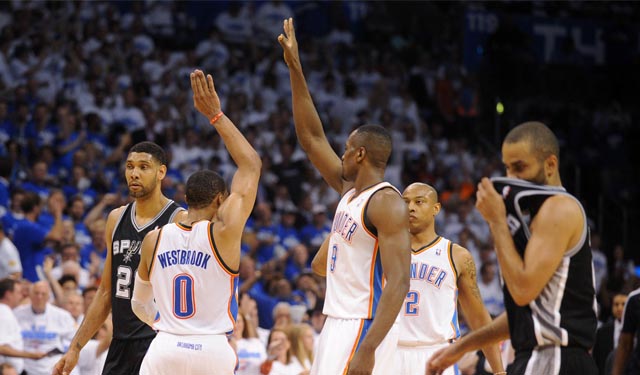 Oklahoma City Thunder 105, San Antonio Spurs 92 (Series tied 2-2) 
Here's what we learned on Tuesday, as the Oklahoma City Thunder evened up the Western Conference Finals at 2-2 with a dominating performance against the San Antonio Spurs.

• Remember that idea that the Thunder are just too athletic for the Spurs and cause tremendous match-up problems because of it? We learned this is absolutely a real thing in this series, just like it has been for the past two years. It's not that the Spurs can't overcome this, it's just that they have to basically play perfect basketball to ensure they don't give the Thunder easy scoring opportunities off of turnovers and long rebounds. 
• Russell Westbrook was absurd. Simply absurd. He had 40 points, 10 assists and five steals. Here are two ways to put this into perspective for how good his game was: 1) Last time a player had 40 points, 10 assists and five steals in a playoff games was Michael Jordan in 1989. 2) The Spurs' starters combined for 39 points and nine assists. 
• Speaking of the Spurs' starters, Gregg Popovich seemed disgusted by their effort and execution in this one. Between 6:46 and 4:39 in the third quarter, Pop took all five starters out and they never returned. Even when the bench made things interesting, they didn't remove their shooting shirts.
• The Spurs made 43.7 percent of their shots in the restricted area. That means they're shooting roughly 44.0 percent from the restricted area in the two games with Serge Ibaka back in the lineup. During the regular season, it was just over 45.0 percent. Healthy or not, Ibaka takes away the rim for the Spurs.
• Somehow, Kevin Durant's 31-point effort seems almost irrelevant to Tuesday night's proceedings. He made some incredible shots, was a good playmaker and was part of the perfect 1-2 punch for the Thunder.
• Let's let the Spurs have a little fun here:
• Game 5 is Thursday night at 9 p.m. ET on TNT. 
Rodman's agent says he is urging the ex-NBA star to check into rehab

The players and referees are working to fix a relationship that has recently been deterior...

The locker room heist is going to lead to plenty of fines and maybe some suspensions from the...
Larry Hartstein has his finger on the pulse of Boston basketball and locked in a pick for...

The always consistent Spurs take on the rebuilding Lakers in a national TV contest.

The lack of urgency from the front office has some players doubting their chances of reaching...