Court Vision: What we learned from Game 2 of the NBA Finals
The Miami Heat tied the series up on Sunday, on the strength of a monster game from LeBron James.
• 2 min read
More Game 2: Heat 98, Spurs 96 | Spurs' late miscues | Latest news, notes
Here's what we learned on Sunday, as the Miami Heat defeated the San Antonio Spurs to tie the NBA Finals at one win apiece. There was endless discussion about the way the series started, with commissioner Adam Silver even fielding a question before the game about the Finals potentially being remembered for the air conditioning malfunction and LeBron James' cramping. We can move on from that now, as Miami did what it needed to do by stealing home-court advantage. For the 13th consecutive time in the playoffs, the Heat rebounded from a loss with a victory.
• We learned that LeBron James is capable of transcendent performances against great defenses and that he's at his best after adversity. We should have known that already. James erupted for a game-high 35 points on 14-of-22 shooting, including 3 for 3 from deep, adding 10 rebounds, three assists and two steals. Miami outscored the Spurs by 11 points in his 38 minutes.
• This was a classic, and aside from the fourth quarter of Game 1 when James was on the bench, the Finals have been unbelievably close. The third quarter, in particular, was incredible. The Spurs outscored Miami 35-34 in the period, and James had 14 points, making six jump shots in a row. This was basketball at its best, with San Antonio going the whole quarter without a turnover and the Heat committing only two of them. You never felt like either defense was lagging; it was just beautiful offense and James making everything.
• The fourth was back-and-forth, too, and the turning point was a Chris Bosh corner 3 with about a minute left. Can Bosh finally get some credit for consistently hitting big shots throughout Miami's playoff runs? James got the assist, by the way.
• A couple of possessions later, Bosh made a nice bounce pass to Dwyane Wade for a layup. That made it 98-93 with nine seconds to go, sealing the victory. 
• Both James and Bosh, Miami's best players on the night, made a point of attacking the rim more than normal. Bosh had two big dunks, including a vicious, two-handed jam over two defenders in the second quarter. Look at how far away from the rim he is when he takes off, and how he stretches to finish it:
• Tim Duncan was once again great, finishing with 18 points and 15 rebounds. That double-double tied Magic Johnson's all-time playoff record.
• The Spurs shot 59 percent in Game 1, and that just was not going to happen again. The Heat held them to 44 percent shooting this time. Reserves Boris Diaw, Patty Mills and Marco Belinelli shot a combined 6 for 21 from the field.
• Rashard Lewis was seen as an X-factor before the series, and this game showed why. After a forgettable performance on Thursday, he had 14 points on 5-of-9 shooting, including three from long distance. He's not damaging Miami's defense, and his floor spacing has been essential. 
• Kawhi Leonard had another nine-point game, dealing with foul trouble while guarding James. San Antonio might need more from him going forward.
• The Spurs shot 12 for 20 from the free-throw line and lost by two. That hurts. 
• Game 3 is Tuesday at 9 p.m. ET on ABC.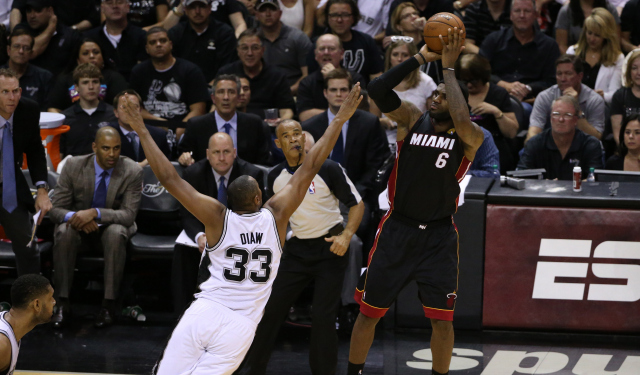 The former Slam Dunk Contest champion will take his talents to Tri-State

Do NBA players have look-a-likes from famous paintings? We found out on the new Arts & Culture...

Larry Hartstein is on quite a run in picks involving the Suns and the Trail Blazers
Rodman's agent says he is urging the ex-NBA star to check into rehab

The players and referees are working to fix a relationship that has recently been deterior...

The locker room heist is going to lead to plenty of fines and maybe some suspensions from the...