Court Vision: What we learned from Game 3 of the NBA Finals
The Spurs had an incredible first half and ran away with a dominant Game 3 win over the Heat on Tuesday.
• 3 min read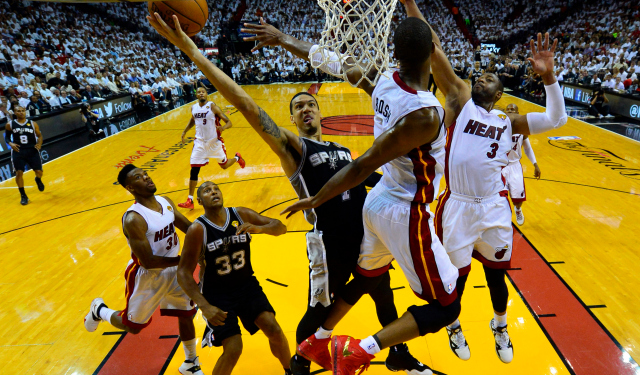 More NBA Finals: Schedule, results | Game 3: Spurs 111, Heat 92
Here's what we learned Tuesday, as the San Antonio Spurs rode an unbelievable first half to a dominant victory in Game 3 of the NBA Finals.
• We learned that the Spurs, at their best, are beyond good at scoring. We've been talking about their ball movement, intelligence and unselfishness for years, sure, but it has never been on display quite like this. It was predictable that inserting Boris Diaw into the starting lineup would help their spacing, but no one knew it would make this much of a difference. It was like the fourth quarter of Game 1, except better and for a longer stretch. Almost 18 minutes into the game, San Antonio had a 56-32 lead, shooting 19 of 22 from the field and 6 of 7 on 3s. At that point, Tony Parker had not scored a single point. By halftime, they led 71-50, which made history in a number of ways.
• "I don't think we'll ever shoot 76 percent in a half ever again." -- Spurs coach Gregg Popovich, after the game. Here's the video, if you want to relive it:
• It was a lopsided score, but the Heat didn't play a terrible game. They made mistakes, but this was more a matter of their opponent being transcendent. The Spurs were more aggressive, more precise and just better, but Miami shot 52 percent from the field and didn't throw in the towel after halftime. The Heat actually won the third quarter 25-15 and cut the lead to seven points in the fourth. It was just too big of a hill to climb. 
• Everyone who stepped on the court for San Antonio was excellent, but no star shone brighter than Kawhi Leonard. The future face of the franchise was as aggressive as he's ever been to start the game, and finished with 29 points on 10-for-13 shooting, 3 of 6 from downtown. He added four rebounds, two assists, two steals and two blocks in 39 minutes. He did this while defending LeBron James.
• At shootaround, Leonard had to answer questions about his relative lack of production in the first two games. "I'm not going to blame anybody," he said, via Dan McCarney of the San Antonio Express-News. "I have to play a better game." Oh boy, he did that.
• Danny Green's contributions might be overshadowed by Leonard, but the swingman scored 15 points on 7-for-8 shooting with five steals. The craziest part of it was the fact that he only took two 3-pointers. It's normally bad news when Green puts the ball on the floor, but there were numerous plays where he got in the lane and hit floaters. He has a green light to shoot from downtown, but he's never looked this confident when it comes to attacking. To do that against the Heat in the Finals -- who saw this coming?
• James and Dwyane Wade scored 22 points apiece, shooting a combined 17 of 26 from the field. They didn't get enough help, though. Chris Bosh only took four field goal tries, and Mario Chalmers is just having a rough series. The point guard scored two points on 0-for-5 shooting, and if he doesn't turn things around soon it might affect the salary he commands in free agency this summer.
• Miami turned the ball over 20 times, and San Antonio scored 23 points off those turnovers. There was an obvious emphasis placed on pressuring the Heat from the opening tip. 
• Late in the fourth quarter, ABC showed Popovich talking to Parker on the sideline. He credited Parker, who finished with 15 points and four assists, for his leadership. It was a genuine moment, and it's what the Spurs are about. Parker directed the offense, but his performance won't make any headlines. He likely doesn't care about that. 
• Game 4 is Thursday at 9 p.m. on ABC.
LeBron's minutes are a common point of discussion this season

Kevin Garnett thinks a one-and-done rule change would benefit schools more than anything e...

The Warriors are light years ahead, but James Harden is off to a red-hot start with the Ro...
Victor Oladipo is playing the best basketball of his career, and it all came together against...

McCollum hurled a clever insult at the French forward

Hosts Bill Reiter and Reid Forgrave are joined by Blazers guard CJ McCollum