Court Vision: What we learned from Game 5 of the NBA Finals
What we learned as the Spurs won the NBA championship.
• 3 min read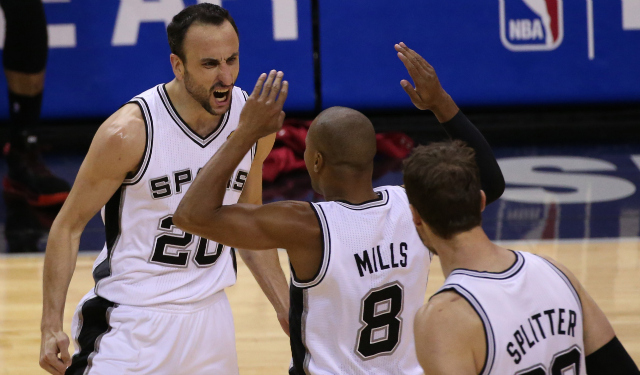 More NBA Finals: San Antonio wins title, beats Miami 104-87 | Ginobili dunks over Bosh
Here's what we learned on Sunday, as the San Antonio Spurs defeated the Miami Heat 104-87 to win Game 5 of the NBA Finals and their fifth championship in Tim Duncan's 17 years. The Heat started strong, just like they said they would, but the Spurs chipped away at the 22-6 lead and took control of the game in the third quarter. San Antonio has played a near-perfect series against the team that broke its collective heart this time last year, and we should all take a moment to appreciate just how precise Gregg Popovich's team was on both ends of the floor. I've never heard the phrase "beautiful basketball" as much as I have in the past week and a half.  
• Kawhi Leonard was brilliant on both ends, and he was named Finals MVP. He finished with eam highs of 22 points and 10 rebounds, and he shot 7 of 10 from the field. To produce like he has on offense while guarding LeBron James is something truly special, and the way he has handled the pressure on this stage has been incredible. It's easy to forget now, but when the series shifted to Miami one of the major storylines was his disappointing performance. He's only 22 years old, so the Spurs are in good hands.
yep pic.twitter.com/T3758nx6X9

— James Herbert (@outsidethenba) June 16, 2014
• If I had a vote, though, I would have considered giving it to Duncan, who had 14 points and eight rebounds in the clincher. His numbers haven't been flashy since the first two games, but he's been a force. Miami normally piles up points near the basket, but his defense in the paint has been phenomenal. At 38 years old he's not thought of as an intimidating rim protector, yet he is about as effective as anyone at that part of the game. 
• James was brilliant, but it wasn't enough. The line: 31 points, 10 rebounds, five assists, two blocks, one turnover, 10-for-21 shooting in 41 minutes. He said pregame that he'd go all 48 if necessary, but he ended up watching the last part of the game from the bench. Chris Bosh and Dwyane Wade combined to score 24 points on 26 shots, Ray Allen missed 7 of 8 field goals and Miami got almost nothing from its bench. Story of the series.
• Early in the game, as the Spurs were working their way back into the game, a "wired" segment showed Popovich talking to his team. "Just remember, we have to do this together," he said. "We're starting to look like we're moving the ball a little bit more on offense. It's all that has to be done at that end. The great part is we got all night long to take care of a bad start, but we do it by doing what we normally do." That is exactly what happened.
• Manu Ginobili capped off a sensational Finals with a 19-point game, but the more important number is his plus-21, which was a game-high. He also had this insane dunk on Bosh:
• Parker scored his first points of the game with 15 seconds left in the third quarter, hitting a midrange jumper. He had missed his first 10 shots. It put the Spurs up by 21. He's arguably their best player, and this says all that needs to be said about their depth.
• The feisty Patty Mills has been arguably the best backup point guard in the NBA all season, and he's time and time again shown the ability to change games with his shooting. He was an enormous part of San Antonio's comeback, finishing with 17 points on 6-for-10 shooting, 5 for 8 from behind the 3-point line. His 14 third-quarter points was close to the Heat's 18 as a team. 
• Boris Diaw's stat line was so Boris Diaw: Five points, nine rebounds, six assists, plus-14. 
• "It makes last year OK." - Duncan to Doris Burke in the postgame interview.
A look at who came out ahead after Tuesday's megadeal swaps the point guards on the East's...

How the addition of IT changes the Cavs and where they go this summer depending on LeBron's...

Ainge said that he expects the start of Thomas' season to be delayed, but he'll be 'fine'...
The NBA MVP odds have shifted quite a bit following the blockbuster Kyrie Irving - Isaiah Thomas...

It's debatable whether Boston gets better right away with Irving, but the future is definitely...

Kyrie Irving was set to grace the cover of this year's video game in a Cavs jersey -- whoo...