Court Vision: Where the Spurs are one win away
San Antonio puts a beating on the Heat, again, in Miami, and come within one victory of their fifth NBA title.
More NBA Finals: Carmelo 'very unlikely' to join Heat, Bosh says | Spurs win 107-86
Here's what we learned Thursday, as the San Antonio Spurs dominated the Miami Heat 107-86 en route to a 3-1 series lead in the NBA Finals.
• The Spurs were just better. From forcing turnovers to passing to shooting to creating good looks and forcing bad ones, the Spurs were better. They constantly answered runs and responded to timeouts. They made tactical adjustments with superior individual effort, speed, strength and mental toughness. They thoroughly outplayed Miami in every phase of the game to go up 3-1.
• I'll go ahead and call it. This series is over. No one's coming back from down 3-1 against San Antonio. Not even this special collection of athletes in Miami can do it against the Spurs, and certainly not with their having home court. Just getting back to Miami for six is going to be difficult, let alone forcing seven, let alone winning that one.
• The Heat were a train wreck on top of how good San Antonio was. Slow with their rotations, hesitant with their decisions, and missing point blank shots at the rim that they simply cannot afford to miss. It was a complete breakdown, and any advantage they may have garnered in individual situations was negated by the Spurs' excellence.
• Your candidates for Finals MVP, which we'll talk more about on Friday: Tim Duncan, Kawhi Leonard, Boris Diaw. That's your list.
• The Heat did cut it to 13 with eight minutes left in the third, but a timeout and of course, the Spurs responded with another run to extend it back to 21.
• There's really no adjustment to be made. They can't put in new players. They can't bring in different defenders. They can't try new strategies. The Spurs have a response for every single thing Miami tried to do.
• Tony Parker was brilliant, sliding in-between the defense and making every conceivable shot. Nineteen points and it felt like 30, easily.
• Kawhi Leonard was super aggressive again, attacking the glass, making plays and hammering back dunks. He finished with a team-high 20 points and 14 rebounds (!).
•  Danny Green was red hot from the field, once again nailing big 3s to establish a huge lead.
• You sensing a pattern here?
• Dwyane Wade finished 3 for 13 and that somehow is better than what it felt like.
• Chris Bosh was aggressive early on, for the five or so minutes the Heat were in the game. Then he faded again.
• James put in the work, battling through what appeared to be stomach discomfort. He finished with 28 points and eight rebounds. And it wasn't nearly enough.
• Game 5 will be Sunday in San Antonio. And it's appropriate that it will be, since everyone will be wearing black, just like a funeral.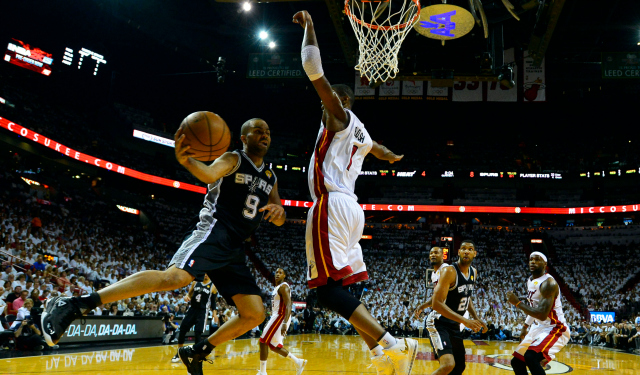 Thomas took to Twitter to let the Celtics know he doesn't want to ruin Pierce's night

The Hall of Famer's jersey was retired by the Celtics in 1982

It's rare to see a legit punch in an NBA fight, but this was definitely one of them
We've got all the scores, highlights and news from an NBA Tuesday

The former Slam Dunk Contest champion will take his talents to Tri-State

Do NBA players have look-a-likes from famous paintings? We found out on the new Arts & Culture...