Cuban excited about Mavs' basketball IQ after busy offseason
Mark Cuban thinks the league is getting smarter which is why this new Mavs team has him so pumped.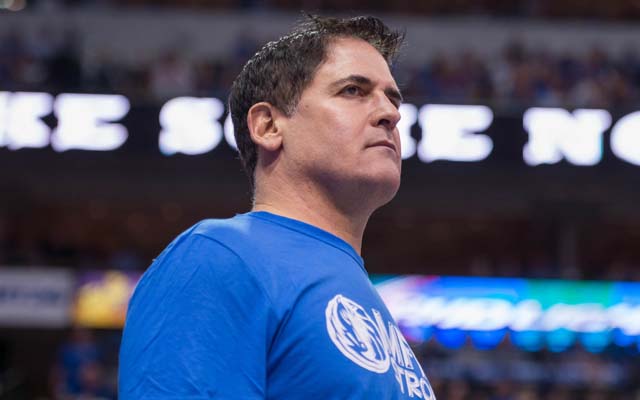 Offseason: Free Agency | Latest from Ken Berger | Rumors
Mark Cuban's pretty stoked about his Dallas Mavericks have reinvented themselves in the offseason. They had talked after the season about building off of last year's success... but that's not at all what they did. They totally reinvented themselves, sloughing off offensively brilliant, defensively disastrous Jose Calderon for Tyson Chandler, and let wing defenders in Vince Carter and Shawn Marion go for firestarter Chandler Parsons. 
They are a different team, and according to many (including yours truly) a better one. But those are talent and skill questions. Cuban thinks the team is better because of where they improved as a team: brainpower. 
On his feelings and excitement about the Mavericks' offseason so far:

Cuban: "Yeah it's been fun so far. I try never to get too excited, but I'm always excited. Getting Chandler, getting the Chandler brothers is going to be a big step forward for us. I think we've gotten younger, I think we've got a team that is very flexible; we'll be able to do a lot of different things. We've got a high basketball IQ. I'm really excited about it."

On adding six players this offseason who were starters for other teams last year:

Cuban: "I didn't even think about it that way, but that's probable true. We were looking to improve. We were looking to add depth. ... The thing about the NBA is that it's becoming much smarter. There's a lot more analytics. The new owners that have come in since I've been here are just really smart guys. So rather than always doing it the old-school way, the way it's always been done, teams have to be a lot smarter and the league evolves a lot more quickly. And I think one of the reasons we were able to give San Antonio such a run is that we had a high basketball IQ and we were able to make adjustments that they didn't expect. I think if our basketball IQ was a little bit higher, then we should have beat them — we could have beat them, we would have beat them — and that's what we were looking for this summer: guys with high basketball IQs, guys who can play multiple positions, guys who were unselfish and were willing to move the ball and guys who could hit an open shot. And so we think having a lot of flexibility, being able to switch on defense, moving the ball a lot, we think by adding all these starters from all these other teams, we added guys who had those capabilities and I think hopefully it will take us to the next level."
via Mark Cuban: Mavericks hope 'basketball IQ' can take them to next level | Dallas Morning News.
Couple of interesting bits here:
• Kind of interesting that they got rid of Calderon and kept Monta Ellis, who have it all, and Cuban thinks they improved their basketball IQ. But then, Ellis is impulsive and stylistically emphatic but his decisions are typically conceived out of a designated plan rather than just whatever it is J.R. Smith does.
• The idea of basketball IQ being the deciding factor is kind of innovative, if only because talent and specific skills (scoring, defense, size, speed, etc.) are often used to describe winning elements.
• The larger and more compelling argument hidden in Cuban's subtext is this: "The thing about the NBA is that it's becoming smarter." In the context of the competitive environment, this line of thought would essentially lead you to believe that the league is tougher now than it used to be. This rankles people the because the usual argument is about how either tough the league was in its earlier days or the quality of the superstars. This would suggest that it's not the increased athleticism but availability of information and applicable knowledge now used that makes the present more difficult than the past.
After all, it's not like the teams facing Bill Russell's Celtics or Magic's Lakers were checking film on their iPad's on chartered flights in-between games to better determine how to defend or attack them.
Anyway, Cuban's pretty excited about how smart his team is. Will that intelligence overcome the physical questions about Parson's defense, Chandler's age and injury questions, and the lack of scoring depth?
The Cavs would reportedly entertain the deal, but there's really no point

Westbrook claims he doesn't remember calling Jackson's celebration 'bull----' back in 2016

Rose is reportedly sick of being injured, and it's 'taking a toll on him mentally'
SportsLine's proven computer model simulated Friday's Cavs-Hornets game 10,000 times

SportsLine's Mike McClure, a DFS pro with more than $1M in winnings, gives optimal lineup...

SportsLine's advanced computer model simulated Friday's Bulls-Warriors game 10,000 times