Cuban: I went to DeAndre Jordan's house, he said he was on a date
Mavericks owner Mark Cuban talked about the DeAndre Jordan fiasco via CyberDust.
• 3 min read
Dallas Mavericks owner Mark Cuban is back on CyberDust talking about the DeAndre Jordan fiasco. He wanted to tell Mavs fans what happened on Tuesday, which was the last time that Jordan communicated with him before signing with the Los Angeles Clippers.
Here's what he had to say, via DallasBasketball.com's Mike Fisher (lightly edited for typos): 
Dear Mavs fans,

After all the nonsense coming from an ESPN employee on Twitter, I thought I would provide the events of the day on Tuesday.

Through all of Monday we were texting back and forth discussing players available, the amount of cap room we had left. Who our staff liked. Who he liked. How excited he was.

Then on Tuesday the communications basically stopped and we started hearing rumblings from multiple people that something was up.

So I flew down to Houston and got a room at The Galleria, which is just a few minutes from his house. I had my driver take me to his house. It's inside a small gated community but the game was wide open So we drove in and I literally walked up to his door.

There was no one home. So I texted him saying that I was there. I know something is up. Let's talk. He texted me that he was on a date.

I told him to have fun. I wasn't in a rush, that I was happy to come by there and say hi or if he wanted to make the date fun, take them to Dallas for a night out.

He didn't respond.

After about 10 minutes I went back to the hotel. I wasn't going to sit in front of his house. I didn't think that was right.

When I got back to the hotel I texted him that I wasn't in front of his house. Have fun on his date and we will talk.

He hit me back immediately saying thanks.

He knew I was in town. He knew I was close by. I knew something was up. I was getting the same reports everyone else was.

I also knew his agents were coming to town. It made sense that he would talk to them and worst case, even if he was having second thoughts the agent would be able to give me updates.

Like any big career move it's natural to have second thoughts. So while I was concerned, I still wasn't worried. So I went to bed.

More to come.
There was also a bit at the end about why he's using CyberDust (no trolls!). Anyway, a few things stand out here:
1. The "nonsense" comment is directed at ESPN's Chris Broussard -- Cuban is quite mad at him for tweeting that the owner was driving around Houston, texting Jordan's family for his address. This whole thing is about telling the world that this was not the case. 
2. Cuban wanted to join Jordan on his night out, and bring them to Dallas to "make the date fun." This is great -- he should offer to be a third wheel for all Mavs fans! Also, people are going to call this Dategate, aren't they? Ugh.
3. "I texted him that I wasn't in front of his house" is just an amazing sentence. I'm in awe of it. Cuban is right, though: it would have been weird if he had just hung out at Jordan's doorstep. And it would have been pretty awkward when the Clippers contingent showed up.
Can't wait for Cuban's next statement on this. And Jordan has to talk about it soon, right?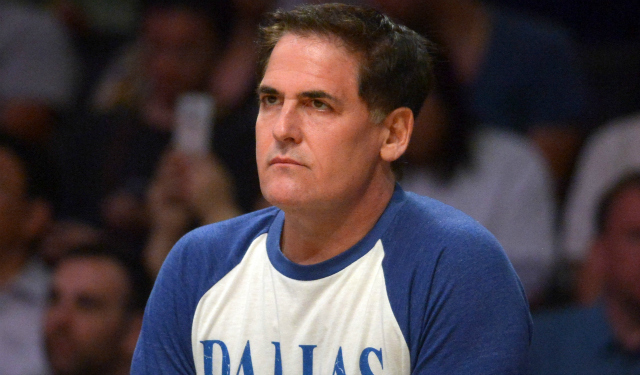 Kobe Bryant had a solid piece of advice for back in 2016 when he left OKC for Golden State

Not many games, but still plenty of action and intrigue Sunday in the Association

An old rivalry is reignited between LeBron James and the Cavaliers and John Wall and the W...
SportsLine's Mike McClure, a DFS pro with more than $1M in winnings, gives optimal lineup...

LeBron had 29 points, 11 rebounds, and 10 assists in the Cavs' 109-100 win over the Jazz

The montage showed Carmelo's best Knicks moments before playing the Thunder game