Cuban says grudge with Kidd over, will honor former point guard
After saying Jason Kidd would never have his jersey retired, Mavericks owner says he'll find some way to honor Kidd's contribution to 2011 title team.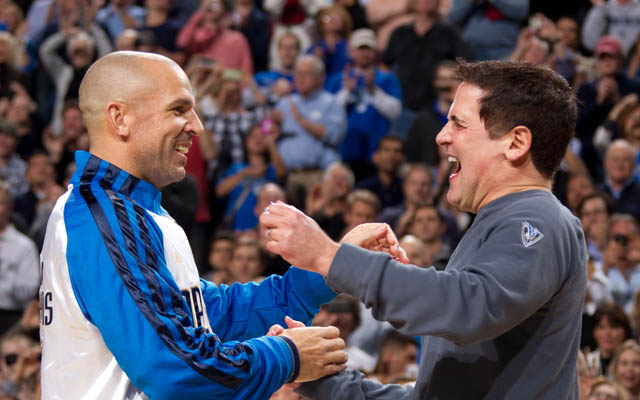 After Jason Kidd left the Mavericks to sign with the Knicks in 2012, there was some bad blood between the Mavericks and the point guard who helped lead them to the 2011 title. Owner Mark Cuban said that Kidd's decision to leave would mean he would never have his jersey retired in Dallas. While Cuban's not completely relenting on that position, he did tell reporters this week that he does see Kidd being honored in the Mavs' arena in some way.
"I just have to decide how to do it, because there's a lot of guys from those years' teams," Cuban said. "While J. Kidd is a Hall of Famer, he wasn't really a Hall of Famer who spent most of his career here. He had some great years here, but so did a lot of guys. It's not really a reflection on J. Kidd. It's more a reflection of how I want to deal with it. Do I want to do a Ring of Honor? Put a team in and honor all the guys on the team? I don't know. I haven't decided yet."

Cuban also said he was pulling for Kidd and the Nets to be successful after what has been a woeful start to their season.

"I hope Jason does well," Cuban said. "I really do. I mean, we had a little falling out, but that's behind us. That was a one-year grudge. It's over."
via Mark Cuban downplays Jason Kidd grudge, says point guard's jersey will likely be retired | Dallas Morning News.
A lot of players have their jerseys retired when they don't spend most of their careers there. The Boston Celtics are going to retire Kevin Garnett's jersey. Kidd spent two different stints with the Mavericks. He won them a championship. 
But it's Cuban's team, and honoring the first Mavericks championship team together would actually be a really interesting thing to do. Pretty sure Kidd would prefer to just have the jersey raised, though. 
HT: HoopsHype 
Trail Blazers guards Damian Lillard and C.J. McCollum have been pushing for Anthony to join...

Anthony reportedly gave the Knicks an expanded list of teams he'd waive his no-trade clause...

The Suns will also receive a second-round pick in the deal
Kerr noted Warriors are deeper than the NBA championship team of last season

The Dubs will make a decision as a team on visiting the White House, but Steph would vote...

Wolves are an up-and-coming NBA squad, but this region knows heartache too well