D-Will wilts in Game 2, and Heat take a 2-0 lead over Nets
MIAMI -- Deron Williams had the first scoreless playoff game of his career, and the Miami Heat used a flurry of offensive rebounds and 3-pointers to take a 2-0 lead on the Nets with a 94-82 victory on Thursday night.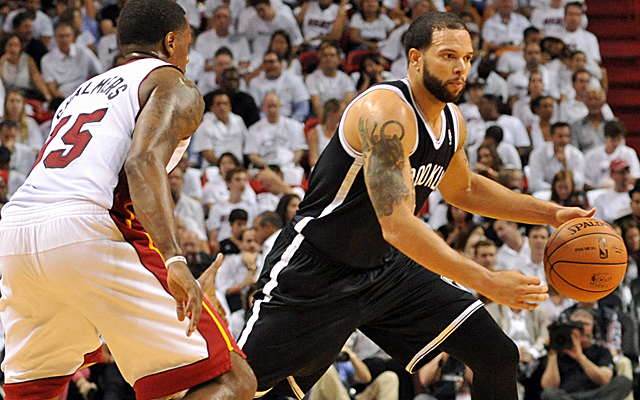 More postseason coverage: Playoff schedule, results | Latest news, notes
MIAMI -- The onslaught came with six minutes left, and it was an onslaught that the Brooklyn Nets should've expected. 
It was a two-point game halfway through the fourth quarter, a position that Paul Pierce called "right where we wanted to be." Apparently, that's where the Heat wanted to be, too.
The beverage salesmen in the lower bowl had long since announced last call for alcohol in the club/basketball gym that is American Airlines Arena, and Deron Williams -- the $100 million man whose presence had lured Pierce and Kevin Garnett to join him from Boston -- still hadn't scored a point. Williams was 0-for-9 and failed to attempt a free throw in the first scoreless playoff game of his career, a 94-82 loss to Miami on Thursday night that put the Nets in an 0-2 hole.
"I was aggressive, got to the paint, just didn't hit shots," Williams said. "... I couldn't buy a bucket and couldn't get to the free-throw line, either."
The last time Williams failed to score in a game was his rookie season in Utah, when it happened twice. In the 2007 Western Conference semifinals against Golden State, Williams scored two points -- a fact he knew and recited in the locker room. Utah won that game and clinched the series.
You can't pin this one on Williams alone, but let's be honest: If he doesn't snap out of it in Game 3 on Saturday night in Brooklyn, the Nets won't win a game in this series after sweeping the Heat in the regular season.
"I think he's fine," Pierce said. "He's a competitor, he knows how to bounce back, he's done it his whole life. He'll be fine."
Pierce, getting one more crack at James after so many epic playoff battles with him in Boston, proceeded to list the litany of horrors that befell the Nets in the final six minutes of this game they were in a position to win. 
First, James spun in traffic in the post, was turned away, and had nothing in particular going until he whipped a bounce pass along the baseline to Mario Chalmers for a corner 3-pointer that gave Miami an 82-77 lead. At the other end, Garnett grabbed an offensive rebound off a missed leaner by Joe Johnson and kicked it out to Williams, who passed up an open 3-pointer. Garnett wound up missing a hook shot, and it was all downhill from there for the Nets.
James set up another corner 3-pointer, this time with a crushing screen on Marcus Thornton, who was chasing Ray Allen along the baseline. James' screen was so solid, it gave Allen a good 10 feet of space -- he only needs a few inches -- for another dagger than made it 85-77.
"It was a two-point game and we give them two corner threes," Pierce said. "That's been one of our [points of] emphasis coming into the game was trying to limit their corner threes. You can't have those little breakdowns when you're trying to beat the defending champs in their building."
There was no kill shot in this one, just a slow death for the Nets. From the 3:39 mark to 1:59, the Heat scrapped for four consecutive possessions with three successive offensive rebounds -- one by Allen, his team-high eighth rebound, one by Dwyane Wade and another by Chris Bosh. James finished the four-possession trip with a layup that made it 89-79.
In the interview room, Erik Spoelstra was punching up his "50-50 balls" playlist and robotically recounting how the Heat "didn't get any of them and then we got four of them in one possession." And he was right. The Heat got outrebounded 43-36, and the second-worst offensive rebounding team in the league only had six of them in the game -- but half of those on one trip down the floor. 
"It hurt us," Pierce said. "We were down by eight and we needed the possession. We needed every possession at that point. It was very deflating for us. ... It's very deflating, especially when you're trying to come back on the road."
It'll be very deflating at home, too, if the Nets -- and Williams -- don't fix it.
Their experience showed," Pierce said. "Being together showed."
This is something Pierce knows all too well about experience. The only part of it that matters in the playoffs is how much experience a team has together. The Heat have that, and so much more.
Victor Oladipo just wants to live his life and enjoy his breakout season with his new team

Keep it right here for all of the news, notes, scores, and highlights from around the Asso...

LeBron has a player option for next season, and is expected to opt out and become a free a...
The Pistons will be looking to snap a five-game losing streak when they host the Celtics on...

Bryant offers some advice for Ball and other rookies about having a sense of urgency in the...

Burks has stepped up in a big way for the Jazz, averaging over 20 points per game since Rodney...