Damian Lillard doesn't like Patrick Beverley's psychological tactics
Portland Trail Blazers' point guard Damian Lillard seems fed up with the tactics used by Houston Rockets' guard Patrick Beverley to get under players' skin.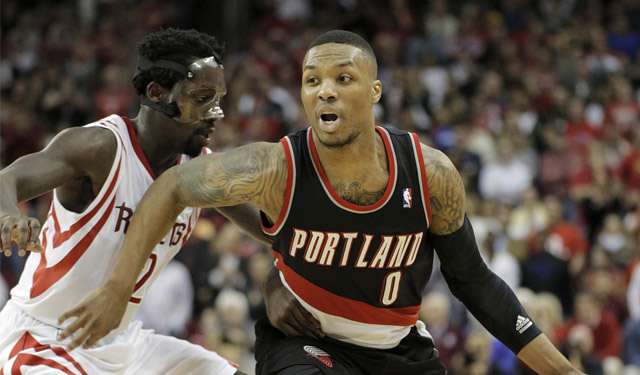 Houston Rockets' guard Patrick Beverley seemingly has two jobs on the court: Be a pest on defense and help the team win. He's pretty good at making both happen. While he doesn't draw the attention of a Dwight Howard, James Harden, or Chandler Parsons, the team is significantly better on both offense and defense when Beverley is on the floor. And defensively, he's as annoying as they come for opponents.
His latest job of getting under someone's skin was Sunday against the Portland Trail Blazers. After chasing down a pass and knocking it out of bounds, he was pleading for the officials to review the call. The Rockets were down two with under 15 seconds left in the fourth quarter and they were desperate to stage this comeback. As Beverley pleaded with the refs, he also put his hand on the chest of Damian Lillard. Lillard didn't see the need for the contact by Beverley and pushed his hand away.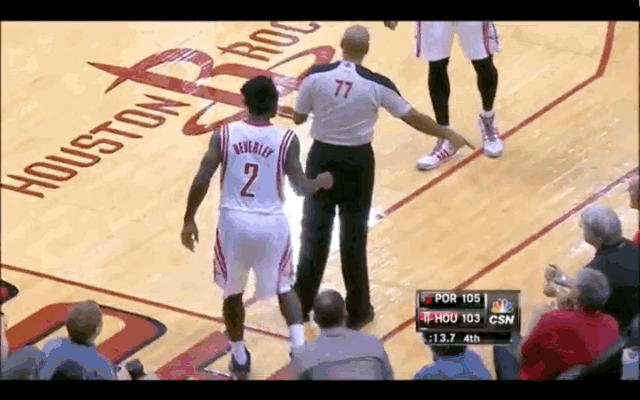 The two sort of had to be separated at that moment as there was plenty of trash talking going on. Beverley even removed his mask, possibly ready for things to come to blows if needed. The two teams stood in the way of the two guards and the refs moved on to review the call. Portland retained possession but the Rockets managed to force overtime and grab the win on Sunday. 
After the game, Lillard was asked about that moment with Beverley and voiced his displeasure with the psychological tactics the Rockets' guard employs during a game.
Beverley famously went for a steal in the first round of the playoffs against the Oklahoma City Thunder last year, crashing into Russell Westbrook as the Thunder called a timeout near the sideline. The injury led to Westbrook tearing his meniscus, which took him out of the playoffs and has given him some trouble since. It hasn't stopped Beverley from attacking opponents with his defense and playing a very aggressive brand of basketball.
Lillard claimed the tactics aren't basketball and that everybody is aware of what he's doing. If by some chance we get these two teams matched up in the playoffs, it will be interesting to see how Lillard and Beverley treat each other over the course of a series.
(H/T - ProBasketballTalk)
Gregg Popovich has never seen an injury lead to the issues that Kawhi Leonard has been fac...

Kobe Bryant, of course, had his 81-point game against Rose and the Raptors back in 2006

Keep it right here for all your Wednesday NBA scores, updates and highlights
A season-ending injury kept the Celtics guard's time at Duke very brief before he jumped to...

Here's a look at what has brought fans the most joy so far this season

Kevin Mackey says he gave Manute Bol a birthday because they didn't know how old he was